Why The Bold And The Beautiful Spoilers Have Steffy And Finn Fans In A Tizzy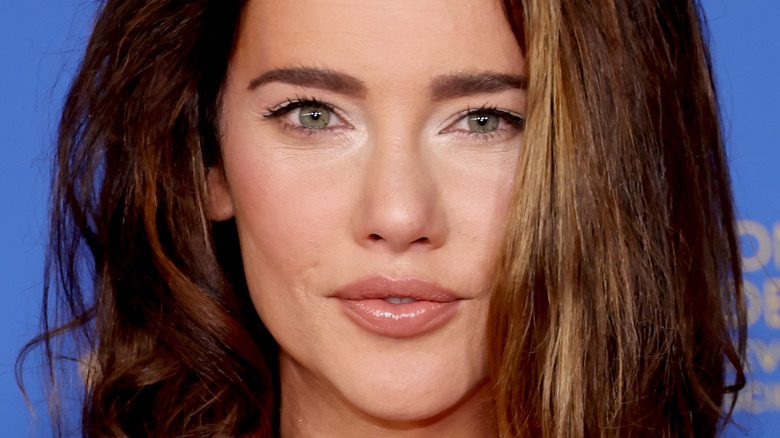 Amy Sussman/Getty Images
Steffy Forrester (Jacqueline MacInnes Wood) was pretty sure that she finally found love with Dr. John "Finn" Finnegan (Tanner Novlan) on "The Bold and the Beautiful." After all, he was everything that she always looked for in a good partner — he was thoughtful, caring, supportive, and loyal — unlike some other people in her life like Liam Spencer (Scott Clifton), who has been "waffling" for years between Steffy and Hope Logan (Annika Noelle).
However, when Finn's mother Sheila Carter (Kimberlin Brown) shot and supposedly killed Finn, Steffy's life came crashing down. She packed her bags and along with her two kids, jetted off to Paris to grieve a love that she thought she had lost (via Showbiz Cheat Sheet). Even Steffy's portrayer, Jacqueline MacInnes Wood, had a hard time coming to terms with the end of the soap super couple better known as "Sinn." She told Soap Opera Digest, "I loved the Steffy and Finn romance. When Brad brought Tanner on board, everyone was excited that the Steffy, Liam, and Hope triangle would take a break. And then my character got to marry a handsome doctor who was a good, moral person and we expanded our family."
With that said, the latest "The Bold and the Beautiful" spoilers have Steffy and Finn fans in a tizzy for this reason.
It looks like Steffy is about to get the surprise of her life
According to a teaser trailer from "The Bold and the Beautiful," Steffy Forrester is about to get the surprise of her life. After getting a tip from Bill Spencer, as detailed by Celeb Dirty Laundry, Finn will head to Monaco to reunite with Steffy, who up until this point thought that the handsome doctor was dead. In the preview clip, Finn can be see frantically searching for Steffy all throughout the streets of Monaco until he finally spots her near a balcony overlooking the city. The moment that he manages to catch his breath, Finn calls out to her, and at that point Steffy — or at least someone who looks exactly like Steffy — slowly turns around to see him. 
In other words, this looks like the happy ending that both Steffy and Finn deserve and fans have long been waiting for. One fan even commented on the trailer, "Seeing Finn reunited with both Kelly & Hayes was one of the happiest moments." Another fan joked, "Let's just hope it doesn't take a week or more for Steffy to turn completely around and see Finn."
Unfortunately, Bill's blunder in his race to reunite Steffy and Finn has some fans seeing red. Steffy and Finn might as well enjoy this sweet moment because it looks like their peace is not going to last very long, especially if Sheila has anything to do with it.