How Plans Will Change If The Queen Isn't At Buckingham Palace When She Dies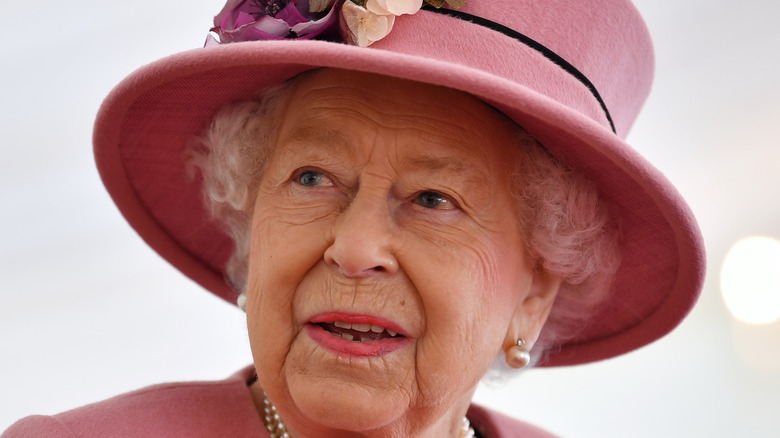 Wpa Pool/Getty Images
As Great Britain's longest-reigning monarch, it is hard to imagine a day when Queen Elizabeth II won't be sitting upon the throne. But as she is well into her 90s — and dealing with mobility issues that forced her to pull out of several events at her Platinum Jubilee — there will come a time when the world is in mourning over Elizabeth's passing. 
As some may know, there is a specific plan and a code phrase in place for when the queen dies. According to The Guardian, the plan — called "London Bridge" — works out every detail of what needs to be done when that fateful event happens and in the days that follow. After receiving the news from the queen's doctor, Elizabeth's private secretary will call the prime minister and say the words, "London Bridge is down." The prime minister will help set the operation into action, including informing Commonwealth nations where the queen is head of state. The news of the queen's death will then "go out as a newsflash to the Press Association and the rest of the world's media simultaneously."
Much of the plan, however, assumes that Elizabeth will be in London when she passes. Her Majesty, however, has made Windsor Castle her full-time residence and is spending summers at her Balmoral estate in Scotland. So what happens if she is away from Buckingham Palace when she dies?
Queen Elizabeth's coffin will have to travel back to Buckingham Palace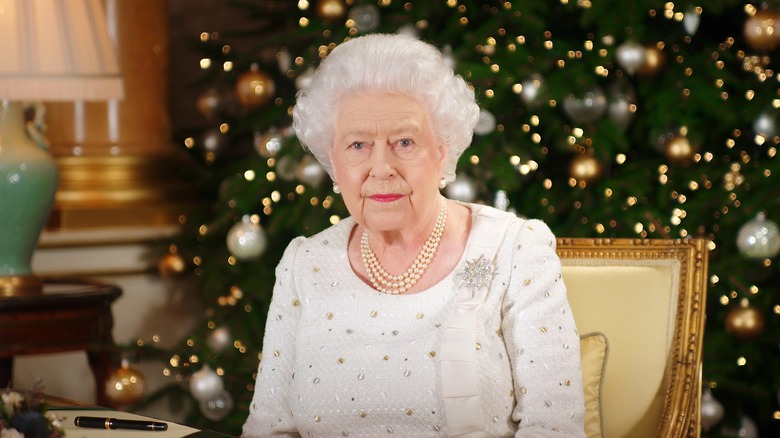 Handout/Getty Images
With Queen Elizabeth spending less time in London, there is a plan in place for what to do if she dies outside of Buckingham Palace. According to Politico, if the queen dies at Sandringham, her body will be carried by royal train to St. Pancras station in London. If Elizabeth is at Balmoral at the time of her passing, Operation Unicorn will go into effect and her body will travel to London by royal train. If that isn't possible, Operation Overstudy will require her to get to London by plane. 
Either way, Elizabeth's coffin will wind up at Buckingham Palace, where it will sit in the throne room, per The Guardian, until being taken to the Palace of Westminster where she will lie in state for three days. The funeral will be held at Westminster Abbey 10 days after the queen's passing.
While Prince Charles will immediately ascend to the throne after Elizabeth dies, his coronation won't take place right away to ensure that the country can mourn the loss of its queen. The big day, of course, also has a code name: Operation Golden Orb, according to the Daily Mail, but the ceremony is expected to be smaller in scale. "It will be a slimmed-down Monarchy on display throughout," a source said. "I wouldn't be surprised to see just Charles and Camilla, Kate and William and their children on the Buckingham Palace balcony afterwards."
How do Britons feel about Prince Charles becoming king?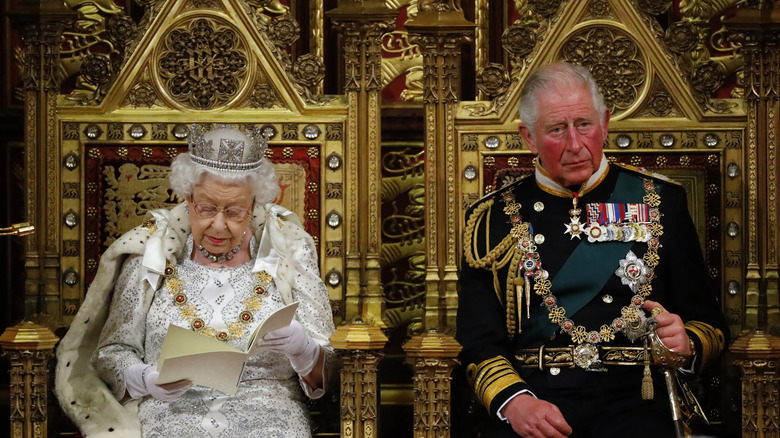 Wpa Pool/Getty Images
While it's difficult to envision a Great Britain without Queen Elizabeth on the throne, Prince Charles has made it clear that he's stepping up to the plate amid his mother's declining health. With that in mind, it's no wonder that Britons have pondered what it'll be like when the Prince of Wales ascends to the throne. Of course, Charles' journey throughout his public life has been anything but squeaky clean — his marriage and subsequent divorce from Diana, Princess of Wales, cast him in a largely negative light and his prolonged affair with Camilla Parker Bowles did a number to his public approval. Time does remedy some wounds, though, and Charles is sitting at about a 42% approval rating at the moment, courtesy of YouGov (he sits behind the queen, Kate Middleton, Prince William, Princess Anne, and Zara Phillips). 
So, with all of that said, how do people really feel about Charles becoming king one day? According to research conducted by Ipsis, about half of Britons expect that Charles will make a good king, while about 20% think he'll falter in the position. This doesn't sound too bad, until you realize about 75% of those polled believe William — who is second in line to the throne — would make a great ruler, with only 7% thinking he's not up to the task. Still, about 66% of people noted that they want to see the queen rule for as long as possible, indicating that Britons aren't hoping for a change in the monarchy any time soon.