These Are The Best Red Lipsticks You Can Buy At The Drugstore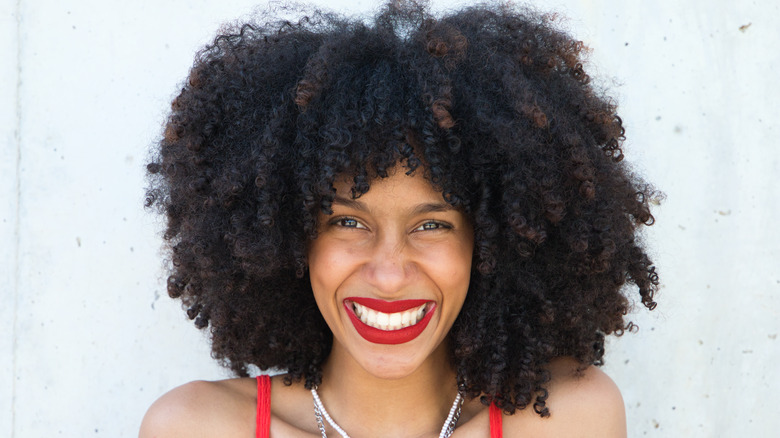 JOSE_ESCUDERO/Shutterstock
Red lipstick has been around for centuries and can be a powerful finishing touch to any outfit. Finding the perfect red lipstick for you shouldn't mean you have to spend a fortune, either. There are so many affordable amazing red lipsticks out there in varying shades now, from vampiric reds to more casual pops of color. Whether you're on a budget or are just trying to stop spending your whole paycheck on makeup (we're looking at you, Sephora), the drugstore is the place to go when you're in dire need of trying something new. 
As with most makeup products, not all reds will suit all skin tones, which can make searching for a red lipstick way more difficult. Plus, the range of makeup sold at the drugstore and often overwhelming layout does make it somewhat harder to find exactly what you're looking for. Still, pulling off red lipstick can help you to appear bolder and more confident — everyone needs a good red lipstick in their life, and now you won't have to break the bank to find your perfect match.
Revlon's red lipstick shades have been a favorite for years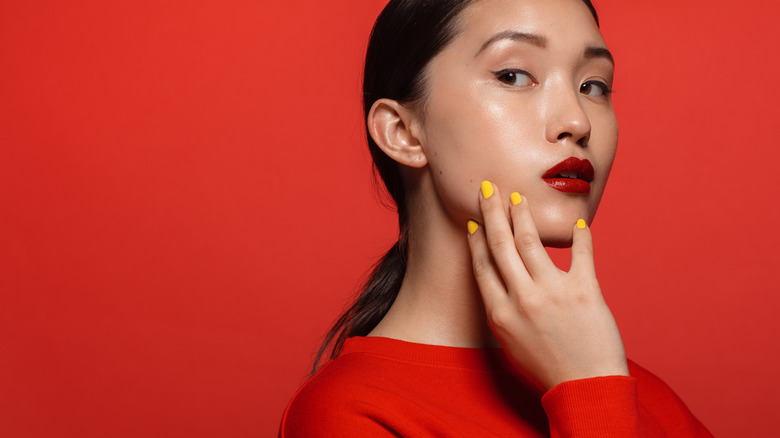 Jacob Lund/Shutterstock
Looking good is for everybody no matter your budget, which is why the beauty team at Allure rounded up some of the best drugstore lipsticks that are $10 or under — excuse us while we run to the drugstore real quick. If you're looking for a classic red, Revlon Super Lustrous The Luscious Matte in the shade Show Off is a great pick. Despite its creamy formula, this lipstick has a matte finish and blue-red undertones that will suit almost everybody. 
Byrdie also recommends Revlon Super Lustrous lipsticks, but in the shade Fire and Ice. The moisturizing ingredients included — like vitamin E – mean your lips won't become dry and cracked, and the orange-red undertones are ideal if you have warm skin undertones. Moreover, Refinery29 states that the iconic Revlon Super Lustrous lipstick has garnered rave reviews from its loyal fans, with a current 4.3 out of 5 star rating on Ulta. 
There are over 91 shades to choose from as of now, including a huge range of reds, so you're sure to find a red that works for you. The black-and-gold packaging is pretty luxurious too despite the low price, so you can feel even fancier when reapplying your red. 
Maybelline is also a popular contender for best drugstore red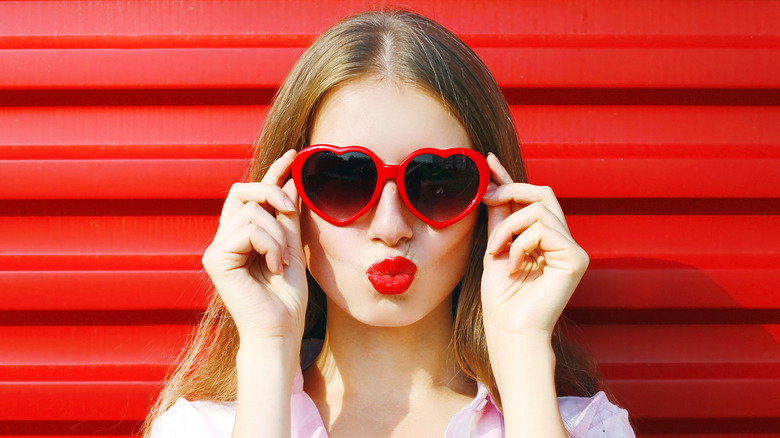 Rohappy/Shutterstock
It isn't just Revlon ruling the red lipstick roost. Both EliteDaily and Byrdie include Maybelline New York Color Sensational Lipstick in their best drugstore red roundups. Byrdie praises the lipstick for being universally flattering and hydrating without any cracking or flaking, but notes that it does come off relatively easily. Meanwhile, EliteDaily also acknowledges that the lipstick is flattering for many different undertones, noting that one reviewer called it "the only red lipstick you will ever need." 
Allure revealed that one of the best shades available in the Color Sensational range is Craving Coral, an orange-red shade that is extremely pigmented. Orange-red lipsticks can be more appealing if you're not a regular red lipstick wearer, as they aren't as bold and can be easily blotted or toned down for an everyday look that's still bright but not quite so intimidating to wear out.
There you have it — you don't need to spend a ton of money to achieve a perfect red pout.