What Is The Gen Z Art Ho Aesthetic?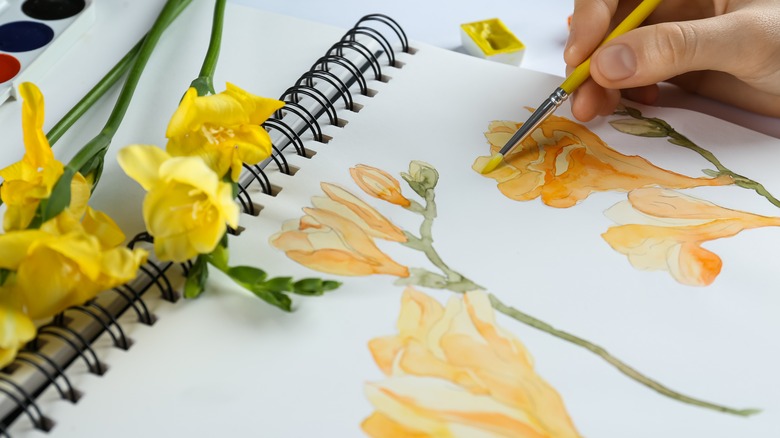 New Africa/Shutterstock
You might be familiar with the Gen Z term "aesthetic," often paired with something ending in "core." As mentioned by Style by Emily Henderson, Gen Z uses the term to discuss specific styles and trends. These looks are heavily featured on and influenced by social media platforms, such as Instagram, TikTok, and Pinterest. Ranging from cottagecore aesthetic to trendy dark academia, there are a variety of these aesthetics followed by Gen Z.
If you're unfamiliar, Gen Z, also called "Zoomers," is a generational cohort generally ranging from the late 1990s through the 2010s. With such a variety of rising and falling fads, it can be difficult to keep up with all the new looks and styles coined by this young generation. "Art Ho" is one of these aesthetics that you might be unfamiliar with. Centered around artists of color, this politically motivated and art-focused movement is definitely worth checking out.
The Art Ho aesthetic is an art movement featuring artists of color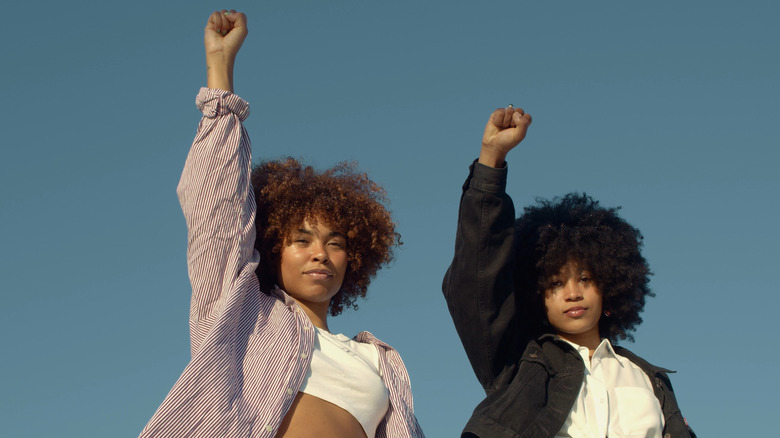 Beauty Stock/Shutterstock
The Art Ho aesthetic, also spelled "Art Hoe," is an art movement created for and by artists of color, but is open to everyone (per Dazed). As mentioned on Vancouver is Awesome, the term "Art Ho" was originally coined by rapper BB, then known as Babeo Baggins, and utilized at the start of the Art Ho movement in 2015 on Tumblr.
According to Mars, the gender fluid founder of the aesthetic, the movement "gives POC a platform to express their internalized struggles, which is a problem we face every day." Mars continued, "We don't have a voice in this society. It's usually subdued by our white counterparts, and our anger is taken for granted — having this movement gives people an insight into who we really are," interviewed by Dazed.
In this way, the aesthetic aims to use artistic expression to challenge cultural stereotypes and address racial issues. According to the Art Hoe Fandom, notable elements of this aesthetic are famous paintings, plants, bees, and primary colors, especially yellow. In addition to providing a voice to people of color, this style values art, nature, and artistic expression.
While Mars has expressed that the movement is inclusive of everyone, it is important to remember the roots and political motivations of this aesthetic to properly appreciate it.
What is Art Ho fashion and decor?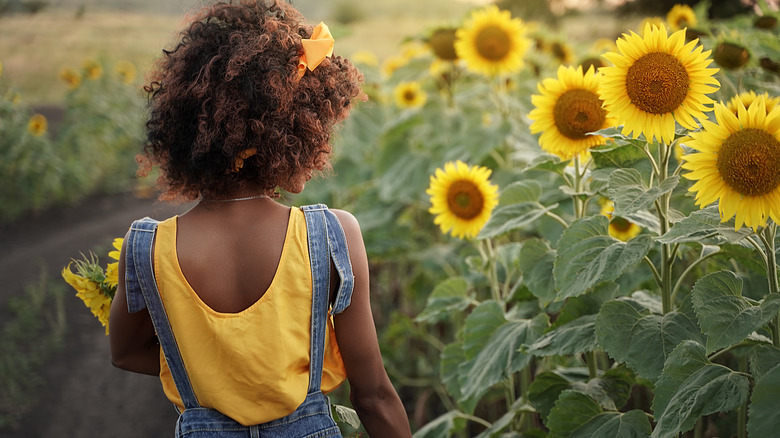 Zharinova Marina/Shutterstock
If you know anything about Gen Z aesthetics, then you probably know that fashion and decor are primary modes of expression. Given this, you might be wondering what kind of fashion the Art Ho movement consists of.
As mentioned on the Art Hoe Fandom, this aesthetic largely values thrift-shopped looks and vintage outfits, with some specific staples including mom jeans, graphic t-shirts, shirts with horizontal stripes, overalls, Converse sneakers, and Doc Martens. Since yellow is also a color associated with this trend, it is a typical element of Art Ho fashion. Other brands often associated with the Art Ho movement are Urban Outfitters, Fjallraven, Vans, and Etsy.
Owning lots of art supplies, journals, and plants are also recurring elements of this aesthetic (per F News Magazine). Along with the use of primary colors, The Other Aesthetic identifies polaroids, sketches, art posters, and album covers as decor popular within this movement.