Why Interior Designers Can't Wait To Ditch Black Grout In 2022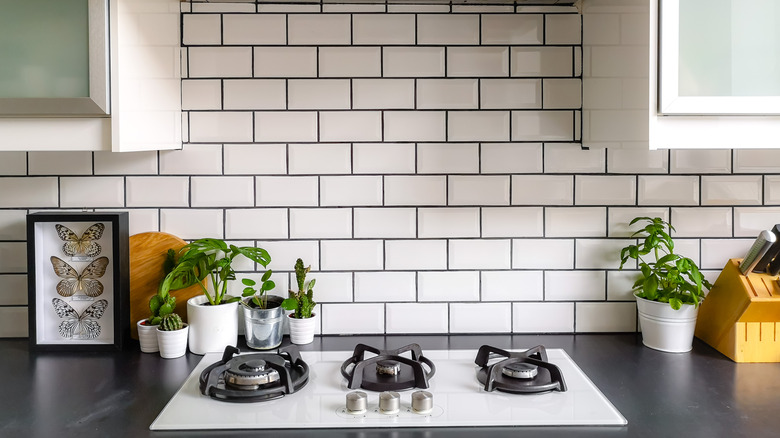 Luoxi/Shutterstock
If you've been following design trends, then you'll probably recognize the popularity of black grout in kitchen and bathroom tile designs. Specifically, the use of black or dark grout to emphasize subway tiles' clean, white look has become popular with the modern farmhouse look (per Home Like You Mean It). Even if it is a staple of this style, according to 21 Oak, the beauty of the dark grout look is its ability to fit into a variety of interior design styles, including modern, industrial, and country.
This trend's versatility has been tested in recent years, as dark and even colorful grout has become increasingly popular. As mentioned on Style by Emily Henderson, selecting a grout color specific to your tile design can really elevate and enhance a space.
Despite its versatility, you might not want to break out the black grout just yet if you're redesigning your bathroom or kitchen, as some interior designers say that this trend is on its way out.
Interior designers say black grout is impractical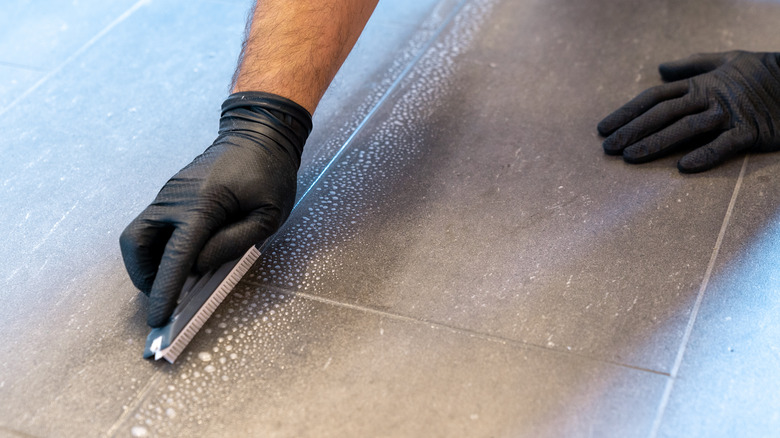 makasana photo/Shutterstock
The truth behind why interior designers are ready to leave the black grout trend behind lies in the inconvenience of the fad.
In one of their videos, the YouTuber DIY with KB, also known as Kiva Brent, comments on the impracticality of this design trend, saying that the dark color of the grout easily lends itself to looking dirty (via YouTube). With grout cleaning TikTok hacks coming out of the woodwork, or perhaps tilework, those with tiled kitchens or bathrooms know that regular grout maintenance can be a strain, so it's no wonder that interior designers want to leave behind a trend that potentially emphasizes this ongoing cleaning issue.
Another maintenance issue that is specific to the black grout trend is its tendency to fade. As mentioned on Home Like You Mean It, grout that has been both cleaned and sealed will still lose its color over time. In fact, if this design is featured in a well-used bathroom, it can start to fade in just a couple of months. Of course, there are methods for slowing or avoiding black grout fade, but it's just another element of this design trend that makes it a little more impractical.
Interior designers warn about the tedious application process of black grout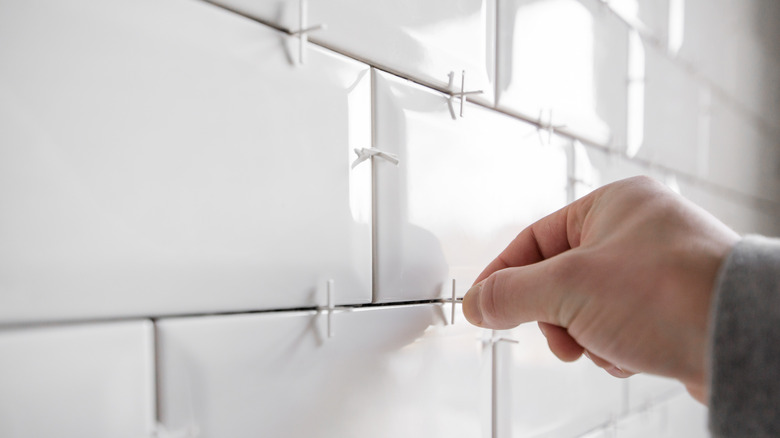 LaineN/Shutterstock
Another issue with the black grout trend that Kiva Brent mentions in their video is installation, as those trying to DIY their own dream home makeover will struggle with the finicky process of maintaining a pristine tile through the application of dark grout (via YouTube).
As mentioned on Fireclay Tile, black grout has a tendency to stain or crackle lighter-colored tiles, making the application process more complicated than other grout colors. Because of this, interior designers aren't convinced that this trend will survive 2022.
Ultimately, the important thing about designing your space is ensuring that it makes you feel safe and happy. So even if the experts say a look or style you really like is out, don't let that get in the way of creating the best space for you. If you really love the look of your black grout and don't mind the maintenance, then don't let the predictions of interior designers stop you from embracing your individual design style.