How To Become A Gourmet Chef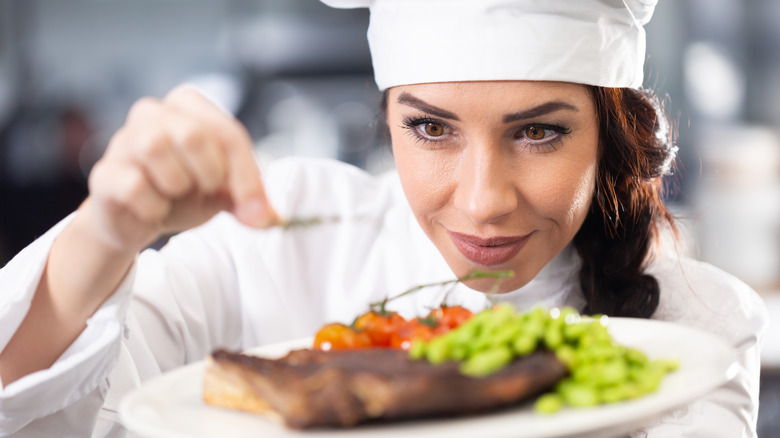 Marian Weyo/Shutterstock
Are you passionate about cooking and everything food-related? Do you dream of working at a Michelin-starred restaurant? In this case, consider taking the steps needed to become a gourmet chef. Gordon Ramsay, Seiji Yamamoto, Alain Ducasse, Thomas Keller, Anne-Sophie Pic, and other gourmet chefs are famous worldwide for their outstanding cooking skills. Many operate their own restaurants, appear on TV shows, or teach at culinary schools.
Gourmet chefs use their skills to create haute cuisine recipes with premium ingredients like truffles, caviar, wine, or fleur de sel. Their culinary creations are often inspired by regional cuisines, featuring unique aromas and textures. These professionals may also be responsible for running a restaurant, planning menus, supervising the staff, and sourcing ingredients, explains Kamikoto. They usually work at high-end restaurants and luxury hotels or on cruise ships. Some are employed by celebrities, athletes, and other public figures, while others operate their own establishments.
Most chefs earn around $50,160 per year, but it's possible to make more than $84,000, according to the Bureau of Labor Statistics (BLS). Gourmet chefs typically have higher wages because of their reputation and exceptional skills. For example, British chef Gordon Ramsey has a net worth of $220 million and earned an estimated $70 million in 2020 alone, reports International Business Times. You, too, can make a career in this field, but you'll have to put in years of hard work and commit to continuous learning. 
Attend a prestigious culinary school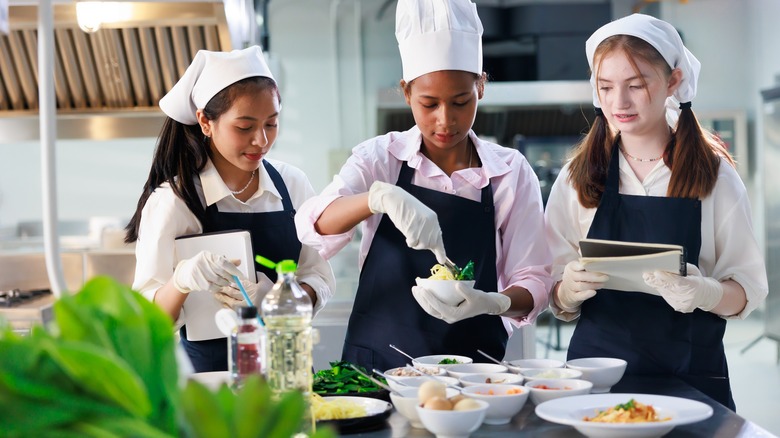 BigPixel Photo/Shutterstock
Gourmet chefs have an artistic sense, an eye for detail, and strong leadership skills, but they also master the technical aspects of cooking. Baking, stewing, poaching, braising, and other culinary techniques all have their own intricacies. Their work also requires in-depth knowledge of food safety and hygiene, as well as the ability to operate commercial cooking equipment such as griddles, rotisseries, and step-in coolers, explains the BLS. While it's possible to learn these things on your own, you still need to have some sort of formal qualification for the best way to get a job.
The average chef may find work without a college major, but gourmet chefs are expected to complete formal training and engage in lifelong learning. Those who pursue this career path spend years honing their skills, and some choose to study and work under the guidance of master chefs. Formal education would also allow you to get certified by the American Culinary Federation and demonstrate your commitment to the profession.
For starters, consider earning an associate's or bachelor's degree from a prestigious culinary school. The Culinary Institute of America, for instance, offers courses in food business leadership, culinary arts, baking and pastry arts, and other related fields. Students can also complete an Accelerated Culinary Arts Certificate Program covering topics like palate development, cooking methods, and world cuisines. This option is only available to those with a bachelor's degree. 
Complete an internship to gain hands-on experience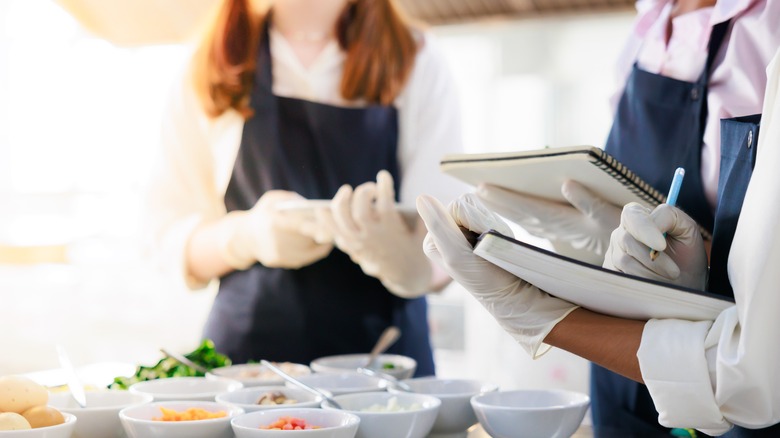 BigPixel Photo/Shutterstock
Most culinary schools and some restaurants offer internships, apprenticeships, or mentorship programs. Any of these options would allow you to gain hands-on experience and develop your skills. A good example is the Institute of Culinary Education's "Externship" program, which gives students the chance to practice under the guidance of an experienced chef at luxury hotels, restaurants, or other establishments. Many of the venues enrolled in this program end up hiring the best students.
Note that you might not be able to find work as a gourmet chef from day one. Most professionals in this field start out as line cooks, prep cooks, or junior chefs. Generally, commercial kitchens operate under a hierarchical system of command with clearly defined roles for each employee, explains Norwalk Community College. The more experience you have, the higher your position. Meanwhile, consider taking additional courses to acquire experience and increase your earning potential.
For example, the Chef Apprentice School of the Arts offers a six-month training program designed to meet the needs of aspiring gourmet chefs. Students receive 25 hours of one-on-one instruction and get the opportunity to practice their skills in a professional restaurant. The program covers over 134 recipes and includes both theoretical coursework and hands-on training. Le Cordon Bleu and other schools provide specialized courses in French pastry techniques, bakery, culinary management, and plant-based culinary arts. Most programs last a few days to several weeks and include internships.