Why Interior Designers Can't Wait To Ditch Thick Wool Rugs In 2022
Parilov/Shutterstock
It's August, which means fall is right around the corner. Lots of people consider fall a great time to revamp their decor (via Walla Paint). Some folks are all about autumnal design, while others are too afraid of tacky fall decor to dress their space for the season. Whichever school of thought you subscribe to, this autumn may actually be a good time to make changes to your decor that will last year-round and not just for the season. 
The temperature will drop, so you'll be spending more time inside, and you can be ready for all the entertaining that comes along with the holiday season. If you're thinking of embarking on some home improvement projects, or even if you're just in the mood for redecorating, it may be time to ditch your old rug for an updated option. According to interior designer, Kiva Brent, 2022 is the year of updating your thick rug to a flatter, sleeker option (via YouTube). If you've got a thick, fluffy rug somewhere in your home, now may be the moment to swap it out for something different and make your space look updated and chic.
Why thick rugs are out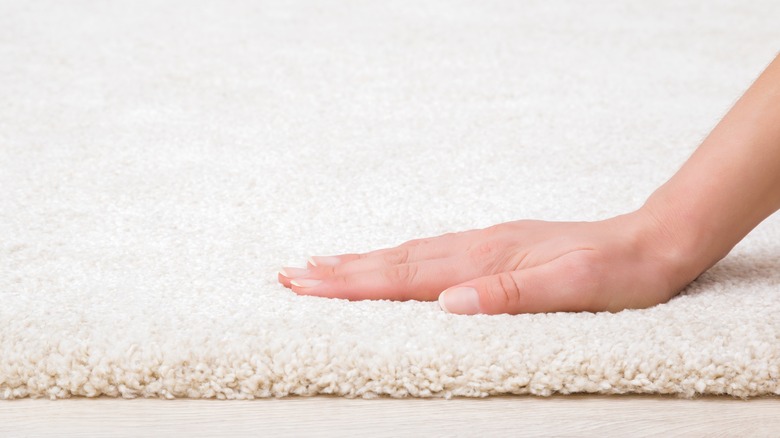 FotoDuets/Shutterstock
In the past, people have opted for high pile rugs, because they feel more cushiony and comfy on your feet (via Living Spaces). Yet, these days, the comfort factor may be making way for another important concern: cleanliness. As Kiva Brent says, [W]hile they look good, they're really difficult to clean" (via YouTube). Robot vacuums typically steer clear of high pile rugs entirely, and you may even need to spend some extra time with your regular vacuum to get deep down into the fibers. If you have a thick rug in a high-traffic spot or a spot that tends to get dirtier like your frequently used hallways, entry spaces, kitchen, or family room, a thinner rug will require much less maintenance.
While feeling like you're walking in bare feet on a clean surface is definitely important to most of us, cleanliness isn't the only reason the tide may be turning against high pile rugs. Lower pile (also known as flat weave) rugs may be a better fit for many updated aesthetics (via Happy Starts At Home).
What to look for instead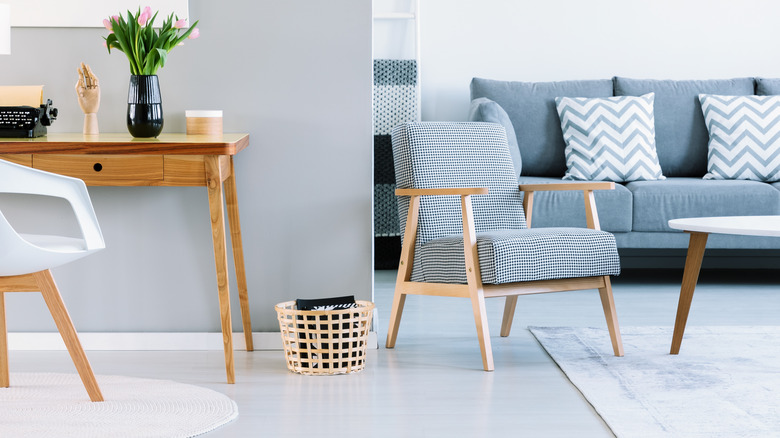 Photographee.eu/Shutterstock
If you're ready to turn over a new leaf in terms of your rugs, you're going to have to replace that high pile rug you're getting rid of. Rugs are one type of furniture that is worth investing your money in, so don't be afraid to make room in your budget to splurge on a high quality rug. Flat weave rugs will look fresh while being much easier to clean. There are tons of options on the market, many of which look much more modern and fresh than their thicker counterparts (via Happy Starts At Home). Low pile rugs are particularly all the rage in mid-century modern or bohemian-inspired spaces. If your home fits into one of these styles, you'll likely be surprised at what a big difference switching to a lower pile rug can do for the look and feel of your space.
If you do opt for a flat weave, be sure to get a rug pad for underneath it to prevent it from slipping around the way a towel on the floor might (via RugPadUSA). Once you've done that, enjoy the sleek, upgraded new look of your space and the clean feeling on your feet.