What Furniture Should You Really Invest Your Money In?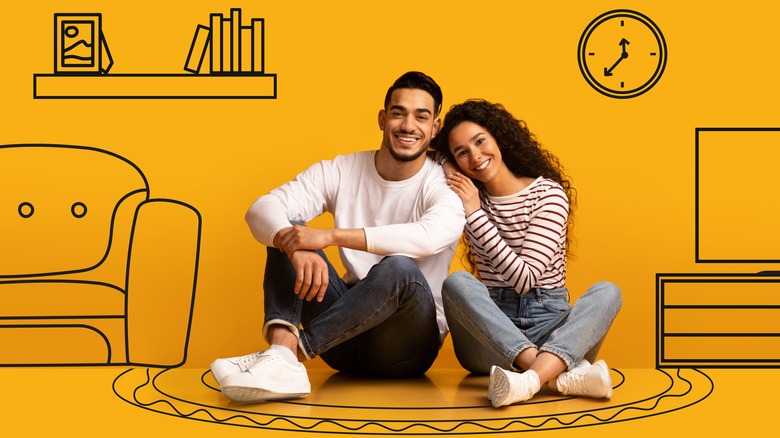 Prostock-studio/Shutterstock
While moving into a new home is an exciting time, it can also be stressful. One of the things that causes the most stress at this time is the financial investments that you're likely making. When you move into a new place, whether you're buying a house, renting a new apartment, or even opting for something totally different, chances are that you have some different needs when it comes to furniture and decor.
Between the cost of moving and a raise in rent or a down payment, there are more than enough costs to cover during your move before you even consider new furniture (via The Spruce). Often times, new furniture is a necessity, but beyond that, most of us want our space to reflect the decor trends that we love even if we're on a budget. Luckily, not all furniture is something you need to shell out a lot of money for. Knowing what is and is not worth splurging on can make a huge difference in your budget and how to afford everything you want for your space (via Insider).
The best things to splurge on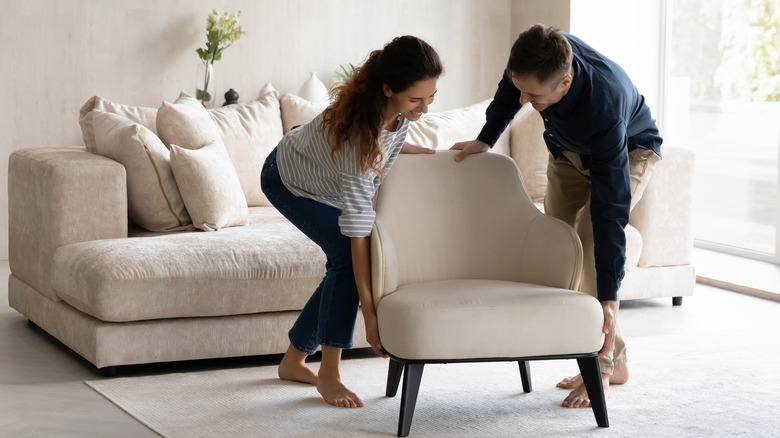 fizkes/Shutterstock
To start, you should definitely invest in your couch or sofa (via The Spruce). Not only is this piece of furniture where you and your family spend a lot of your time, but it's also frequently a major focal point in your room. A nice sofa could last you a whopping 25 years. If you opt for something lower quality, you may be saving money now, but you'll be going sofa shopping again in ten years or less. 
This rule also applies to what goes under your couch. A rug may not feel like a place where you want to spend a lot of your budget, but an inexpensive rug can get worn out quickly. Investing in the right rug will also make a big difference in your space. According to senior designer for Interior Marketing Group, Christina Slater, you should choose the biggest rug that can fit in your space. "Always, always, always go bigger on your rug," she told Insider. "A bigger rug defines the space and makes rooms look much larger than you think." 
Once your living room is squared away, it's time to splurge in another main area. Pay extra for a good dining room or kitchen table. Not only do you want a comfortable place to eat, but this is an important spot any time you entertain. Last but certainly not least, spring for the better mattress and bed frame; your back and your energy levels will thank you.
Where to save your money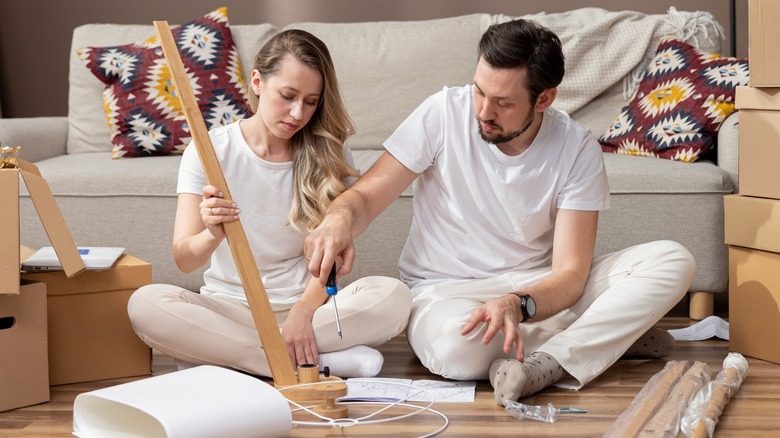 Trzykropy/Shutterstock
Once you've shelled out the big bucks for some of your new furniture staples, your wallet will surely be curious which furniture pieces are best to save on. While you may have picked the pricey option for your dining table, you can go for a cheaper option when it comes to your side tables (via The Spruce). It's easy to find these for great prices, and since they aren't being constantly used, they're not likely to get damaged or worn out and need to be replaced quickly.
Lamps are another great place to save money. There's no need to opt for something fancy when it comes to your lamps. Your favorite stores like Walmart have great options that won't compromise on style and can cost under $20. While you spent extra money on your mattress, you don't need to do so on your sheets. Since your sheets don't need to be aesthetically pleasing, just grab a set that's comfy and replace as needed.
Christina Slater told Insider that it's a great idea to take some of your decor budget that you may have used toward artwork and small decorations and invest that money in a nice mirror. According to her, "Mirrors are always a good idea. They open the space, reflect the light, create depth, and can be found at very affordable prices." Something that will improve your room and be kind to your budget? Now that's something worth buying.