Here's What Demi Lovato Looks Like Going Makeup Free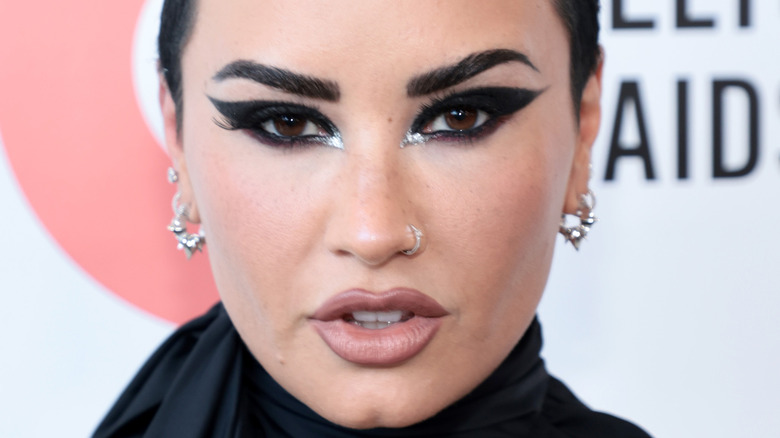 Jamie Mccarthy/Getty Images
Demi Lovato is no stranger to transformation. The superstar singer and former Disney star has undergone several different style evolutions during her lengthy stint in the public eye. And, in August 2022, Lovato's pronouns changed when she reclaimed being she/her over a year after coming out as nonbinary and beginning to use to they/them pronouns. Lovato made the announcement publicly on the "Spout" podcast, confirming, "I've actually adopted the pronouns of she/her again with me."
She added, "Recently, I've been feeling more feminine." The change was also reflected in her Instagram bio, which cites, "they/them/she/her." Moreover, Lovato's pop punk styled album "Holy F**k" prompted another moment of rebirth for the singer-songwriter, who told NPR she's "taking the power back" from hate-filled online commenters who try to tear her down at every turn. For Lovato, the journey to self-love has been long and complicated, but she's finally there.
Baring her fresh face marked another moment of self-empowerment for her
Demi Lovato slowly and carefully removed every stitch of makeup she was wearing in a YouTube video for Vogue, at the end of which she reveals a wide and hugely bright smile. The effect is dazzling; Lovato is clearly proud to share their true self with the world — especially considering what it took to get here. If you're wondering how Lovato keeps her skin looking so luminous, they told InStyle very plainly, "I think one of the most important beauty tips is wearing sunscreen — not only to protect your skin but to keep it looking youthful for as long as possible."
Their own line of skincare products, Devonne by Demi, is on hand if the "Sorry Not Sorry" hit-maker suffers a breakout, too. Comprising a high-strength cleanser to excavate pores, hydrating mist to keep skin from getting thirsty, and a moisturizing primer to prep for the day, Lovato admitted she "can't live without it." 
The Disney alum is a major proponent of self-care too, sharing with Glamour that she gives herself an at-home manicure multiple times a week. Further, she's not afraid to experiment, noting, "As a kid I'd play with homemade recipes, like putting pineapple on my face to exfoliate my skin and doing facial steams with lavender or peppermint oils," which naturally helped inspire Devonne, too.
Demi Lovato feels at their most beautiful when she's not wearing makeup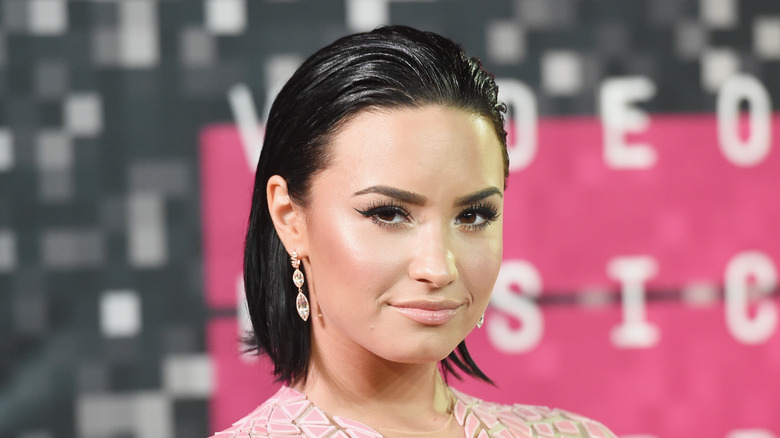 Jason Merritt/term/Getty Images
Unafraid of being real, Demi Lovato shared horrifying details of the night she overdosed. The superstar singer has been working through substance abuse issues in front of the world for years, and an important component is learning to treat herself with kindness. As Lovato informed Ashley Graham, during an appearance on her podcast (via E! News), "I have a bunch of people that I work with in the recovery aspect of my life, one of them is a dietician, one of them is a therapist." Through hard graft, she's gradually learned the difference between body acceptance and body positivity.
When it comes to feeling at her best, the pop star told host Drew Barrymore, on her talk show, "I feel the most beautiful when I have a bare face, even in my sweatpants, just hanging out with my friends," (via People). They added, "That's just when I feel the most like myself. [Just] clean and comfy." As for the worst beauty advice the singer has ever received, she admitted to Allure it was when Disney encouraged her to close the gap in her teeth. 
Now that the former child star knows how to properly appreciate their natural looks, she wishes she still had the gap. Lovato isn't opposed to getting a little nip and tuck someday, though. As they reasoned to Cosmopolitan, "I'm just about trying to love my skin and myself as much as I can."