Is The Dyson Supersonic Hair Dryer Worth The Money?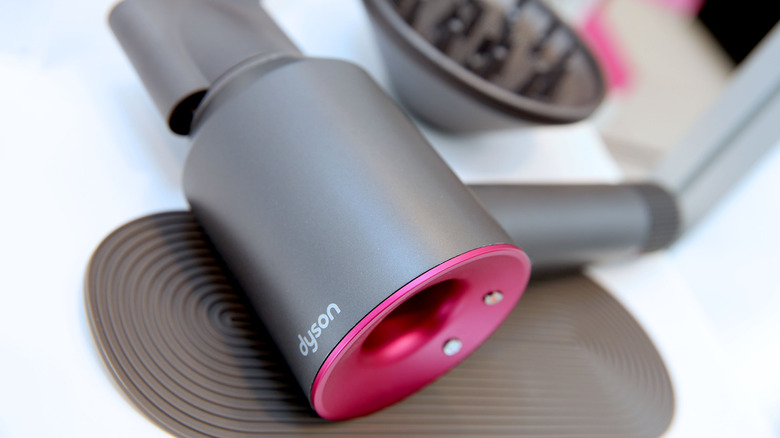 Rachel Murray/Getty Images
There are two people in the hair drying debate — the ones who say you shouldn't blow dry your hair at all, and the ones who are searching for the perfect hairdryer. Whichever team you are, it cannot be denied that the Dyson Supersonic hair dryer has exploded in popularity ever since it was first released in 2016. As Vogue puts it, the Supersonic "created a hair dryer revolution." Sleek, sophisticated, and yes, a little sexy, the Supersonic promises to deliver perfectly smooth hair that still contains volume, is fast drying, and has zero frizz (via Dyson). As of now, it is available in four color combinations — other colors are currently out of stock — including the iconic fuchsia and iron gray combination most associated with the Supersonic.
If all of the above sounds amazing, you may be less thrilled when you find out the cost. The Dyson Supersonic comes with a hefty price tag of $400, meaning it's definitely not an impulse purchase for most of us. Along with the hair dryer itself, you also get a diffuser, gentle air attachment, wide-tooth comb, flyaway attachment, and a styling concentrator. These are small additions, but it's nice that you do get a few extras for what you pay. Still, the question everyone on everyone's lips: is the Dyson Supersonic worth it?
The hairdryer has gained rave reviews from testers and critics alike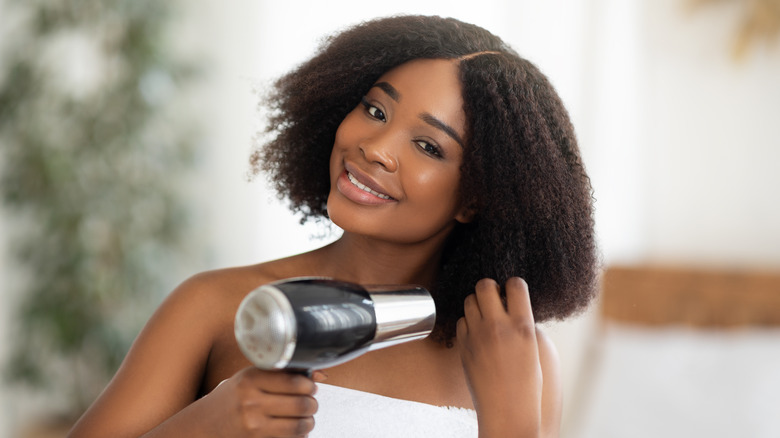 Prostock-studio/Shutterstock
Hairstyling website Scissor Tech is definitely all about the Dyson Supersonic, stating that it's a dream for busy mornings. It notes the small size of the hairdryer itself, making it a good and easily portable travel option. Another major bonus is that the product is supposedly virtually silent, meaning you won't wake up anyone else who might be sleeping in on your holiday.
Good Housekeeping also lauds the Supersonic, noting it's particularly good if you have curly or more difficult to manage hair. In her review, Deputy Editor Jessica Tiech applauds how the product managed to dry her frizzy and curly hair in a short amount of time, no small feat considering how long and voluminous her hair is. Additionally, she mentions how the Dyson Supersonic will apparently protect hair from heat damage instead of accelerating the damage like most hairdryers, though Dyson themselves do admit this will vary from person to person.
Another review by Glamour UK highly praises the Supersonic for drying hair so quickly, with reviewer Leanne Bayley stating that her wavy hair dried within five minutes and was left shiny with a subtle curl — in other words, effortless.
However, the super popular hair product isn't completely perfect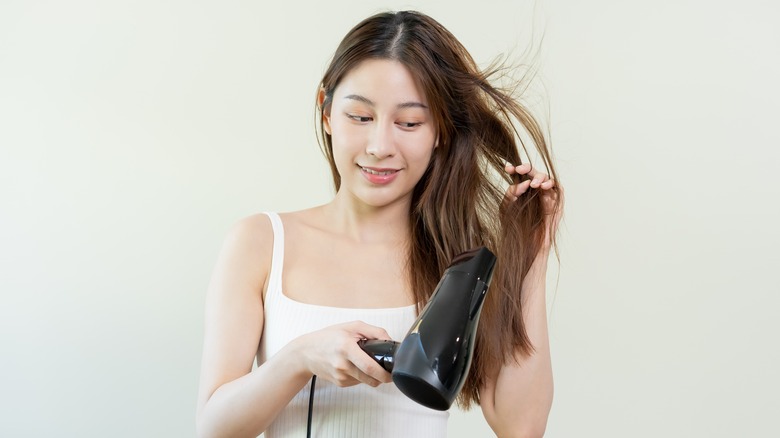 Kmpzzz/Shutterstock
Despite many positive reviews, there are drawbacks of the Dyson Supersonic Hair Dryer, too, which could be a dealbreaker considering its price point. TechRadar notes that, despite the hair dryer's supposed almost-silent level of noise, it will probably still wake people up if you're in the same room as them. Moreover, Good Housekeeping admits that despite the impressive qualities the Supersonic offers, it probably won't make much of a difference to people with naturally thin or with hair that's generally easier to manage. 
The hair dryer also has a few more picky and in-depth downsides, such as the buttons for different settings being awkwardly placed and requiring more than one press to activate (via Good Housekeeping). The review mentions the noise too, stating that it didn't seem any quieter than an average hairdryer when on higher settings. 
So, it would seem that the Dyson Supersonic hair dryer is worth the investment if you have difficult hair and want to save time and effort. If you can't justify the price point but are still interested in the features the Supersonic offers, here are some alternatives to the Dyson Supersonic Hairdryer that may suit your budget better.