Judge Finally Decides Whether The Mar-A-Lago Raid Affidavit Will Be Made Public
Frederic Legrand - COMEO/Shutterstock
Former President Donald Trump's Mar-a-Lago resort home was recently raided by the FBI. According to CNN, the search warrant issued for the raid on Trump's Palm Beach Florida home was for documents, some of which are classified, that the FBI believed the former president took illegally after his exit from the White House.
Trump issued a statement that read, "My beautiful home, Mar-A-Lago in Palm Beach, Florida, is currently under siege, raided, and occupied by a large group of FBI agents." He added that the FBI also searched his safe during the raid.
The former president quickly claimed that there was political motivation behind the raid. However, Liz Cheney, the representative leading the January 6th insurrection, has found that there is no evidence of such (via CNBC).
There have been many claims made by Trump and his team regarding the reason behind the root cause of the raid. Now, a judge has ruled that the information behind the search will be made public.
A judge has ruled to make the legal documents from the raid public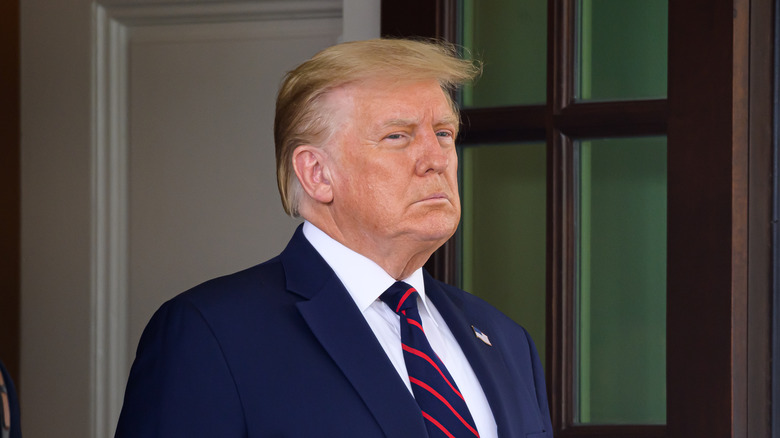 noamgalai/Shutterstock
According to The New York Times, there has been a large amount of misinformation spread about the FBI's raid of former President Donald Trump's Mar-a-Lago home. Trump himself has been one of the main sources of the false claims, stating that President Joe Biden was at the root of the search.
However, the public will get the real details behind the raid after a judge decided to reject the idea to keep Trump's affidavit private (via the New York Post). U.S. Magistrate Judge Bruce Reinhart found that there is no reason for the government to keep the entire affidavit private.
Not everyone involved is on board with releasing the information to the public. The Justice Department's top counterintelligence official, Jay Bratt, stated, "This is a volatile situation with respect to this search across the political spectrum — but on one side in particular," adding, "The government is very concerned about the safety of the witnesses in these cases and the impact of all the attention on these witnesses on other witnesses."
Major news networks, including CNN, had fought for the affidavit to be made public. Trump's legal team has not made a formal comment on whether or not they approve of the public release of the affidavit.