These Are The Best Red Lipsticks If You Have Fair Skin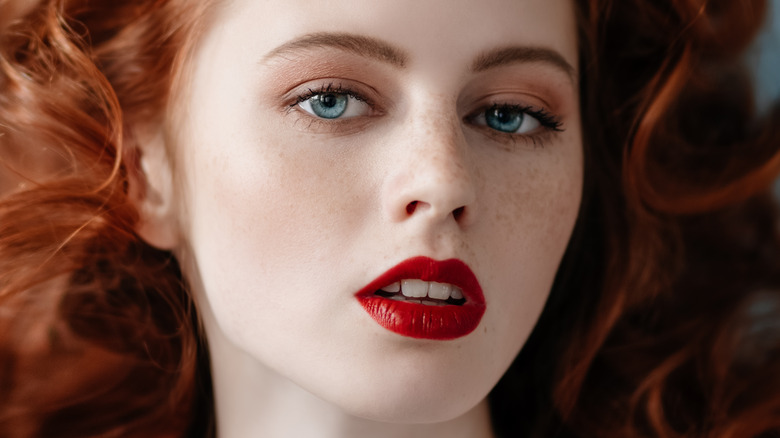 Kiselev Andrey Valerevich/Shutterstock
We may receive a commission on purchases made from links.
A red lip is one of the most classic fashion statements you can assert with your makeup. Red lipstick has a long history, and because folks have been sporting it for more than 5,000 years, it's safe to say that this is not a trend that's ever likely to go away (via Bésame Cosmetics). 
Still, just because something is classic doesn't mean that it's easy to pull off, and this is certainly the case for a red lip. The line between looking like Taylor Swift's "Red" album cover and Ronald McDonald is a thin one. This is especially true for those of us with particularly light complexions. The contrast of red lipstick against fair skin can really pack a punch, and it can be both high risk and high reward. Whether you pull off your red lip look depends entirely on the shade of lipstick you choose (via Poor Little It Girl). Luckily, you don't have to try every lipstick on the market to find your perfect shade of red; we've compiled the shades of red that will look best on you if your complexion is on the light side.
How we selected
Masson/Shutterstock
We all want to find that perfect go-to lipstick without sampling all of them. Our goal when finding the best shades of red for folks with fair skin was to stay away from a hue that creates a contrast that's too stark and has the right undertones for fair complexions. 
Still, just because our complexion narrows down our options doesn't mean that lipstick beggars can't be choosers. We all still have wants and needs in our makeup that extend past just finding a shade that looks nice against our skin. So, not only did we find the best red lip colors for fair skin, but we made sure to find an option that fills each of the most common needs folks have when searching for a lip shade. Plus, since we know no one wants to spend a fortune on makeup when there are cheaper options out there, all of our picks are under $25 and don't skimp on quality.
The universal red
As unlikely as it may sound, there really is one red lipstick that works on pretty much everyone — the MAC Retro Matte Lipstick. While the universally flattering red lipstick looks different on a variety of skin tones, it's likely to be a flattering shade no matter what your complexion is like. In many ways, this lipstick is the most classic of the classics. In fact, Taylor Swift herself calls this one her favorite (via PopSugar). 
If you've got fair skin, this pick is sure to look saturated and bold (just like it does on Ms.Swift) and it will likely give you major classic Hollywood starlet vibes. If the real-life Hollywood starlet's rave review isn't enough to convince you, another review raves, "I get sooooooooo many compliments from this lipstick!!!! I am even known for my signature 'Ruby Woo' look!! Hands down it is a must have. Worth every penny."
Buy the MAC Retro Matte Lipstick in Ruby Woo on Amazon for $20.65.
Applicator: Stick | Finish: Matte 
Best matte shade
Few traits are as elusive in a lipstick as a matte finish that doesn't end up making your lips look dry and cracked. Not only have we found this in NYX's soft matte lip cream, but it also has a shade that is the perfect red for those of us with skin on the fairer side. The shade Amsterdam is a bright cherry red that leans ever so slightly on the warmer side. It really pops against fairer skin while being a bit toned down by that matte finish. The doe foot applicator makes it easy to get the perfect lip outline even if you forgot your lipliner at home. Plus, not only does this color feel soft and light going on, but it smells like a cozy vanilla-y candle.
One review says, "How did I stumble onto the perfect lipstick???? This lipstick goes on smooth and sort of dries to a nice, natural finish. It looks great. It doesn't bleed and lasts longer than most lipsticks. I have tried a lot of matte lipsticks lately. Some are okay, but this one is superior. I can't believe the price!!!" That's right — in addition to the myriad qualities that make this lip color a fave, it's just over $6.
Buy the NYX Soft Matte Lip Cream in Amsterdam on Amazon for $6.07.
Applicator: Doe foot | Finish: Matte
Best glossy shade
We all know that glossy lips have been having a moment for the past few years, and opting for a color with some gloss can be an especially good pick for people who are prone to chapped, dry lips (via L'Oréal USA.) If you're looking for a glossy red option, our pick is Benefit Cosmetics' California Kissin' ColorBalm Moisturizing Lip Balm. What we love about this option is that, as the title says, it's actually a lip balm rather than a lipstick. Because of this, it's glossy without that all-too-common sticky factor, and it keeps your lips plump and full of moisture with loads of healthy ingredients like hyaluronic acid and mango butter.
It's also one of the most pigmented lip balms you'll ever encounter, which means that even though it's got all the benefits (no pun intended) of a lip balm, it also competes with other red lipsticks in terms of saturation. One reviewer who uses our shade of choice, Ruby, calls it "super pigmented also hydrating!... my go to lippie so pretty!"
Buy the California Kissin' ColorBalm Moisturizing Lip Balm by Benefit Cosmetics in Ruby from Ulta Beauty for $21.00.
Applicator: Stick | Finish: Glossy
Best for cooler months
When autumn rolls in, many of us feel the impulse to go a bit darker and more daring with our makeup choices. If you're looking to go for a vampy look, our fave is this Maybelline matte lipstick in the shade Cruel Ruby. While it doesn't always have to be the case, reds with cooler tones often complement fair skin better than reds with warmer tones (via Allure). For that reason, Cruel Ruby is a great option if you want a dark red that won't make you look like you're in a high school play when up against your light complexion. 
One review says, "This is a beautiful shade of lipstick! It is a darker red, but still looks good on fair skin/blonde haired people. It lasted through lunch." Of course, there's no hard and fast rule that says fair-skinned folks can't sport a darker red lip when the sun is shining; just make sure to pare down your other makeup when rocking this lipstick on a summer day, and you'll be good to go.
Buy the Maybelline New York Color Sensational Red Lipstick Powder Matte Lipstick in Cruel Ruby on Amazon for $7.75.
Applicator: Stick | Finish: Matte
Best for warmer months
Just like you might want a new red lip for cool weather, you may also want to switch up your red for the summer months. If this sounds like you, then this Revlon lip tint is the perfect pick. Once it's on, this formula looks more like a lip stain than a lipstick, so it won't feel like you've got makeup caked on your mouth if you're outside in the sun or sweating in the heat. 
Because this lipstick feels like a lip balm going on, it's a bit lower in pigment than other options. As a result, this shade won't look like a classic red lip on darker skin tones, but for fairer skinned folks, this will give you a shade that's definitely red while being a bit lighter and more understated. One reviewer, who also loves our favorite shade, said, "I bought this on a whim, and I'm so glad I did! When freshly applied, the lipstick has a slight sheen to it. After about an hour it 'sets' to more of a stain product. It lasts about 8-10 hours on me. The color is a gorgeous red that 'pops' without being too severe to wear during the day. It provides light moisture, but will accentuate any dry spots after it sets. Also, it smells great."
Buy the Revlon Kiss Cushion Lip Tint Lipstick in Crimson Feels on Amazon for $4.20

Applicator: Cushion tip | Finish: Satin
Best staying power
If you're looking for long-lasting color and cutting down on touch-up time, we've got the red lipstick for you. ColourPop LippieStix will make your lipstick application time fly by. Not only will it stay put all day and night, but it's also designed to eliminate the need for lip liner, so you can skip one whole (very difficult) step of your makeup routine. This red is striking and bold on fair skin, and it will really make your makeup stand out. As one review says, "This red pops! Smooth application."
This super pigmented shade will be sure to draw attention to your pout, and it also feels creamy and soft on your lips. Plus, it won't dry your lips out and is filled with lots of good things, like shea butter and vitamin E.
Buy the ColourPop LippieStix in Trust Me from ColourPop for $6.00.
Applicator: Stick | Finish: Matte