The Real Reason Reese Buckingham Sold Hope's Baby On The Bold And The Beautiful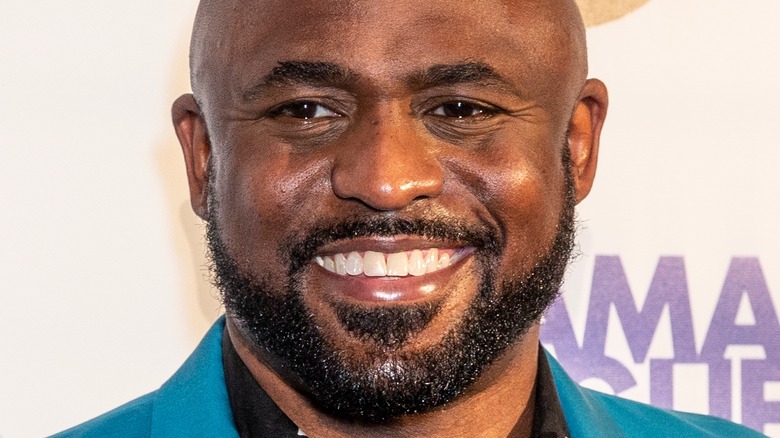 lev radin/Shutterstock
In 2018, versatile star Wayne Brady joined the cast of "The Bold and the Beautiful" for a short stint as Dr. Reese Buckingham, who supposedly came to town to reconnect with his daughter, Zoe Buckingham (Kiara Barnes), per Soaps in Depth. He soon began a romantic relationship with Taylor Hayes (Hunter Tylo), and Zoe revealed that her father had a reputation for being a golddigger and only spending time with women to get his hands on their money before moving on to the next. The impetus for that behavior stemmed from his long-term gambling addiction, which Zoe was extremely concerned about.
Not long after he settled into his new life, Reese was presented with an opportunity that he was quick to take advantage of — despite the fact that it would certainly destroy several lives. When pregnant Hope Logan (Annika Noelle) went into labor, Reese delivered her baby and then told her the infant was stillborn. In actuality, he took Hope's healthy baby girl and sold her to Taylor's daughter Steffy Forrester (Jacqueline MacInnes Forrester), who had a standing feud with Hope and was desperate to adopt a baby. He even paid Flo Fulton (Katrina Bowden) $50k out of the $250k he received to pretend to be the newborn's birth mother so Steffy would believe it was a legal adoption. Of course the truth eventually came out, but not before Hope suffered through the trauma of losing her child and Steffy grew attached to the little girl she would eventually be forced to give back (via SoapDirt).
So what could possibly have led Dr. Reese Buckingham to do such a nefarious thing? Well, the only motive stronger than money is love.
Reese Buckingham did the wrong thing for the right reasons
It wasn't long after Reese Buckingham settled into his new life in Los Angeles that he was approached by a shady character who started making threats. Due to his gambling problem, Reese was $200,000 in debt to a loan shark who had sent an enforcer to collect (via Soap Central). Reese was able to buy himself some time, but the situation grew dire when the guy began threatening the life of Reese's daughter, Zoe Buckingham. This enforcer began following both Zoe and his girlfriend Taylor Hayes to intimidate the doctor into paying up, according to SoapHub. 
The increasing pressure to come up with the cash led Reese to become even more desperate. Desperate to save Zoe from danger of his own making, he concocted the plan to sell Hope Logan's baby. Soon after he paid off his debt, Reese decided to leave Los Angeles to separate himself from the crime he committed. After bidding his daughter a mysterious and hasty goodbye, Reese left for London — leaving behind a massive pile of lies and tasking Flo Fulton with keeping his secret.
Reese Buckingham ultimately paid for his crimes
Soon after Reese Buckingham fled Los Angeles, his daughter Zoe Buckingham began getting suspicious of the circumstances surrounding the adoption of Steffy Forrester's new baby (via SoapHub). After doing some amateur sleuthing, Zoe figured out exactly what her father had done. However, before the shock wore off and she could go to the police, Flo Fulton convinced Zoe to keep quiet. Ultimately, Zoe decided to keep the secret in order to protect her father from going to jail, and she even talked Flo out of confessing when her guilt became too much for her to bear.
However, as time went, on more and more people began to learn of the baby swap — including Thomas Forrester (Matthew Atkinson), who was willing to do anything to let his sister Steffy keep her baby — and the truth was eventually made public. Reese was ultimately arrested off-screen and sent away to prison (via Soap Central). Though Flo was also arrested for her involvement in the scheme, she quickly struck a deal and was released from custody. Zoe became ostracized at Forrester Creations but never faced any legal consequences for keeping such a massive secret.