If You've Never Watched A Tom Hanks Movie, Here's The One You Should Start With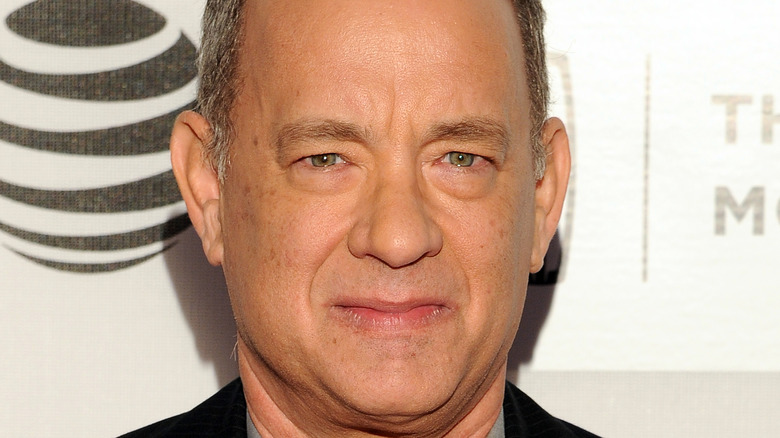 Ron Adar/Shutterstock
Tom Hanks has become one of the most beloved actors of his generation. The movie star got his big break when he was cast in the ABC series "Bosom Buddies," a comedy about two men who dress like women to rent a living space in an all-female apartment building.
After the show ended, Hanks went on to make appearances in some iconic television shows such as "Taxi," "The Love Boat," "Happy Days," and "Family Ties." Finally, in the mid-1980s, his film career took off thanks to his role in the Ron Howard movie "Splash" (via The Kennedy Center).
However, things weren't always so easy for the fan-favorite actor. Hanks came from humble beginnings. He was born in Concord, California, and went on to live with his father after his parents divorced. 
After seeing a performance of "The Iceman Cometh," Hanks decided he wanted to try his hand at acting. He learned the ins and outs of the theater business by working with a stage company in Sacramento and also spent his summers performing at the Great Lakes Shakespeare Festival in Ohio, per Biography. 
When he finally felt he was ready, Hanks moved to New York City and landed a small part in a horror film titled "He Knows You're Alone." The rest is acting history, as Hanks went on to have a very successful career, earning many awards along the way, including two Oscars.
Tom Hanks has an extensive catalog of films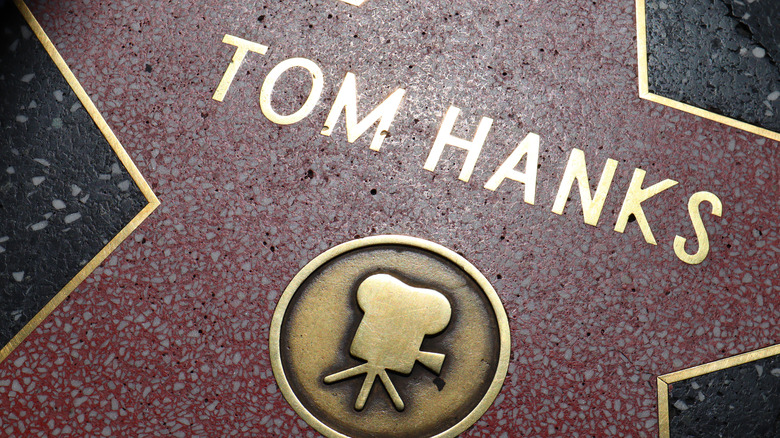 Walter Cicchetti/Shutterstock
Through the decades, Tom Hanks has captivated fans with his movies. If you're in the mood for comedy, he has gems such as "Big," "Bachelor Party," "The 'Burbs," "The Money Pit," and "That Thing You Do" (via IMDb).
Of course, he's also become a king of romantic comedies with tearjerkers such as "You've Got Mail" and "Sleepless in Seattle." Both movies featured fan-favorite actress Meg Ryan, per The Kennedy Center. "He's just so easy. He listens; he roots for other people," Ryan previously said of working with Hanks (via Today). 
However, Hanks is more than comedy and romance, which he's proven in movies like "The Green Mile," "Saving Private Ryan," and "Philadelphia." The latter is a role that the actor says he wouldn't take today as a straight man, per Entertainment Weekly. "We're beyond that now, and I don't think people would accept the inauthenticity of a straight guy playing a gay guy," Hanks told the outlet in June 2022. However, the role won him his first Oscar.
Yet, amid Hanks' extensive filmography, there's one movie that seemingly has something for everyone — and it also happens to be one of his biggest films.
Forrest Gump is one of Tom Hanks' best films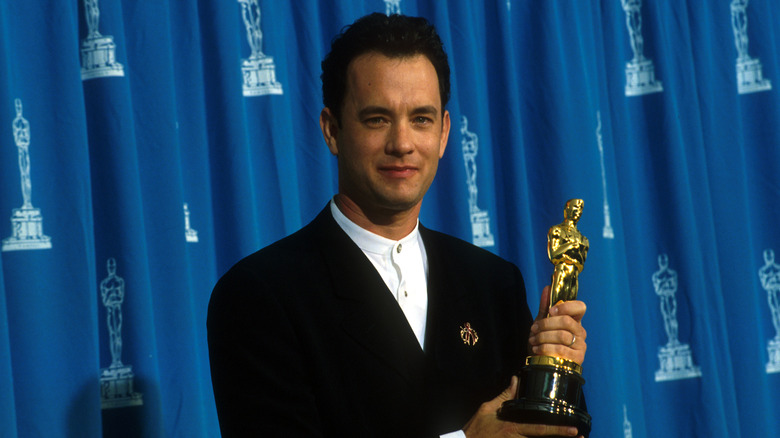 John T. Barr/Getty Images
Tom Hanks has brought so much joy to his fans over the years with movies that have left them laughing, crying, and profoundly moved. Of course, it can be hard to choose which Hanks film to watch, especially if you've never seen any of his work. 
Thankfully, there's one film that seems to combine all of his acting abilities: "Forrest Gump." Adapted from a novel by Winston Groom, it features Hanks as an intellectually disabled man who lives an extraordinary life, witnessing some of the biggest moments in history along the way (via Movie Web).
Shockingly, Hanks wasn't the first choice to play the role. John Travolta was, and Bill Murray and Chevy Chase were also considered before Hanks landed the part, per Yard Barker. "Forrest Gump" also has a fantastic supporting cast, which includes Sally Field, Robin Wright, Gary Sinise, and Haley Joey Osment (via IMDb). The critically acclaimed film won Hanks his second Oscar, so you know you're in for a treat.