Senate Candidate Has Twitter In An Uproar Over His Comment About Trees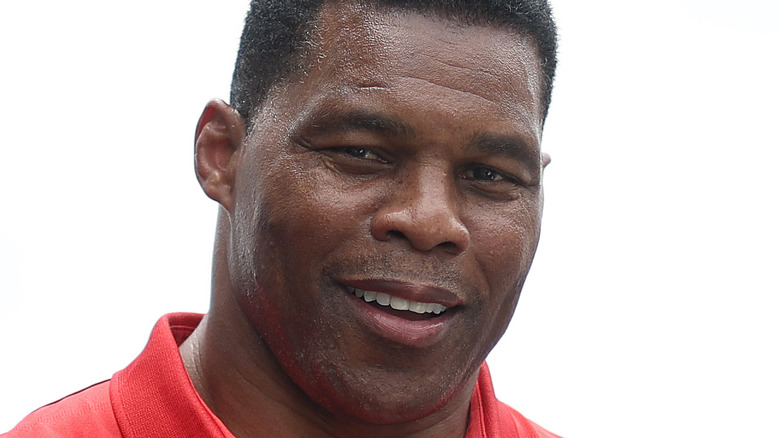 James Gilbert/Getty Images
Herschel Walker is hoping to join the legion of celebrities who have gone on to make politics their second career. The former Dallas Cowboys star is aiming to help turn Congress red as he faces off in November against incumbent, Reverend Raphael Warnock, in the Georgia Senate race. He got his nomination as the Republican candidate with the help of another celeb-turned-politician: former president Donald Trump, according to USA Today. 
Walker, who also won the Heisman Trophy as a standout for the U. of Georgia Bulldogs, is running on a platform that aligns well with Trump supporters. He promises to fight inflation, reduce dependence on foreign oil, strengthen the military, boost the state's job production, and "keep the American dream alive" (per his website). Walker's "I'm a regular guy fighting for your rights" message may also appeal to voters who are disillusioned with career politicians. 
What's less appealing, however, is one aspect of Walker's past. His ex-wife, Cindy Grossman, has alleged that he was violent toward her during their marriage, even threatening to kill her. The claims have come back to haunt him in an ad run by the Republican Accountability Committee, per MSNBC. Walker, who says he has been diagnosed with dissociative identity disorder, sees the commercial as a way to open the dialogue about mental health.
Another stumbling block for his campaign may be his own words. Walker has made some head-scratching statements that could lose him even some faithful followers.
Herschel Walker says cities don't need more trees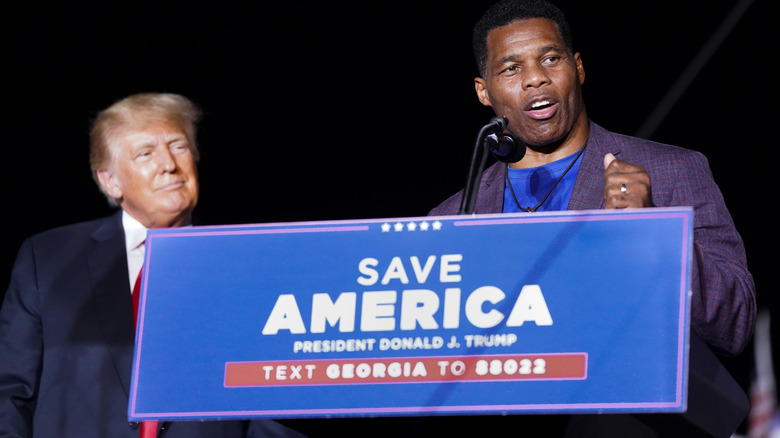 Sean Rayford/Getty Images
At a recent Republican Jewish Committee event in Atlanta, Senate candidate Herschel Walker voiced his objection to certain sections of the newly passed Inflation Reduction Act, including money that was earmarked for an urban forestry program. Per CNN, the football legend griped, "[A] lot of money, it's going to trees. Don't we have enough trees around here?" 
It seemed an odd hill to die on, particularly to that specific audience. It's common in Jewish tradition to contribute money toward the planting of trees in Israel to honor a deceased loved one, per Shiva.com. But this isn't the first time Walker has fought against environmental change; in July, he claimed that cleaning up American air would be futile, since China's "bad air" would just move back into our area (via E&E News). 
Twitter collectively rolled its eyes over Walker's dis of Mother Nature. "Despite what Herschel Walker says, we definitely do NOT have enough trees, but we absolutely have enough GOP morons like him in the Senate," said influencer Majid M. Padellan. Another commenter got in a dig at a famous Marjorie Taylor Greene rant: "Herschel Walker is one tree short of a peach tree dish."
Countering Walker's argument of cities having enough trees, a respondent noted, "Seriously trees are sorely needed in the inner city to cool the environment. A cooler environment can lead to lower summer time utility bills for these financially depressed communities. It's sad that I know that & he doesn't."