Hillary Clinton Opens Up About Staying With Bill After He Cheated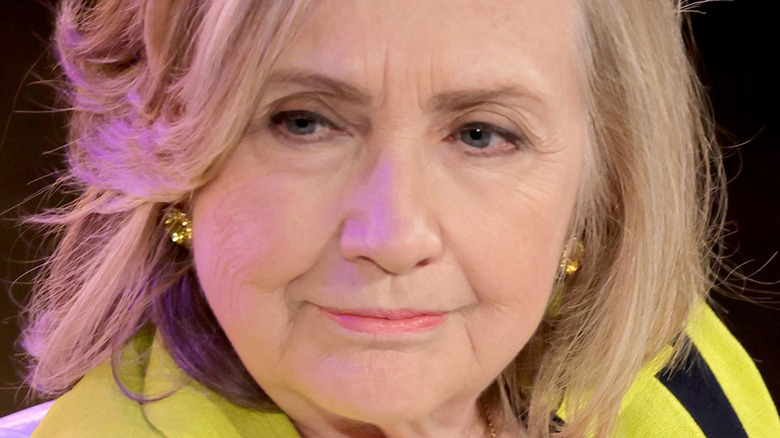 Michael Loccisano/Getty Images
In 1998, Google became a thing, the first Apple iMac debuted, and Titanic cleaned up at the Oscars, per Insider. It was also a big year for political scandal at the highest level. In January 1998, as rumors were swirling about an affair President Bill Clinton had with a White House intern Monica Lewinsky, the president went on TV and said, "I did not have sexual relations with that woman, Miss Lewinsky" (via U.S. News). Bill's wife, Hillary Clinton, claimed the allegations were nonsense. However, by August, Bill acknowledged the affair had happened — and that it was wrong — and DNA on Lewinsky's dress was tested against Bill's. By December 1998, Bill was impeached by the House for lying under oath and for obstruction of justice, via Time. Over the years, Bill has also been accused of sexual harassment and assault by four women, which he has denied, per Business Insider.
Through that time, Hillary publicly stood by her husband and they are still married today. She noted in her 2017 memoir "What Happened" that she doesn't think her marriage "is anyone's business," but she also wrote, "I know that a lot of people are genuinely interested. Maybe you're flat out perplexed," via The Sydney Morning Herald.
Hillary Clinton knows not everyone should make the same choice she did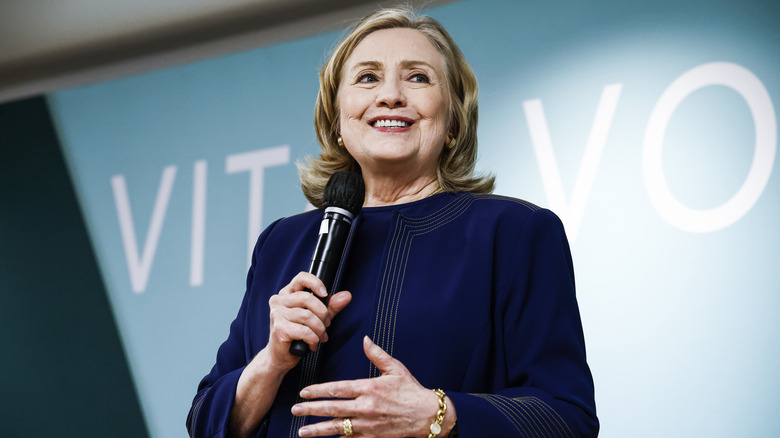 Paul Morigi/Getty Images
Hillary Clinton opens up about one of the most infamous times in her life in an upcoming docuseries. "Gutsy" is the name of the upcoming Apple TV+ eight-part docuseries featuring Hillary and her daughter, Chelsea Clinton, as "they celebrate the gutsy women who inspire them." They'll be talking with a wide range of women from Megan Thee Stallion and Jane Goodall to Abby Wambach. Along the way, they'll be answering some questions of their own as well. In a trailer for the series, Hillary is asked by Rev. Whittney Ijanaten about her marriage. Hillary acknowledged that just because she stayed in her marriage after Bill Clinton had an affair, " that doesn't mean that's right for everybody."
In her memoir, "What Happened," Hillary wrote about the thought process she went through about whether she'd stay in the marriage or not: "There were times that I was deeply unsure about whether our marriage could or should survive. But on those days I asked myself the question that mattered most to me: Do I still love him? And can I still be in this marriage without becoming unrecognizable to myself — twisted by anger, resentment, or remoteness. The answers were always yes. So I kept going," per CNN.
Huma Abedin, who was Hillary's deputy chief of staff when she was Secretary of State and vice chair of her 2016 presidential campaign, told CBS that Hillary staying with Bill was "the decision that she thought was right for herself, her family, and her country."