Here's What Laverne Cox Looks Like Going Makeup Free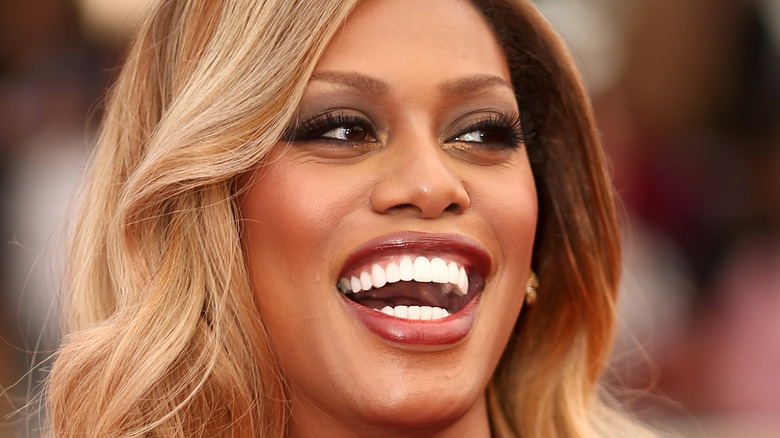 Christopher Polk/Getty Images
Over the years, Laverne Cox has pushed the boundaries in Hollywood in many different ways, simply by being a confident, openly transgender actor and taking high-profile roles in the likes of "Orange Is the New Black," "Inventing Anna," and "Promising Young Woman." 
When she first started out, though, Cox wielded her makeup like armor. As she explained to Refinery 29, "I needed to put on my face to get ready to be harassed on the street, to deal with the world." She continued, "I always needed makeup to feel safe. When you are a trans woman and you walk down the street and get called a man, it can be a mind f***. I felt like a failure — like people weren't seeing my womanhood." 
Thankfully, two decades after the actor took her first tentative steps into the industry, she sees makeup as something to enhance her features rather than hide them, clarifying now it's "about celebrating what I look like."
These days, the Emmy nominee is even content to show up to dates with just a dusting of powder to combat any shininess, as she told Access Hollywood (via Glamour). Cox only gets fully glammed up once she knows the person in question is worth it. Moreover, the "Orange Is the New Black" breakout bared her real face for all to see with the supreme conviction earned by someone who's worked for years to feel comfortable in her own skin.
The Orange Is the New Black star is proud to bare it all
Laverne Cox proudly shared a stunning makeup-free selfie on Instagram, captioning it with the hashtags #TransIsBeautiful and #nofilter, and fans were quick to let the actor know just how incredible she looked. "My goodness you are GORGEOUS!!" wrote one, while another gushed, "Gosh, you are really so beautiful." 
Cox frequently posts without any makeup on, while letting fans know she has "no problem" showcasing what she really looks like. As the actor admitted to Allure, when it comes to skincare, she's not a huge product girl, preferring instead to work from the inside out. "I think it's also about diet. It's about what I put in my body. I notice when my diet is different, my skin's different, so it's an inside-out situation as well," she opined. 
Funnily enough, there's a baby shampoo that Cox swears by as a face wash, emphasizing how laidback she is when it comes to her routine. In an interview with Us Weekly, she reasoned that anything considered gentle enough for a baby's skin should be ideal to use on her own face. As Allure points out, Cox's skincare regimen is so pared-down and simple that it's no wonder she has the confidence to go completely fresh-faced on social media on the regular. 
Laverne Cox no longer feels the need to hide her true self
Considering she used to employ makeup as a defense mechanism, it's not shocking to learn that Laverne Cox had a long road to accepting who she was. As the actor confessed to The Guardian, "I have been picking myself apart my whole life." Cox refuses to go into detail about her transition since it's nobody's business but her own, but she did acknowledge that facial feminization surgery no longer interests her.
"I wanted really highly invasive surgical procedures to feminize my face," Cox revealed. "All these years later, I have the money to do it, but I don't want it. I don't want it! I'm happy that this is the face that God gave me, and it's imperfect." Funnily enough, as she informed Us Weekly, taking hormones actually helped clear up her acne, which was a major bonus of the transition process.
Naturally, the actor is a vocal advocate for self-care, too. "It's really about feeling for me," she shared. "I don't need to put a bunch of serums on my face anymore." Her night-time routine is considerably simpler now that she's cleaned up her eating habits. "My body feels better and my skin is better, so I just throw on some moisturizer and roll it into my skin," she said.
Whatever Cox is doing, it's clearly working since she's more open about loving herself — inside and out — than ever before.