Royal Sources Have A Very Different Recollection Of Meghan Markle's Fire Incident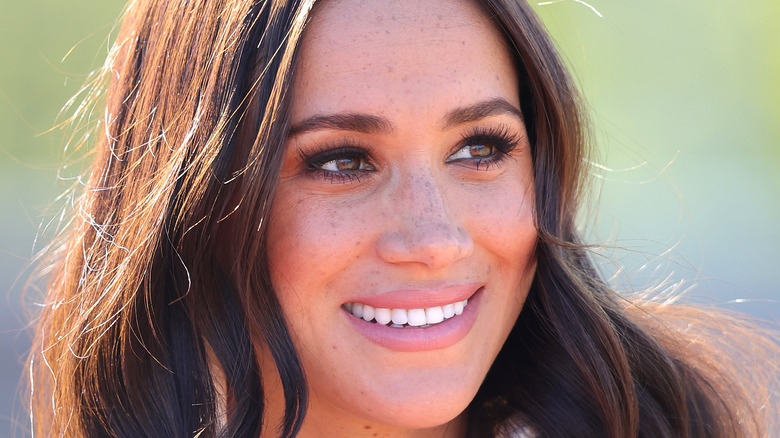 Chris Jackson/Getty Images
Earlier this week, Meghan Markle opened up about a terrifying situation involving Archie, shocking royal watchers in the process. The Duchess of Sussex discussed the incident, which occurred in 2019, during the debut episode of her long-gestating podcast, "Archetypes." 
The mother of two shared how she was on a royal tour of South Africa with husband Prince Harry while baby Archie, who was just 4 months old at the time, was at home being cared for by their nanny, Lauren.
Once the Sussexes' official engagement was concluded, the duchess was told that a fire had broken out in Archie's nursery after a heating implement went up in flames. Luckily, he wasn't in the room at the time. However, no smoke detector was present, meaning the situation could've gone south immediately if nobody had realized that something was up. 
Thankfully, by chance, "someone happened to just smell smoke down the hallway, went in, fire extinguished." Lauren, meanwhile, was completely distraught.
As Meghan pointed out succinctly, "He was supposed to be sleeping in there." Harper's Bazaar confirms that the Sussexes were abroad for 10 days total, with additional stops in Malawi, Angola, and Botswana. Sadly, the former "Suits" star admitted during her podcast that she and Harry were ferried off to another royal duty immediately after learning about the fire, solidifying the uncaring nature of the monarchy in her eyes. 
Now, though, insiders are taking issue with Meghan's version of events.
Insiders clarified that a fire didn't actually break out in Archie's nursery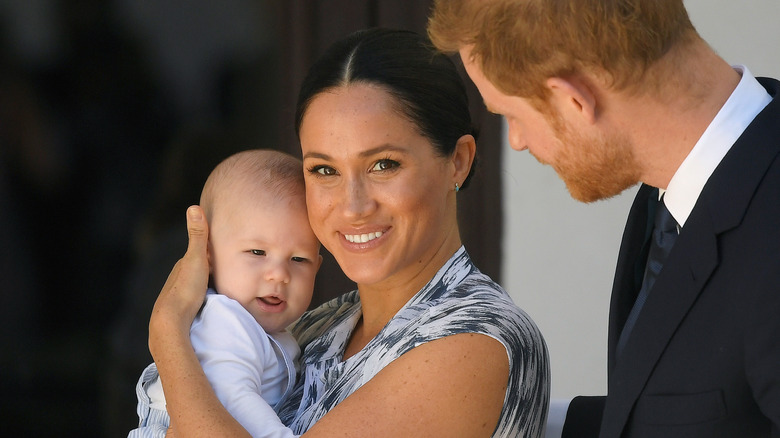 Pool/Getty Images
According to the Daily Mail, Meghan Markle should've been well aware that she'd have to continue with her duties after hearing about the fire. Further, insiders claimed that there wasn't an actual blaze; rather, the heater began smoking and was simply unplugged and left to cool down. The Duchess of Sussex took aim at the royal family for being more concerned with optics than how she felt as a mother. 
As an insider argued to the Daily Telegraph, if an announcement or any other kind of public acknowledgment of the incident was made, the couple's work in the region would've been completely overshadowed. "Meghan outraged that she had to go on another royal engagement in South Africa after she heard there was a fire in baby Archie's room," she said. "Nasty to hear but as an actress doesn't she know the show must go on." 
Tennis icon Serena Williams, who was Meghan's guest on the inaugural episode of her podcast, "Archetypes," was shocked that she had to continue on with her day, contending that nothing would keep her from her daughter in such a situation.
Meghan Markle previously criticized the royals' lack of empathy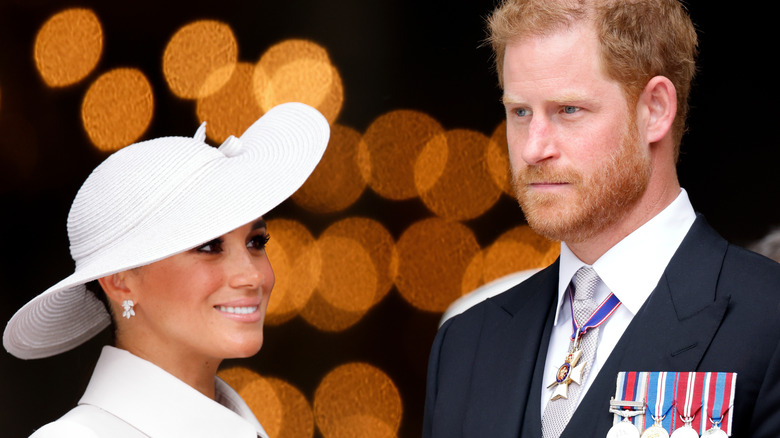 Max Mumby/indigo/Getty Images
The Duchess of Sussex previously opened up about the royal family's alleged lack of empathy during her Oprah Winfrey interview with Prince Harry. As Cosmopolitan reported at the time, Meghan Markle recalled how her mental health plummeted to such an extent that she was considering ending her life. But, when she asked officials for help, they brushed her off. 
The former "Suits" star was being heavily scrutinized by the British press at the time, but the firm wouldn't do anything to counteract the negative coverage, nor would they allow her to attend therapy.
"[Human resources] said: 'My heart goes out to you because I see how bad it is, but there's nothing we can do to protect you because you're not a paid employee of the Institution,'" Meghan revealed. "This wasn't a choice, this was emails and begging for help saying very specifically: 'I am concerned for my mental welfare.' Nothing was ever done. So we had to find a solution." 
This mistreatment at the hands of the royal family ultimately led the Sussexes to defect. They've since attempted to mend fences, but a royal author recently confirmed what we suspected about Meghan and Harry's Platinum Jubilee snubs. Namely, the queen sidelined them to ensure that the celebrity couple didn't cause any drama or steal the spotlight from her at the event, per Newsweek.
If you or anyone you know is having suicidal thoughts, please call the National Suicide Prevention Lifeline by dialing 988 or by calling 1-800-273-TALK (8255)​.
If you or someone you know needs help with mental health, please contact the Crisis Text Line by texting HOME to 741741, call the National Alliance on Mental Illness helpline at 1-800-950-NAMI (6264), or visit the National Institute of Mental Health website.