The Surprising Reason Jared Kushner Once Broke Up With Ivanka Trump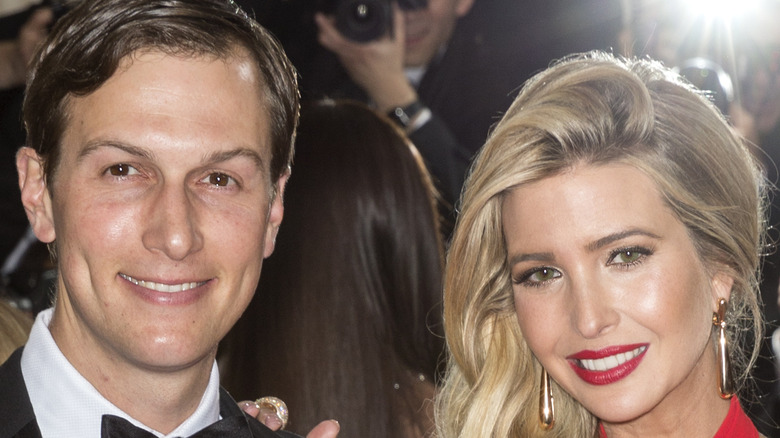 Ovidiu Hrubaru/Shutterstock
Donald Trump's oldest daughter Ivanka Trump met her future husband when they were only 25 years old back in 2007 (via Us Weekly). The former model married Jared Kushner two years later after a storybook romance — or was it?
In his new book "Breaking History," the real-estate developer sheds new light on the time between when he first met Trump and saying "I do." As it turns out, the high-profile couple broke up at one point for a surprising reason.
First, it's important to note how integral being Jewish is to Kushner's identity, with a 2020 piece in The New Yorker sharing his family's horrendous struggles during the Holocaust. The one-day advisor to the president was bar mitzvahed and grew up in a family that has a history of donating money to Jewish causes like education and medical care in the U.S. and Israel (via Jewish Virtual Library).
Meanwhile, the Trump children, including Ivanka, were brought up by the former POTUS and mom Ivana Trump as Presbyterian Christian (via Express). As it turns out, the couple's religious differences were not always easy for Kushner to accept and led to a split.
Jared Kushner and Ivanka Trump's relationship was rekindled in a very romantic way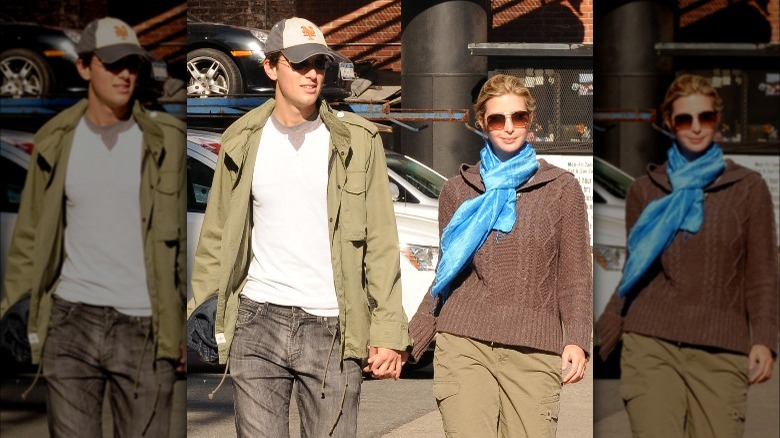 Arnaldo Magnani/Getty Images
"Breaking History" details how a few months after Jared Kushner met Ivanka Trump at a business meeting, he decided she might not be the one for him. He wrote in the buzzy tome, "when I realized that I was falling in love with Ivanka, I grew concerned about our different religions. As hard and painful as it was, I broke up with her" (via The Times of Israel).
It was contended in the book "Kushner Inc." that the future Donald Trump confidante's family was not happy about him having been in a relationship with the would-be first daughter in the first place (via The Jerusalem Post).
That was not the end of their story, since many lovers break up and end up getting back together. 
But, are all romances rekindled by Bono at the U2 singer's home? This one was! Kushner tells the story in his book of how he ran into Trump on a cruise. "After lunch, Billy Joel, who had also been with us on the boat, played the piano while Bono sang with the Irish singer-songwriter Bob Geldof," the dad of three shared, adding that he soon got back together with his now-wife.
Ivanka Trump converted to Judaism for Jared Kushner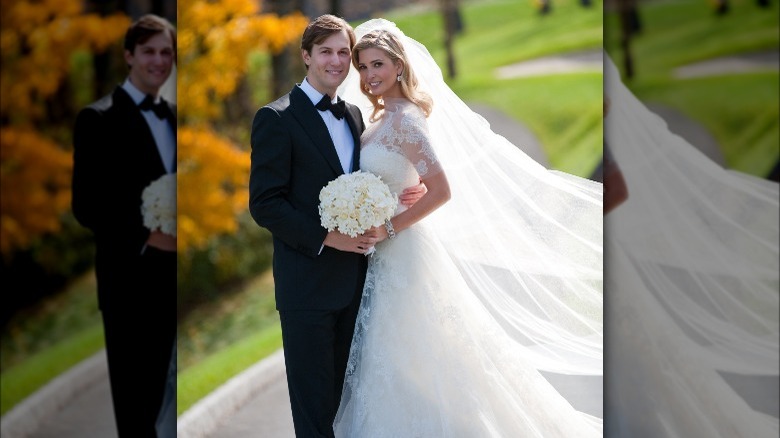 Handout/Getty Images
Of course, it probably didn't hurt that Ivanka Trump decided to convert to Judaism, a decision she opened up about in 2015 in a Vogue interview. "It's been such a great life decision for me. I am very modern, but I'm also a very traditional person, and I think that's an interesting juxtaposition in how I was raised as well," she said. "I really find that with Judaism, it creates an amazing blueprint for family connectivity."
Still, initially it had been widely reported that Donald Trump was against the idea of his daughter converting, an account Jared Kushner confirms in his book, sharing how the businessman-turned-politician questioned why he couldn't convert for Ivanka (via The Times of Israel).
"I replied that it was a fair question, but Ivanka had made the decision on her own, and we were both comfortable with it," Kushner writes. 
And the rest is (breaking) history!