Why Lululemon Foot Traffic Just Isn't Meeting Pre-COVID Numbers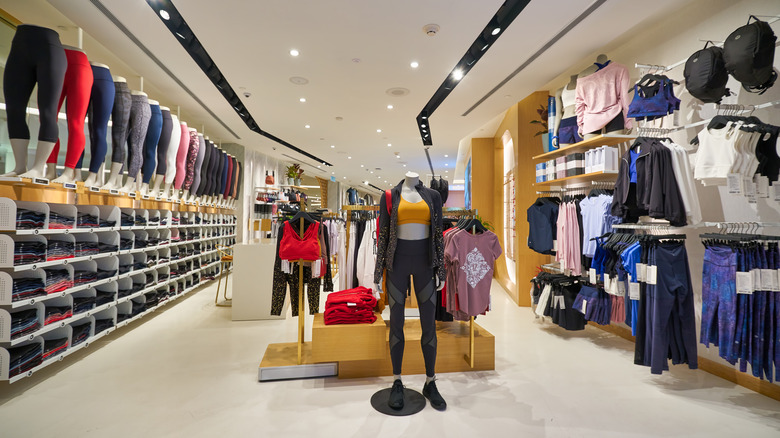 Sorbis/Shutterstock
Whether you're in desperate need of a new pair of joggers or you wear a sports bra every day no matter the occasion, athleisure may be the style for you. According to Lefty Production Co., the popular fashion trend is a "fusion of athletic and leisure" and provides comfort and function no matter what activity you find yourself doing. One of the leading brands that spearheaded the athleisure style trend is Lululemon.
According to the brand's website, Lululemon specializes in athletic apparel and accessories for all things "yoga, running, cycling, training and most other sweaty pursuits." Lululemon founder Chip Wilson established the company in 1998 in Vancouver, Canada, originally a "design studio by day and a yoga studio by night." Per Statista, Lululemon now has almost 600 brick and mortar locations around the world, with over 320 in the United States alone.
But how has the store recovered since the COVID-19 lockdown in 2020? Searching for answers, The List created a graph via Data Herald that tracked monthly foot traffic trends at Lululemon over the past two years. Even with athleisure at the height of its popularity, data shows that Lululemon has seen a big drop in shoppers on their road to recovery.
Has the Lululemon hype finally faded?
According to The List's graph, Lululemon saw approximately 10,000 shoppers each month prior to the pandemic, with the average number of visitors nearly doubling around the holiday season. But in March 2020, foot traffic fell to practically zero. Shoppers returned the following summer, but numbers remained lower than their pre-pandemic averages. Even during the holiday months, the graph illustrates that foot traffic fell by 8,000 visitors compared to the previous year. The pandemic has seriously changed consumer spending habits: many shoppers now favor online shopping for both safety and convenience (via J.P. Morgan).
Pricing could be another possible explanation for Lululemon's lack of shoppers. If you've ever wandered into a Lululemon store and found something that caught your eye, only to check the price tag and place it right back on the rack, you aren't alone. Many shoppers leave the athleisure store asking themselves, "Why is Lululemon so expensive?" While the quality of their products are comfortable and durable, not everyone can afford the luxury prices, especially as inflation continues to soar. Yahoo! News reports that Lululemon has raised their prices this summer as costs of raw materials have gone up. While they did not initially see customer "resistance to price," foot traffic data has declined since their price hike.
If you love the athleisure style but can't afford premium Lululemon prices, try these affordable Lululemon dupes that are trending on TikTok.