Meghan Markle And Prince Harry Welcome A Special New Family Member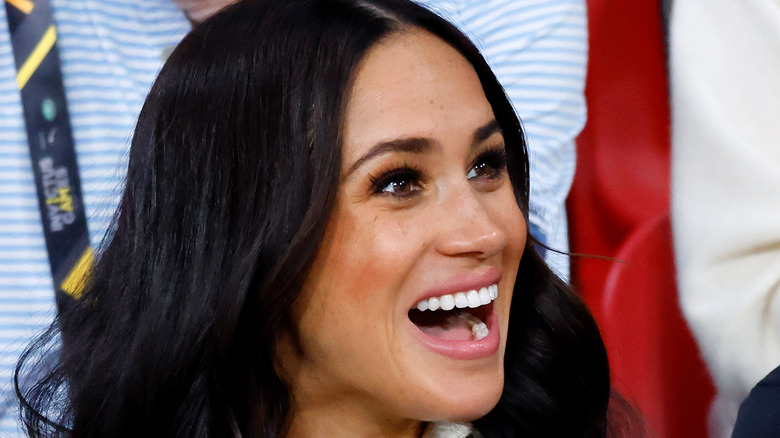 Max Mumby/indigo/Getty Images
When Prince Harry and his wife, Meghan Markle, Duchess of Sussex, chose to leave their duties and the United Kingdom behind for a more quiet life in California, fans of the royal family were not thrilled. While the Duke of Sussex shared that he chose to leave the U.K. for his family's safety, their approval rating still went down amongst royal supporters.
While away from the royal family, the Duke and Duchess of Sussex have continued working closely with charities that they were connected with while serving the British public. Harry has especially stuck with the charities closest to his heart, like the Invictus Games, the sports competition he throws annually for wounded veterans from around the world. This year's games were especially heartwarming for Harry, who got emotional over the Ukrainian athletes participating (via the BBC).
Harry and Meghan are great supporters of charitable causes, even extending into their own homes. The couple has added a new member to their family and they come from a very special charity.
Prince Harry and Meghan Markle's family has grown by four special paws
The Duke and Duchess of Sussex have added a new addition to their family and their backstory is special. According to the Los Angeles Times, Prince Harry and Meghan Markle have recently extended their family by four paws, and their furry companion comes from devastating circumstances.
Mia, the beautiful beagle pup adopted by the duke and duchess, is a rescue from Beagle Freedom Project — a charity close to my heart. Mia is a rescue from Envigo, a devastating breeding facility in Virginia that would breed beagles for animal testing. Thankfully, Beagle Freedom Project was able to help get the facility shut down, ultimately saving 4,000 beagles from unspeakable conditions (per NPR).
Of the 4,000 beagles rescued, Prince Harry and Meghan adopted Mia, who recently had a litter of adorable puppies. Instead of taking home one of the tiny additions, they chose to take home the mother!
Shannon Keith, the founder of Beagle Freedom Project, told the heartwarming story of love at first sight between Meghan and Mia. "The duchess is holding Mia and was like, 'We're adopting her,'" Keith said. "She was like 'No, we don't want a Christmas puppy ... We want ones we can help who are older.'"
Having adopted an animal testing survivor myself, I know how challenging it can be to help them grow past the trauma they have endured. However, it is the most magical moment to watch them thrive in freedom, and there's no denying Harry and Meghan are going to give Mia a wonderful chance at life.