General Hospital Fans Have A Message For Curtis Before He Marries Portia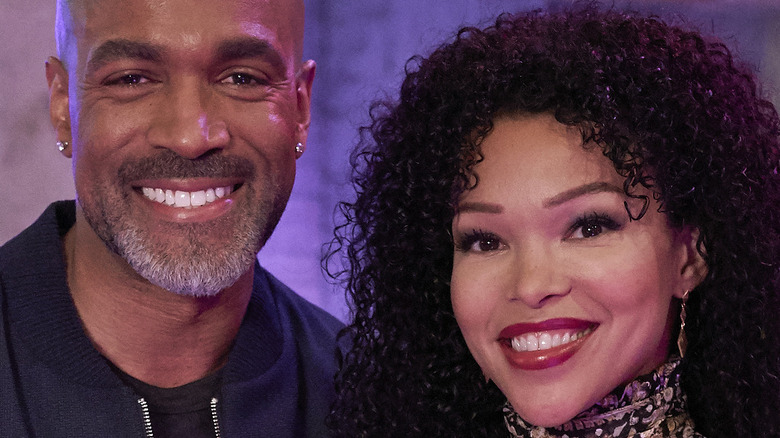 ABC/Craig Sjodin
Police commissioner Jordan Ashford (Tanisha Harper) on "General Hospital" has had a long and difficult past, per Soap Central. She was a DEA agent partnered with Curtis Ashford (Donnell Turner), but they eventually parted ways due to his drug addiction. Jordan then worked undercover for several years, ultimately landing in Port Charles. After reconnecting, Jordan and Curtis struck up a romance, eventually getting married. That marriage failed when Curtis couldn't deal with the fact that Jordan's job precluded her from sharing work-related secrets with him (via Soaps in Depth).
As Soap Dirt explains, years ago Curtis had an affair with Portia Robinson (Brook Kerr) when she was married to Marcus Taggert (Real Andrews). When Portia came to Port Charles, she and Curtis rekindled their friendship and a romance blossomed when they shared a kiss on New Year's Eve. Portia and Curtis eventually moved in together, taking comfort in the fact that Curtis and Jordan's marriage was behind them — or so they thought.
Curtis' meddling aunt Stella (Vernee Watson-Johnson) wanted the couple to not give up, so she stole the signed divorce papers envelope from Jordan. While eating at Kelly's diner, Stella suffered a stroke, knocking beverages all over the place and the envelope. Employee Cameron Webber (William Lipton) called an ambulance for her and later cleaned up the mess, while a waitress unwittingly threw away the envelope (per Soaps She Knows). 
Now, Curtis has proposed to Portia, but the fans know something the couple doesn't.
Savvy fans see a plot twist coming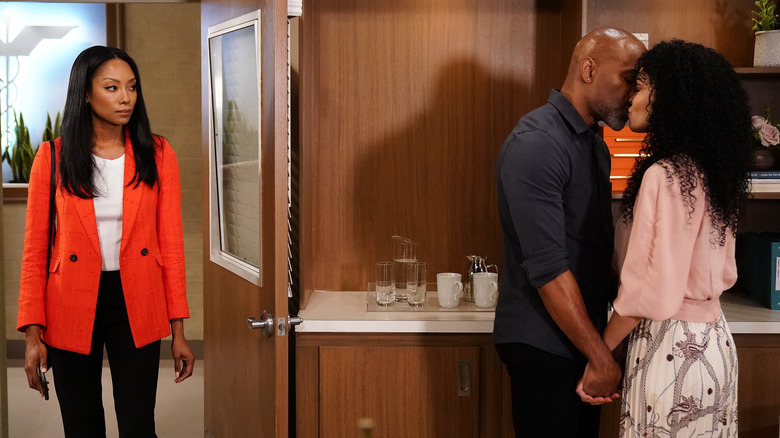 ABC/Troy Harvey
"General Hospital" shared a clip on Twitter of Curtis proposing to Portia at the MetroCourt Hotel rooftop pool, writing, "Curtis is ready to take the plunge with Portia." In the clip, one of the things Curtis professes is, "I love the way that you support and encourage and bring out the best in me. And when I think about my future, I see you right there by my side."
The astute fan base was on top of this post and the backstory with one writing, "But they won't get married because he is still married to Jordan and Stella is the only one who knows. Curtis may find out when they go for their marriage license. Jordan will remember what Portia said while they were locked up in the basement." Another reply stated, "Oh I forgot Curtis's Aunt Stella never mailed Jordan and Curtis's divorce papers so he can't marry Portia anyway," while someone posted, "I like that the old story point of Aunt Stella not mailing and filing the divorce papers has come back around."
Some fans supported the relationship, while others criticized the fact that Curtis proposed from in the pool. A viewer added some levity stating, "What is this? Some kind of soap opera?"
Now that "GH" is getting back to the story of how Aunt Stella may have screwed up Curtis and Portia's wedding plans, fans are eager to see how it plays out.