British Politician Lashes Out Over Meghan Markle's Life Choices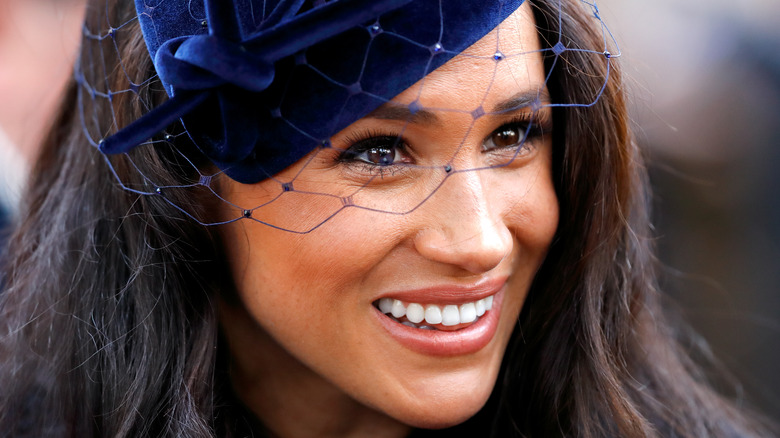 Max Mumby/indigo/Getty Images
The release of the Duchess of Sussex's highly-anticipated "Archetypes" podcast has thrust her back into the spotlight once again, and unsurprisingly she's not being cast in a flattering light. Listeners absolutely ripped Meghan Markle's first podcast apart, with critics arguing she came across as completely self-obsessed and didn't even give distinguished guest, and living legend, Serena Williams the room to adequately express herself. 
The Spectator claimed, "The show is in fact all about Meghan," with the former actor even taking an executive-producer credit on it. The Times, meanwhile, described listening to "Archetypes" as akin to feeling as though "you've been locked in the relaxation room of a wellness spa with an unusually self-involved yoga instructor." Suffice it to say, the duchess got little credit from the British press, with whom she's had issues for years. 
And now, a former politician is taking aim at Meghan for having the gall to, as he sees it, continue sharing her life with the world when nobody asked her to in the first place. 
The Duchess of Sussex was accused of being utterly self-involved
Chris Jackson/Getty Images
According to a conservative British politician, the Duchess of Sussex, Meghan Markle's biggest mistake was believing she would "become Princess Diana overnight" after marrying Prince Harry. During a recent appearance on GB News (via YouTube), former Tory MP David Mellor railed against the Duchess of Sussex's perceived missteps, arguing, "She's turning her life into a soap [opera] and she's a soap actress so why wouldn't she?"
It's worth noting, per IMDb, Meghan appeared in a single episode of "General Hospital," and her most high-profile role to date was in the legal drama "Suits," so she's certainly not primarily known as a soap star. Mellor continued, "Basically, it's a sort of crazy world which she inhabits where she assumes that everyone is totally fascinated by every little detail either of her current life or of her past life and doesn't mind whether it's true or not."
The politician was discussing "Archetypes" at the time, and claimed to have previously been a fan of the duchess. He soured on her considerably when it became clear Meghan didn't want to roll up her sleeves, as Diana always did, and simply desired a life of luxury instead. Funnily enough, People confirmed that, upon initially announcing her podcast, the former actor shared how its aim was to "dissect, explore and subvert the labels that try to hold women back."
Meghan Markle's lack of commitment has been questioned before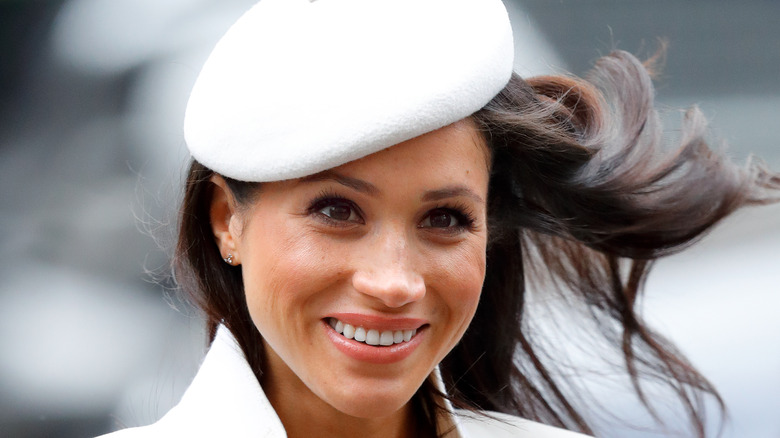 Max Mumby/indigo/Getty Images
Although the relatable way Meghan Markle described pregnancy on her podcast should speak to mothers all over the world, there are still plenty of people poised to criticize her for using her voice in the first place. In fact, after the Duchess of Sussex revealed there was a fire in her infant son Archie's nursery during a royal tour of South Africa in 2019, insiders immediately rushed to clarify that there wasn't a blaze at all, per the Daily Mail.
Further, David Mellor's comments echo those of biographer Tom Bower, whose explosive, tell-all book, "Revenge: Meghan, Harry and the War between the Windsors," painted Meghan as a ruthless, demanding, and utterly humorless bore. Per Newsweek, Bower bragged to Piers Morgan that he hoped its release hastened the Sussexes' downfall, admitting, "I wouldn't be sad at all because they pose a real threat to the royal family."
Bower also opined that Meghan was never going to fit in with the royal family because she's always hogging the spotlight. As Express reported, during an appearance on "Good Morning Britain," the author contended, "She didn't understand she couldn't be number one, there's only one number in the monarchy and she didn't understand hierarchy." Again recalling Mellor's comments, Bower also asserted that being part of the royal family is "about hard work with little reward and she didn't like that."