The Time Cody Fern Pulled Off A Dazzling Eyeshadow Look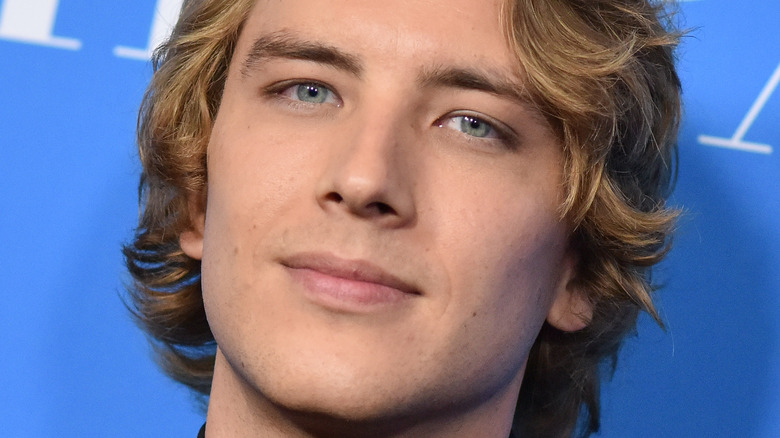 DFree/Shutterstock
Forget Crocodile Dundee — Australia has a new ambassador in the form of actor Cody Fern. The star grew up in the small town of Southern Cross, population of less than 300, he noted in Anthem — quite different than his current home of Los Angeles. "I'm so appreciative of where I grew up and how I grew up and the experiences that I've had," he told the magazine. "It's just a completely different lifestyle moving to L.A. with films and press tours."
Fern has had quite a few reasons to do those press tours, too. American audiences first saw him as Jim in the small film "The Tribes of Palos Verdes" with Jennifer Garner, followed by the role of Duncan Shepherd in "House of Cards," per IMDb.
The actor is also associated with the creative talents of Ryan Murphy, and Fern has appeared in several of his productions, according to FX. He played David Madson in "The Assassination of Gianni Versace: American Crime Story" before landing several roles in different anthologies of "American Horror Story." He said during an interview with W, "I told my agent that I wouldn't do TV unless it was Ryan Murphy, 'House of Cards,' or HBO. So, two out of those three are down."
Cody Fern has a face for makeup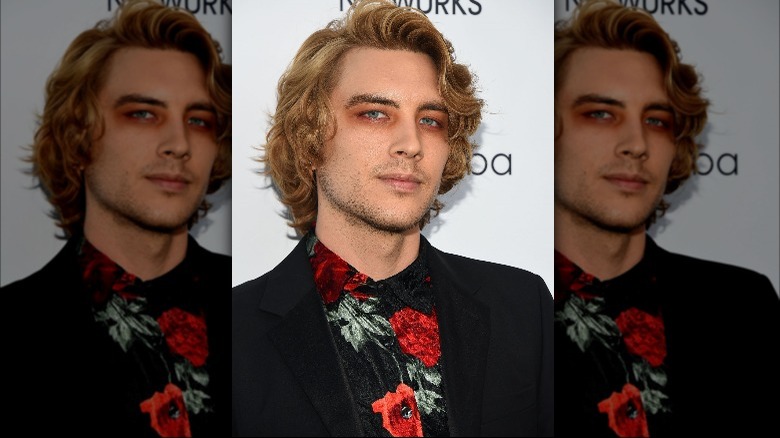 Araya Doheny/Getty Images
With a strong bone structure and piercing eyes, the face of Cody Fern can only be enhanced with a little makeup. For his appearance on the red carpet at the FX and Vanity Fair Emmy celebration party, Fern wore a smokey eye consisting mostly of red eyeshadow, as seen above.
The makeup look is reminiscent of the one his character, Michael Langdon, wears in "American Horror Story: Apocalypse." For the role, Fern wore a lot of red eye shadow, a decision made by both Fern and the show's makeup artist, Eryn Krueger Mekash, per The Hollywood Reporter. "Now I'm seeing people doing that, and that's really fun," shared Mekash. "Cody and I had a great time coming up with that look, but seeing it on other people is so cool."
Fern paired his dazzling eyeshadow look with a floral-patterned shirt with red blooms, matching his eye makeup. The star has been known to wow on the red carpet with both his fashion choices and accompanying makeup, as reported by Wonderland. He first caught attention for his unconventional choices at the Golden Globes in 2019, when he wore a partially sheer shirt and winged eyeliner. "I had been playing the game of wearing the suit with the nice tie and trying to fit in," he told Wonderland. "So doing that at the Golden Globes? It was actually for me. It was like shedding that skin."
The star owns his fashion choices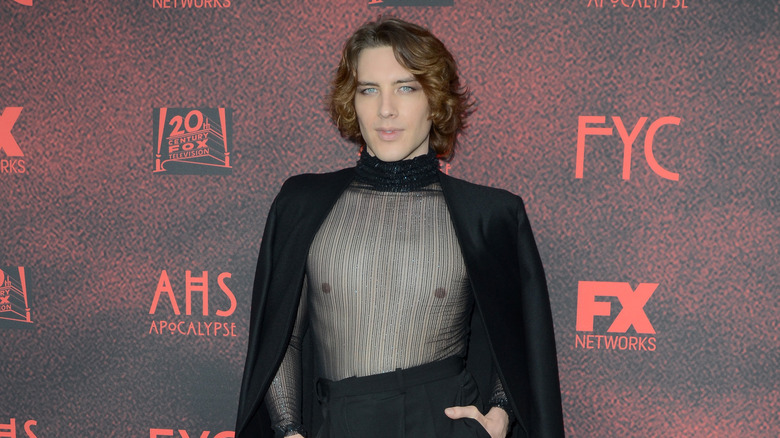 Kathy Hutchins/Shutterstock
While some may note that Cody Fern's choice to wear clothing and makeup traditionally thought of as women's fashion to be gender-bending, the star feels differently. "For me, it's never been consciously about gender-bending or crossing gender lines," Fern related to Vanity Fair. "These are labels that have been thrown my way a lot, but it's been more about wearing clothes that I like. I'm always trying to tell a story with the looks that I put together."
As for what that story is about, Fern prefers to let people decide that for themselves. "I don't normally talk about my looks, I don't normally comment on my looks," Fern revealed in a video for Louis Vuitton. "I like to keep them open for interpretation, so I've been very consciously and purposely vague about them in the past."
What he will say, though, via that same Louis Vuitton video, is that he's not following any set fashion rules. "The story that I'm trying to tell is not one of gender-bending, but one of 'I'm going to do it my way, and I'm not going to be limited by somebody else's interpretation.' It's about owning who I am at this point in time, and being as truthful and as authentic to it as I possibly can."