How To Replicate Jennifer Lopez's Nighttime Skincare Routine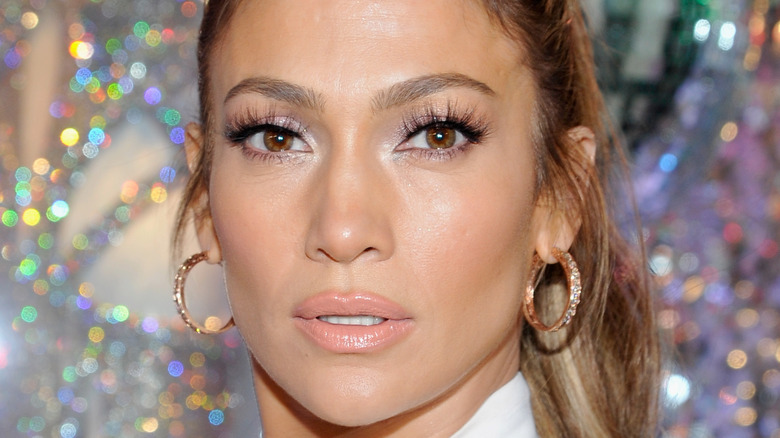 John Sciulli/Getty Images
Jennifer Lopez has had a truly stunning transformation across her decades in the public eye, from little-known dancer to A-list actor and superstar singer. Aside from being multitalented, JLo is also famous for her remarkably good looks, which bafflingly seem to be getting better with each year that passes — as W magazine memorably put it, even the lady herself "is confused by how little she's aging." 
The "Marry Me" star, obviously, works super hard to stay in tip-top shape and Lopez typically eats really well too, but her natural glow may partly come down to unabashed self-belief. As she told Harper's Bazaar, "Affirmations are so important. I am youthful and timeless. I tell myself that every day, a few times a day. It sounds like clichéd bull****, but it's not: Age is all in your mind. Look at Jane Fonda." 
For those looking for a more practical application of everything Lopez has learned over the years, this is her exact nighttime skincare routine. 
JLo's evening regimen requires just four products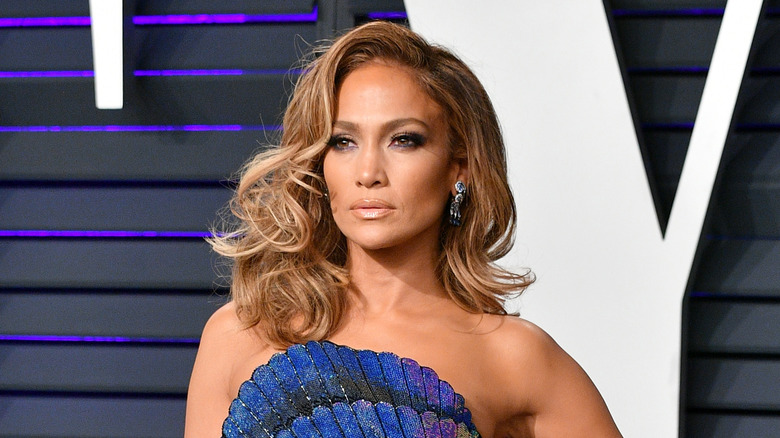 Dia Dipasupil/Getty Images
Helpfully, Jennifer Lopez took to Instagram to share a detailed, step-by-step guide to exactly what she does before hitting the hay each night. Naturally, the savvy businesswoman shouted out a bunch of her own JLo Beauty products in the process, too. First and foremost, Lopez ensures every stitch of makeup is off before going to sleep, for which her own gel-cream cleanser is ideal. 
Lopez explained, "We developed it specifically to remove makeup and that was very important to me because I wear a lot of makeup every single day." Next, just a few drops of her That Glow Serum, smoothed all over the face and neck, help to moisturize and hydrate tired skin while also giving it a little vitamin boost. The pop star instructed fans to let it soak in completely, gushing, "It makes my skin feel so good. It makes it feel taut, like I'm 16 again."
Then, That Big Screen Moisturizer, which JLo was quick to clarify feels thick and creamy but doesn't weigh her skin down and is, crucially, also a sunscreen, locks everything in. Finally, That Fresh Take Eye Cream helps keep her eyes looking youthful. Lopez noted, "Don't forget it's not just about under the eye...it's the entire eye." 
As the talented multihyphenate told Elle, everywhere she goes, she gets asked for her skincare secrets. At least we know what Lopez is doing in the evenings to get that all-important glow.
Taking care of herself has been a lifelong pursuit for Jennifer Lopez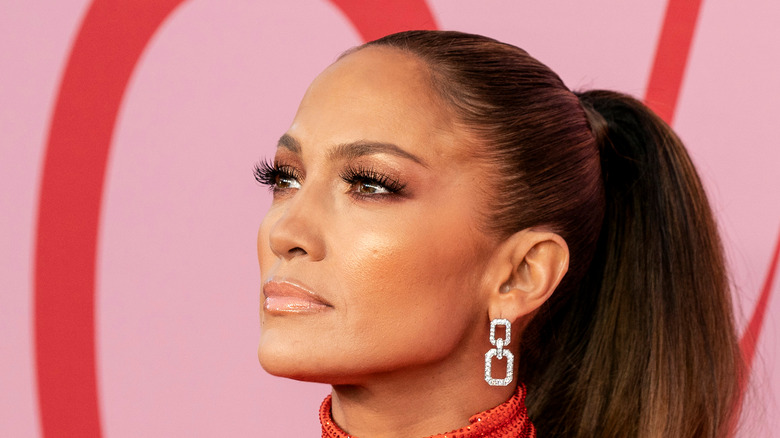 Ovidiu Hrubaru/Shutterstock
Clearly, skincare is a major priority for the "Love Don't Cost a Thing" hit-maker. In fact, the real reason Jennifer Lopez doesn't drink alcohol also has to do with skincare since, as she's made clear, beauty is from the inside out (via InStyle). The genesis of JLo Beauty came from Lopez wanting to share the numerous tips and tricks she's gleaned over the years with fans, as she explained to Elle. 
Moreover, Lopez stated firmly, "I just wanted [the line] to be high quality. I'm not one of these people who slaps my name on just anything." Although she sees nothing wrong with cosmetic surgery, the iconic singer maintains she hasn't ever had Botox, reasoning that wearing sunscreen every day, alongside everything else she does to look after herself, keeps her skin looking great. 
As Lopez told InStyle, keeping it simple is what it's all about. She shared, "My secret to great skin is what I call the five S's: sleep, sunscreen, serums, supplements, and living a healthy, sane life, which in Spanish is called sana." Thus, the JLo Beauty line is comprised of just a handful of products that, as the lady herself put it, "address plumpness, tightness, and luminosity to achieve that JLo glow."