How Michelle Williams Was Able To Transform Into Marilyn Monroe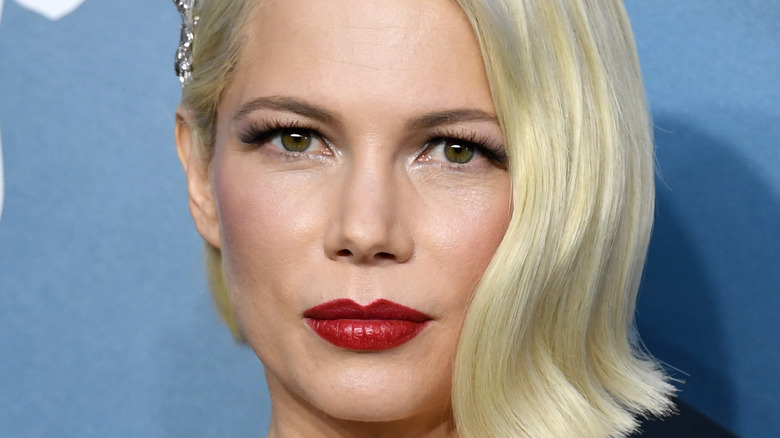 Jon Kopaloff/Getty Images
Michelle Williams has had a fascinating career in Hollywood thus far, from breaking out on "Dawson's Creek" to being an Academy Award nominee four times over. As an Elle profile of the star points out, Williams has more than paid her dues at this point, which gives the actor the freedom to choose projects "from a place of joy" rather than worrying about simply putting food on the table. 
She's honed her process over years of toiling away predominantly in indie projects. And, these days, Williams knows exactly how to tap into the side of herself that creates magic onscreen, telling Variety, "I've found that the more I practice acting, the better I can navigate this kind of dream space. It's a space where you don't really exist. There's no beginning, there's no end. You're in your unconscious."
Playing Marilyn Monroe presented a unique challenge for the industry stalwart, who's long cultivated an image of taking her job incredibly seriously. Williams was just the latest in a long line of actors to take on the iconic screen siren, of course, but her approach was defiantly her own.  
The actor crafted her Marilyn Monroe the same way the beloved star did
As Michelle Williams acknowledged in an interview with Deadline, 2011's "My Week with Marilyn" was a risky proposition for her since Marilyn Monroe is so beloved even to this day. In fact, fashion historians saw red over Kim Kardashian's 2022 Met Gala dress because it was originally worn by the Hollywood icon. 
When it came to embodying Monroe, aside from all the necessary hair, makeup, and styling — which, thankfully, were other people's purview (via EW) — Williams knew it was all about seeing the real Norma Jean underneath the razzle-dazzle. 
She explained, "In watching everything she ever did, I saw her experimenting and forming Marilyn Monroe over time. In her early work, her face doesn't have the same kind of agility that it does in her more famous roles." 
Likewise, "Early on, she hasn't mastered how she positions her mouth or raises her eyebrows but you see it gestate over time. Her voice is much lower, the sexy husky thing is in a lower register and it became breathier and higher as she developed her persona." 
Thus, Williams gradually built up her performance over time by watching Monroe evolve. The actor enthused to CBS News, "She studied herself, she studied her body, her face. She figured out how to arrange her features in the most pleasing way... She developed this character for herself to play of Marilyn Monroe." All Williams had to do, then, was follow Monroe's lead.
Michelle Williams worked hard to fully embody the screen siren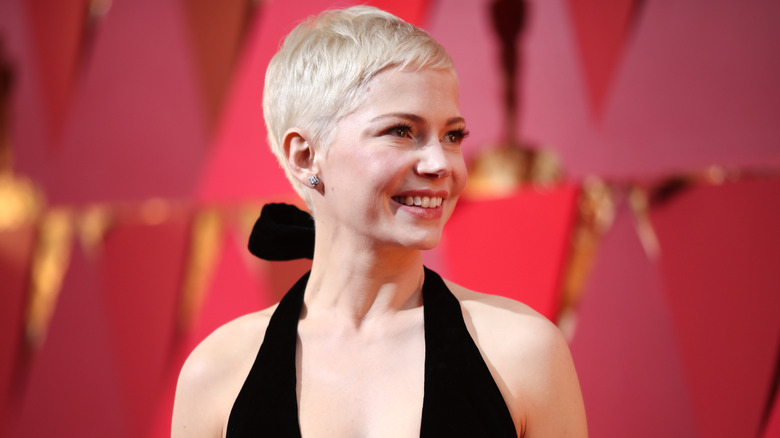 Christopher Polk/Getty Images
"My Week with Marilyn" was relatively well-received upon its release, garnering an 83% rating on reviews aggregator Rotten Tomatoes. As The Telegraph gushed, "Williams, lambent as ever, ably conveys the tension between Monroe's eyelid-fluttering public persona and the damaged woman behind it."
The Seattle Times raved, "[Williams] floats through the movie, perfectly capturing Monroe's way of rhythmically whispering through a song, looking softly frightened when uncertain, and not strolling so much as delicately oozing across the floor." 
As Michelle Williams admitted to The Hollywood Reporter, the movie came about at a pivotal moment in her career, when the former teen star was wondering whether she even wanted to continue acting at all. But the true story, which follows Monroe across a single tumultuous week in the 1950s, really spoke to her — even though the actor was terrified she wouldn't be able to pull it off. 
Williams spent months researching the screen legend, but it took padding and clever styling to give her that sexy Monroe look despite being shorter and differently proportioned. The star's body had to be fully made up, too, not least because of a small tattoo on her wrist, which took hours alongside the requisite wig styling. Evidently, though, it was all worth it in the end.