The 5 Kitchen Items You Definitely Need When You Move Into A New Home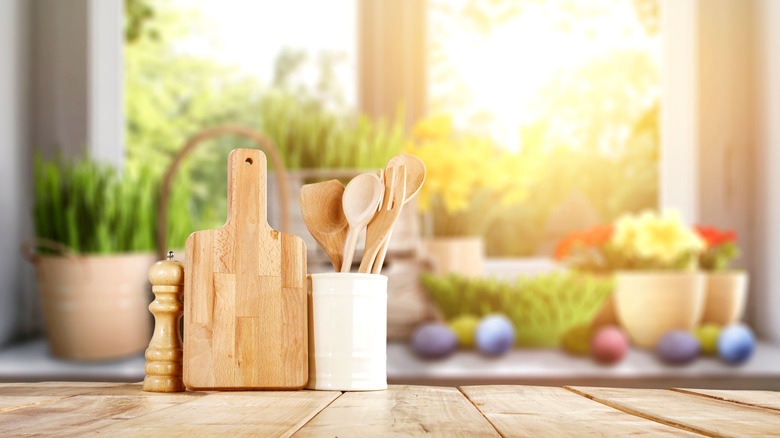 S_Photo/Shutterstock
Moving into your first place or your dream home is exciting, but the nerves can start to set in once you realize just how much stuff you need. One major area that is often the culprit of overspending is the kitchen, as it's easy to get caught up in fantasies of pastel pots and pans or perfectly arranged cutlery. While it's nice to imagine your kitchen looking like that, the reality is that most of us don't have the kitchen space or the budget for all of the above. You can build up your kitchen collection over time, but keeping things simple when you move houses will save you stress and money, both in buying less and in transporting your new purchases. 
Still, there's no harm in treating yourself to a few nice items every now and again. Stick to some cooking essentials for the first few months of living in your new place and when you grow out of them, you can always add to your collection. Nevertheless, if you have no idea where to start, we've compiled the kitchen essentials you most definitely need.
It's best to stick to basics when it comes to moving to a new place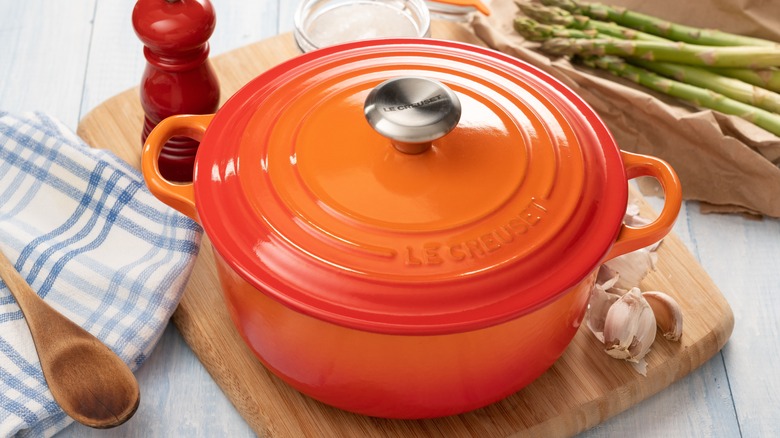 EGT-1/Shutterstock
Seasoned cook or not, every kitchen needs to be stocked with a handful of essentials to get you started on your cooking journey. According to The Spruce, you should jot these items down on your to-buy list. First off, prepware. Prepware is, as you might have guessed, everything you'll need to prep your food. This section can get complicated, but when moving into a new place it's best to stick to the basics, especially if you don't have much counter and cupboard space. 
You'll want to invest in a few cutting boards and some knives. These knives don't have to be the best on the market, but if you can afford them more expensive knives are generally sharper and will make chopping far easier. If you're vegetarian and cook for meat eaters, or just like to keep your meat separate from other ingredients, you might want to get two chopping boards.
Next, cookware. Once again, there are lots of pots and pans out there, but EatingWell recommends sticking to a skillet and a medium pot. Try to find a pot with a lid, as when cooking things like eggs or making dishes that need to simmer, a lid is essential. They're also great for cooking one-pot meals.
It's important to invest in items that can be used in many areas of cooking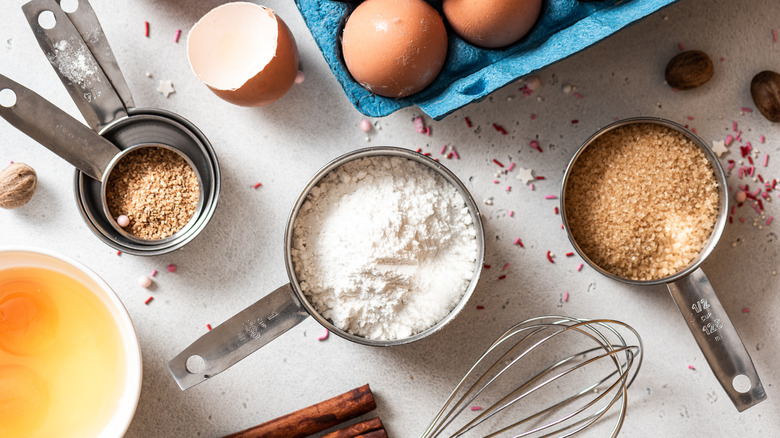 Svetlana Monyakova/Shutterstock
Another category you may not think of is baking cookware — these gadgets will help you even if you're not a star baker. Keep things simple with a wooden spoon and whisk (via Better Homes & Gardens). Of course, in time you can up your baking stash with special sheet trays and other specialist objects, but for now the above will suffice. You can use a spoon and whisk for savory dishes, too. 
Though not included in the five kitchen essentials, other small items you may not think of including would be a can opener, a grater, and a strainer (via EatingWell). These three objects will make life a lot easier when you're cooking more complicated dishes (or grating cheese)! Finally, though they are not necessarily cookware, you'll need plates, bowls, a couple of mugs, and cutlery. You'll want at least two plates and bowls for rotation purposes — more if you're planning to have dinner parties — and voila! You have all you need to start cooking in your new kitchen.