These Are The Best Hidden Beaches In France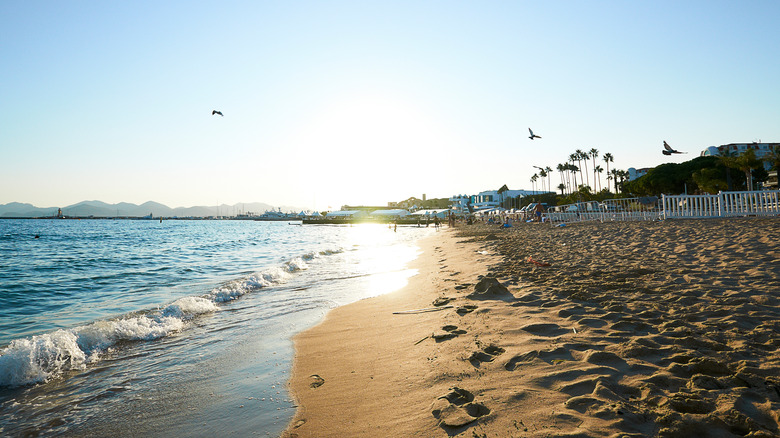 Santiago Cornejo/Shutterstock
For many of us, a beach vacation is a rite of passage during summer. However, scorching sun, little shade, and large crowds can quickly become frustrating and put a damper on your day. Before you start packing for your beach vacation, you might want to reconsider where you're going so you can avoid queuing for refreshments and soak in the scenery instead. Some of the most well known beaches are flocked to for a reason, but it can be gems off the beaten path that make for the most memorable moments.
It's no secret that France is one of the most popular tourist destinations in Europe (via Business Insider), which is why you might think it impossible to find a calm and quiet beach area. Luckily, there are plenty of French beaches that remain hidden away to most tourists, which means you can take your photos for the 'gram without a child loudly splashing water behind you. So, bring along your latest beach read, and get ready to discover some of France's most beautiful hidden beaches.
The key to discovering a secluded beach partially depends on the time of year you visit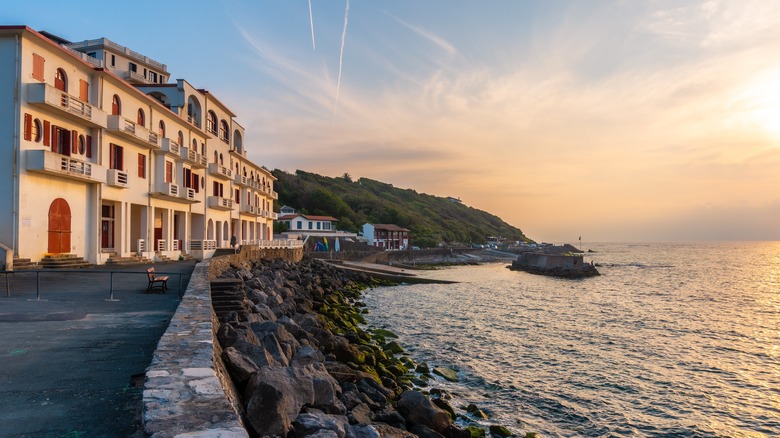 Unai Huizi Photography/Shutterstock
If you're looking for a classic beach that will give you white sand between your toes and sparkling blue water, Palombaggia Beach in Corsica is the perfect pick (via Vrbo). Located two miles from Porto-Vecchio, the serenity and beauty of this area mean it's popular with those seeking out a quieter holiday. Note that in peak summer times the beach does get busier, so go during an off-peak time to have all of the stunning scenery to yourself.
The Corsica region is also mentioned by travel blog The Culture Trip, though this time it's the southern side. The Lavezzi Islands can be accessed via a 10-minute boat ride from Bonifacio, meaning it's worthwhile making your beach visit into a day trip. The beach and surrounding area is suited more to snorkelers and swimmers rather than sunbathers due to its rocky terrain, but the deep blue waters will make for a one-of-a-kind photo. However, the islands are uninhabited and classed as a nature reserve, so it's vital that you clean up after yourself completely to respect this.
Nearby popular beaches are plenty of smaller and more private spots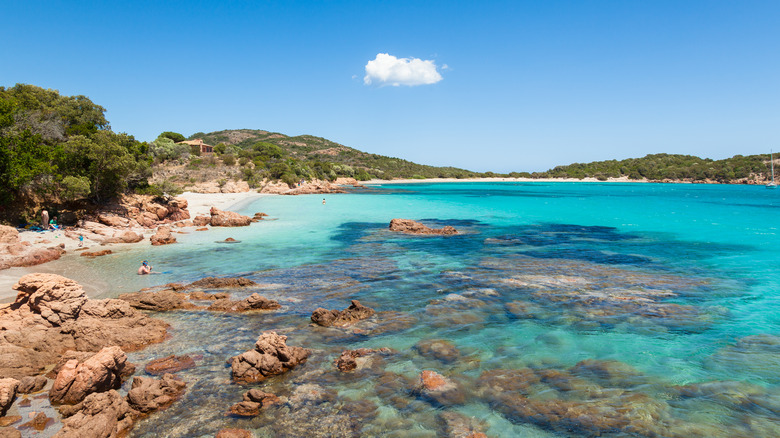 Samuel Borges Photography/Shutterstock
Nice is a popular French vacation spot for holidayers, so it's no surprise that its beaches are often packed too. Ditch the crowds and head to the Plage de Passable, which is situated near Alpes-Maritimes and is small but sheltered (via Complete France). Again, this beach is more of a sightseeing one than a sunbathing spot, so it's great if you hate lying about in the sun.
If you want a beach that will stand out in all your Instagram pics and make your friends jealous, Ultravilla recommends Calanque d'En-vau, Cassis. Tucked away between Marseille and Cassis, the Calanque coastline is surrounded by towering white cliffs that lend it a fairytale feel. Though this stretch of land isn't necessarily a secret, it doesn't attract as many visitors due to the fact it can only be reached via a steep path. Not fond of walking? You can also reach this area via kayak, which will give you a grander overall view. Just make sure to bring refreshments with you, as this area is truly secluded and has no shops nearby — you don't want to be dehydrated for the journey back.