10 Best Mascaras For Boosting Volume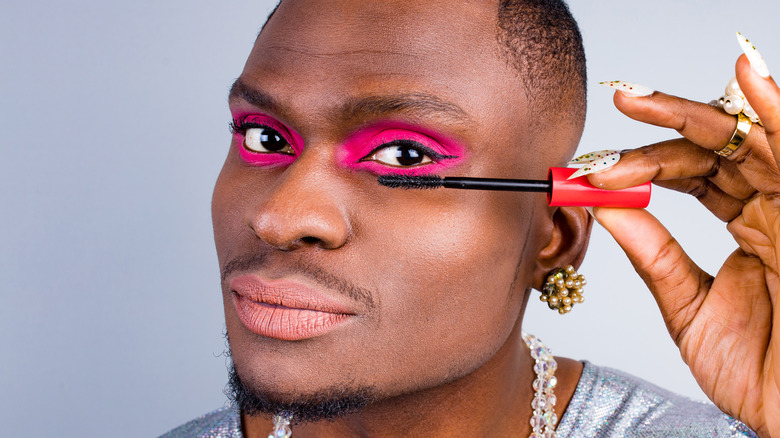 yurakrasil/Shutterstock
We may receive a commission on purchases made from links.
If the ever-rising cost of eyelash extensions are only supporting your falsies obsession, a volumizing mascara might be the only way to wean off both. This mascara is the Fairy Godmother equivalent of a regular mascara; with a wave of its wand, your lashes transform into dramatic, fluttery charmers that make any Disney hero stop in their tracks.
And it's not just any kind of wand. Volumizing mascaras often lengthen and curl, but their ability to lend fullness to your eyelashes comes from the shape of their wands as well as their formulas. A round and densely packed wand is more likely to give you volume than a skinny one. You could also look for an hourglass-shaped wand, which curls and lengthens while giving your lashes incredible volume (via Woman & Home). As for the formula, higher concentrations of waxes (whether it's carnauba, paraffin, or beeswax) is definitely a good sign that your mascara will provide thickness to your lashes (via Prospector Knowledge Center)
If you're someone with sparse or lighter lashes (or just a magic enthusiast), find some of the best volumizing mascaras below. 
How we selected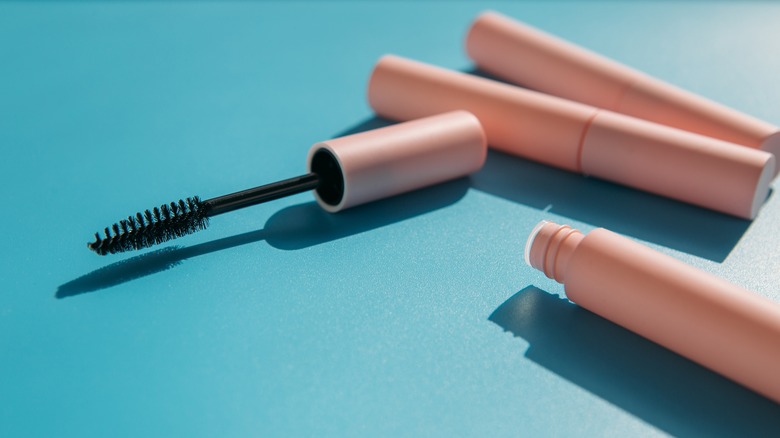 Alena Sadreeva/Shutterstock
We've pored over review after review, tried-and-tested editor picks as well as award categories to find the mascaras that help you turn up the volume. These mascaras are known for their solid flutter to compliment ratio — in real life and across Amazon review boards and Sephora carts. None have been rated below 4 out of 5, making their cult status understandable. Some are endorsed by celebrity makeup artists while others are approved by we, the people.
But just in case democracy wasn't the most reliable source, the selection process took the quality of the formulas into account. Higher concentrations of wax, hydrating and lash-loving ingredients, were prioritized for this list of mascaras, along with vegan alternatives. For those of you with lash extensions who just need that extra oomph without damaging your lashes, we found some thickening extension-safe formulations. These aren't limited to a single price point, either. You'll find mascaras that are worth the dent in your wallet but also others that sit pretty in a drugstore aisle. And they all have "volumizing" in their repertoire of skills.
Best overall
Dip L'Oréal Paris' hourglass-shaped fluffy wand into a bottle of the brand's Lash Paradise mascara for some of the best fluttering you'll ever do. Lash Paradise has topped the mascara category in The List's Beauty Awards as well as other mascara lists for thin lashes. It's also Allure's Reader's Choice for the years 2018 and 2021. One coat of this is all you need to induce the illusion of wearing falsies but of course, feel free to layer it. It stays on regardless of how much you apply and reviewers across the web agree with us.
Over 90,000 customers on Amazon gave the mascara a 4.4 out of 5 stars and one reviewer reveals why they remain loyal: "[It's the] cheapest, best way to get lots and lots of lash volume. I get complimented on my eyelashes almost daily. I have been using this since it came out and nothing else compares. MY GO TO! Forever." Another makes a convincing sales pitch, "Want the look of false eyelashes?...THE best mascara. Makes lashes fuller, longer, amazing. Do yourself a favor and get it."
Price: L'Oréal Paris Lash Paradise retails for $11.99 at Amazon
Size: 0.28 fl oz
Number of Shades: 4
Best budget
CoverGirl's Lash Blast mascara is already an icon for its natural, every-day lengthening look (trust us, we tried it). But the brand's The Super Sizer mascara is all about the drama. FYI, the 'super sizer' refers to your significantly thickened lashes after using the product. Made with fibers that attach to your lashes, this deeply pigmented mascara leaves you with dramatic lashes that are both long and long-lasting.
Beauty YouTuber Tati Westbrook's first impression confirmed that the mascara "[is] definitely giving off a lot of thickness...Out of all the mascaras that I have tried recently, this is the most intense richly pigmented one." After wearing it for a few hours, she came back to report, "I am so incredibly pleased. This mascara is nap-proof...it's not clumping, or like flaking or smudging...this mascara is totally for the win right now."
The mascara is labeled 'Amazon's Choice' for its high ratings. One reviewer said, "The volume this mascara provides is unreal.... I've had onlookers over time compliment my lash length and lash separation perfection while using this product. I like my mascara in thick layers, to give a [falsies] lash appearance. This product does exactly that."
Price: CoverGirl Super Sizer by Lash Blast Mascara retails for $6.36 at Amazon
Size: 0.4 fl oz
Number of Shades: 3
Best drugstore
At your local CVS, look for the Maybelline logo which acts like a shining beacon to lead to you fuller lashes. The brand's Snapscara Washable mascara is a bold, pigmented product that everyone needs to add to their vanities. Almost 6,000 reviewers have given it a 4.3 out of 5 for its volume-building properties as well as its ease of application and removal. One reviewer gave it a glowing report card: "Just the mascara I was looking for! I have spent a ton of money in search of a mascara that adds volume, lengthens and comes off easily... here it is! No high end mascara has even come close to this one! I have sensitive eyes and found a lot of the mascaras make my eyes water but this one does not. It stays on all day with no flaking too!"
Made without carnauba wax, this mascara is a great option for those with sensitive eyes or lash extensions (although, it's best to consult with your lash specialist). The lack of wax also makes the pigment — and your eyes — really stand out.
Price: Maybelline Snapscara Washable Mascara retails for $5.05 at Amazon
Size: 0.34 fl oz
Number of Shades: 2
Best splurge-worthy
Almost every review of the Dior Diorshow 24h Buildable Volume mascara spoke highly of its formula and how it lives up to its 'buildable' claim. "I love how black and buildable this mascara is! It adds so much volume to my lashes and doesn't flake after hours of wear. The brush is thick but doesn't clump the product upon application. Love to wear it," one reviewer on Sephora said. The rich and dark formula is infused with cornflower extract to hydrate lashes, according to the brand, and claims to last up to 24 hours. And if volume is the goal, the mascara's long fluffy brush is the perfect tool.
"Diorshow has become one of my favorite mascaras!" another reviewer on Sephora said. "I have always had issues with mascaras smudging and leaving black clumps under my eyes with this mascara; that does not happen!" They went on to say that not only does the mascara provide "volume and length," but its formula eases any mascara mess and prevents smudging.
Price: Dior Diorshow 24h Buildable Volume Mascara retails for $29.50 at Sephora
Size: 0.33 fl oz
Number of Shades: 3 
Best waterproof
For the very specific situations of sobbing your heart out while watching your best friend get married (or watching Mufasa fall into a pit of hyenas), we'd recommend a mascara that doesn't wash away with your tears. Enter Lancôme's Monsieur Big Waterproof mascara — an iteration of the brand's super popular washable version. This mascara promises smudge-proof and waterproof volume for up to 24 hours and is favorited by almost 20,000 people on Sephora.
One reviewer took it for a serious test run: "This mascara is awesome! [Spent] the whole day at a waterpark and it did not budge!! Highly recommend if you are looking for a great waterproof mascara." Another said, "[The mascara] gives you the same volume and length [as the washable mascara] and it did not budge at all when I've gone swimming! I recommend using the Lancôme primer prior to using this mascara. It helps lock it in and stay intact all day, as well as providing amplified volume and length! this is definitely a summer makeup essential!!"
Price: Lancôme Monsieur Big Waterproof Mascara retails for $27 at Sephora
Size: 0.33 fl oz
Number of Shades: 1  
Best lengthening
There's one mascara that lets you have your cake and eat it, too. The Bite Beauty Upswing Full-Volume mascara has a fluffy hourglass shaped wand that builds volume on your lashes while lengthening them. One reviewer on the brand's website said, "I absolutely LOVE this product! The contoured brush captured every little lash. The mascara lengthens and thickens without being heavy, and again.. that contoured brush makes all the difference! No clumping whatsoever. I love this light feeling, high functioning, lifting mascara!"
Notably, the formula uses tree berry wax — which is a vegan alternative to beeswax — that is just as capable at gripping onto your lashes. Many reviewers also attested to loving its lightweight yet pigmented formula: "My lashes are lengthened, coated, curled, volumized, and so dark black from this mascara. It is thick in a good way and the brush holds just the right amount of product," one reviewer wrote. 
Price: Bite Beauty Upswing Full-Volume Mascara retails for $17.71 at Amazon
Size: 0.40 fl oz
Number of Shades: 1
Best curling
The Wander Beauty Unlashed Mascara comes in a little tube that you could confuse for lip gloss. But its fuzzy, curved brush clears up any uncertainty; it was made precisely to curl and volumize your lashes. "It's very, very hard to find a mascara that is unanimously loved by all the Allure editors, which is what makes Wander Beauty's Unlashed mascara so special," Sophia Panych wrote for Allure when the mascara won the Best of Beauty award.
Over 3,000 people on the internet agree. One reviewer said, "Y'all. I have spent way too much money on mascara during my life. It's embarrassing. I've probably tried over 15-20 different brands. The Wander Beauty Unlashed blows all of the other products out of the water. I am OBSESSED. Curls beautifully and stays on all day! So glad I found this gem." Another let us know that the product isn't "sticky or heavy." "You can swim (or cry!) and it won't run all over your face. Easy to come off and it lasts all day. 100% recommended!" they attested. 
Price: Wander Beauty Unlashed Mascara retails for $26 at Amazon
Size: 0.32 fl oz
Number of Shades: 1 
Best MUA-approved
When in doubt, look to the experts! Celebrity makeup artist Fiona Stiles, whose long list of clients include Madonna and Halle Berry, told The Daily Scrub that the Maybelline Lash Discovery mascara was a mainstay in her vanity. And we'd trust anything Stiles says. "The teeny, tiny brush on this is what makes it so special (and a staple in my kit for over 10 years)," Stiles explained. "I can find all of the invisible tiny lashes at the inner corners with this brush and magnify them, making the eyes seem wider and bigger. I'm not sure how many tubes of this that I've gone through over the years, but it's a LOT."
The mascara also comes with raving reviews from customers, with many mentioning its precise brush. One reviewer said, "I will keep on buying this product. It does better than some very expensive mascaras I have purchased. I love how it separates all my lashes giving them so much volume. The wand is so small to get every corner." And another, who claims that this is their favorite mascara, said, "I love the tiny little brush because I have blond eyelashes and it is so great at separating your lashes and giving them 'OOMPH.'"
Price: Maybelline Lash Discovery Mascara retails for $12.06 at Amazon
Size: 0.16 fl oz
Number of Shades: 1  
Best for lash extensions
Most of the time, you'd be advised not to wear mascara with lash extensions. However, former registered nurse Jo Mousselli created a mascara (and brand) that exclusively catered to those with lash extensions. Xtreme Lashes trains lash extension professionals, but it also sells aftercare and cosmetics for customers with extensions. "I think when it comes to lashes, no woman can have lashes that are too long, too thick, too dark, or too full," Mousselli told StyleCaster.
Enter the Xtreme Lashes Length and Volume mascara — a long-lasting formula enriched with vitamin B5 to hydrate your lashes while lengthening them and adding volume. A reviewer on Amazon said, "Love this mascara! Didn't clump, made my extensions look marvelous without having to apply layers. It even made my real bottom lashes look great and stand out a lot more than usual with applying numerous layers."
Price: Xtreme Lashes Length and Volume Mascara retails for $26.60 at Amazon
Size: 0.25 fl oz
Number of Shades: 1
Best vegan
Every other product we've loved has the Fenty Beauty label on it; the brand really has some of the best glosses, lipsticks, and bases we've tried. Their Full Frontal Volume, Lift & Curl mascara is also on this list because it hasn't seen disappointment. Equipped with a double-sided brush that lengthens and thickens as well as curls and defines, this mascara really does it all. Its vegan formulation includes synthetic beeswax, which means that your lashes will be hydrated and soft (via Byrdie).
Favorited by over 52,000 people on Sephora, the mascara is definitely a great vegan option to add to your beauty routines. One customer said, "Great for long lashes that point straight instead of up! I don't even need to use an eyelash curler with this. Huge tube, so worth the money." Another said, "I have sensitive eyes and had 0 issues, which is rare so it's definitely clean. It doesn't clump, volumizes like crazy. I've slowly begun throwing out my other mascaras as I keep reaching for this one every day."
Price: Fenty Beauty Full Frontal Volume, Lift & Curl Mascara retails for $24 at Sephora
Size: 0.42 fl oz
Number of Shades: 1