How Taylor Swift's Style Changed When She Started Dating Harry Styles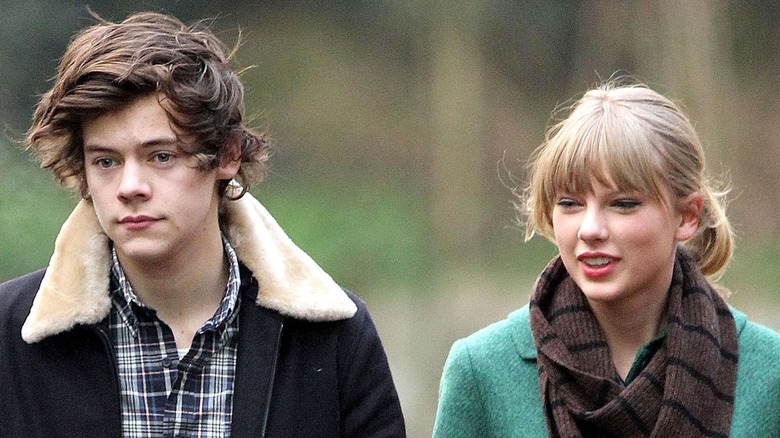 BACKGRID
Taylor Swift's past relationships are a major talking point for fans of the chart-topping pop star. Her highly publicized dalliances with the likes of Calvin Harris, Tom Hiddleston, and Jake Gyllenhaal have also (allegedly) proven fertile ground for the prolific singer-songwriter. 
Per Time, during a 2014 appearance on Aussie radio show "Jules, Merrick & Sophie," Swift fought back against critics who claim she shouldn't write songs about her ex-boyfriends. "I think frankly that's a very sexist angle to take," Swift railed. "No one says that about Ed Sheeran. No one says that about Bruno Mars. They're all writing songs about their exes, their current girlfriends, their love life, and no one raises the red flag there." 
Moreover, Swift argued that she doesn't make it obvious who the tracks are about, either, so there's no reason for anyone to be embarrassed (unless they feel guilty for treating her badly, of course). 
One of the hitmaker's most high-profile relationships was with British pop star and bonafide fashion icon Harry Styles. In fact, as PopSugar points out, being with him clearly had a significant impact on Swift since a number of her songs are rumored to be about him. 
Naturally, when Styles and Swift were together, he influenced her fashion sense to a noticeable extent, too. 
The celebrity couple matched each other in warm layers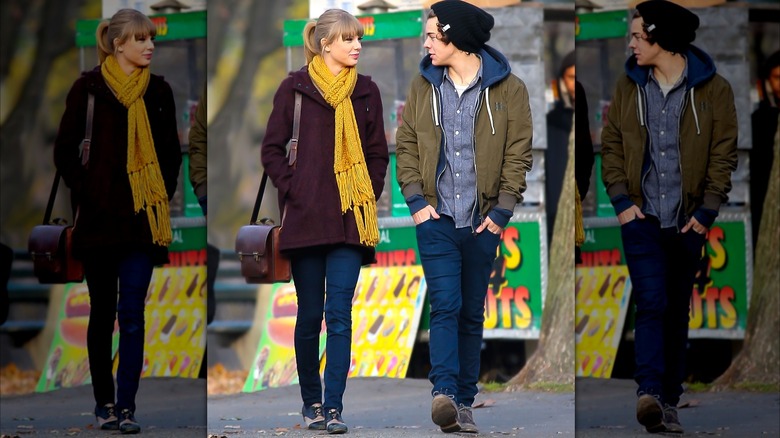 BACKGRID
As the New York Post points out, Taylor Swift tends to change her style depending on whom she's with, and Harry Styles was no different. 
Although they were only seeing each other for a short time, Swift and Styles soon synced up outfits, notably wearing matching layers during a stroll through Central Park in 2012. She opted for a heavy yellow scarf while her beau wore a green beanie hat for their low-key date. Meanwhile, they also sported similar dark-wash skinny jeans.
Styles' fashion sense was evidently a massive influence on Swift since she seemingly wrote the song "Style" about him, with Distractify noting that, aside from using his surname as the title, there's a lyric that appears to be a direct reference to the former boy bander. Long before Styles was turning heads by donning dresses on Vogue covers he preferred to wear his "long hair, slicked back" with a "white T-shirt," as Swift writes in "Style."
Further, Seventeen argued that the accompanying music video contains several thinly veiled style references to the One Direction alum, including his favorite necklace, rings, and even a vintage car. We'll probably never know what really happened between Swift and Styles, but he certainly made an impression on her. 
Taylor Swift and Harry Styles are seemingly on good terms nowadays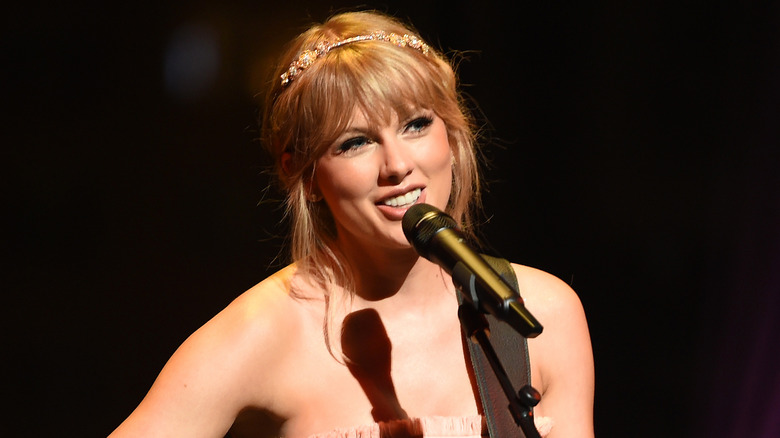 Dimitrios Kambouris/Getty Images
Plenty of men might feel insecure at the thought of an ex-partner writing songs about them, but Harry Styles told Howard Stern (via E! News) that he's flattered former girlfriend Taylor Swift was inspired by their relationship. 
"I think about what it means to me to write a song about somebody else and for somebody else to do that, it's like flattering, even if the song isn't that flattering, you still spent time on it and ultimately, using Taylor as an example, she's a great songwriter. So at least they're good songs," Styles explained simply. 
Fans were delighted when Swift publicly supported her ex's big win at the 2021 Grammy Awards. Per Bustle, she was even one of the first to applaud Styles when his hit single "Watermelon Sugar" won Best Pop Solo Performance. Funnily enough, several people pointed to how the former couple was dressed similarly that night, too, with both opting for brightly colored, spring-appropriate looks for the occasion.
Moreover, they were even spotted chatting amiably at one point, confirming that there are no hard feelings between them. At the very least, Styles and Swift will always have the memories of their matching winter layers to bond over.