The Britney Spears Song You Should Listen To If You're A Sagittarius
Tinseltown/Shutterstock
Before Britney Spears made headlines for her conservatorship battle (via Glamour) she was a sweet girl from Louisanna who turned into the princess of pop music. The singer got her big break on "The Mickey Mouse Club" alongside other stars like her former boyfriend Justin Timberlake, fellow pop diva Christina Aguilera, and actors Keri Russell and Ryan Gosling (via Biography). Once she released her first single, "...Baby One More Time," in 1998 her fame skyrocketed and she quickly became a teen icon.
However, fans watched the singer's fame become intense over the years. She was scrutinized for a number of incidents, perhaps most notably shaving off all her hair in 2007, which eventually led to her conservatorship in 2008, per Page Six. Spears opened up about her overwhelming fame in an interview with BBC Radio 1 host Scott Mills (via Hello Giggles). "I'm actually a very private person," she said. "Sometimes I'm in denial that I'm really famous. It's too much, I think, for someone to reach that kind of magnitude to really understand it."
Spears' fans have stuck by her side through the good times and bad times, and have supported her music along the way. Of course, it's easy to fall in love with Spears' songs as there seems to be a playlist that you can listen to if you're angry, sad, need motivation, or simply want to dance. There even appears to be a song for your specific zodiac sign, and if you're a Sagittarius, you'll likely be thrilled with the song chosen for your sign.
Sagittarians like Britney Spears are known for being fun-loving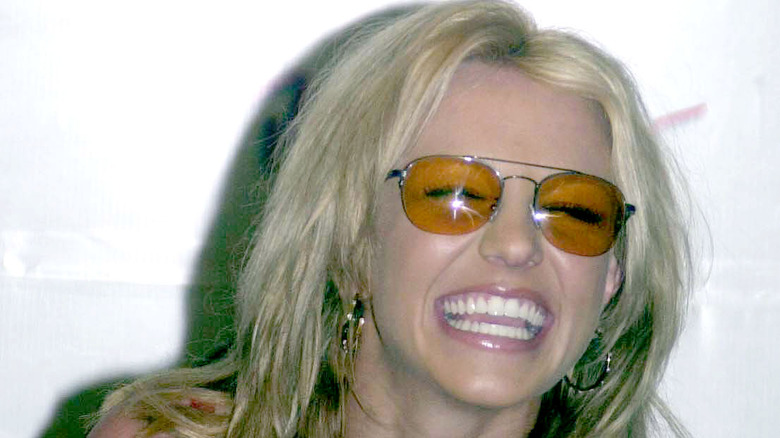 Manny Hernandez/Getty Images
If you were born between November 22 and December 21 then you're a Sagittarius sun sign (via Allure). Sagittarians are fire signs who are known for being very unique. Known as the archers of the zodiac, Sagittarius has a reputation for being able to adapt to anything that life may throw their way. Britney Spears herself is a Sagittarius sun sign (via Astro Charts), and she seems to fit the bill as the sign is known for having successful careers as creators and entertainers.
Pure Wow notes that Sagittarians are often very positive with their thoughts and outward personas. They enjoy their freedom and like to laugh and have fun. The outlet also suggests that the fire sign doesn't need a lot of material things to make them happy, but can be perceived as a bit naive when it comes to rational thinking and ideas. However, they are said to be very intelligent and have a thirst for knowledge, which can sometimes consume them (via Costar Astrology).
Because Sagittarians are known for their fun-loving and romantic ways, many of Spears' songs could be favorites for the sign. However, one song, in particular, may have them turning up the volume in the car more than others.
Toxic is the perfect song if you're a Sagittarius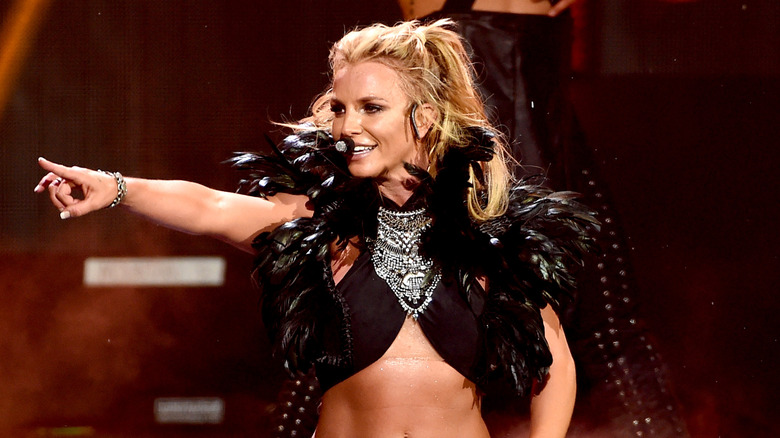 Kevin Winter/Getty Images
According to Vice, if you're a Sagittarius, the Britney Spears song that may resonate the most with you is "Toxic." The outlet reveals that Spears is dressed as a flight attendant in the video, and is looking to experience adventure. Because Sagittarians are known as the wanderers of the zodiac world, as well as their love for seeking out new experiences, this makes the song their jam. Of course, "Toxic" is one of Spears' biggest hits and was the most searched song on Google in 2004 after its release. Spears also became the most searched singer of that year, per Song Facts.
In 2003, Spears opened up about the song and its meaning. "It's basically about a girl addicted to a guy," the singer explained to MTV. "I really like 'Toxic.' It's an upbeat song. It's really different, that's why I like it so much. This villain girl, she'll do anything to get what she wants. She goes through different obstacles."
So while Sagittarians may find themselves drawn to many of Spears' other edgy songs like "I'm A Slave 4 You," "Gimmie More," and "Work B*tch" (via American Songwriter), when "Toxic" comes on you'll know that you have a special connection to the song and fellow Sagittarius Britney Spears.