What Is Rihanna's Zodiac Sign?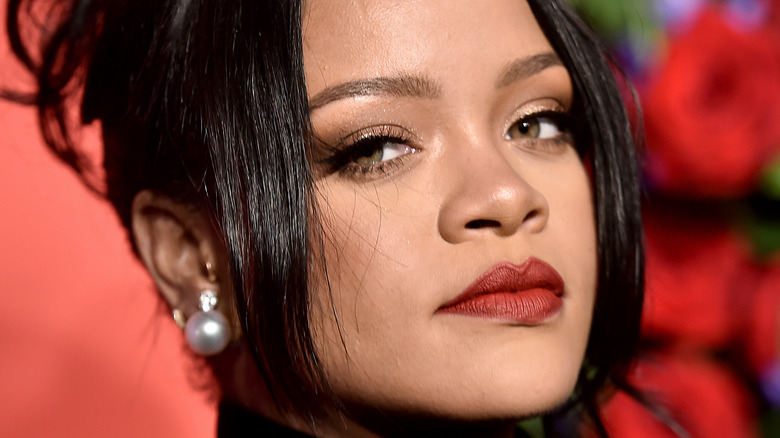 Steven Ferdman/Getty Images
Rihanna is one of the biggest names in the music business. The singer has topped the charts with fan-favorite hits such as "We Found Love," "Love The Way You Lie," "Work," "Umbrella," "Disturbia," and many more (via Billboard). She was born in Barbados and began diving into music as a way to cope with the troubles her family faced at home, per Hello! Magazine. Her big break came at the age of 16 when she signed with Def Jam records, and her career has exploded since (via Biography). She went on to create her own beauty line called Fenty Beauty — a favorite of multiple celebrities — and launch a clothing line (via The U.S. Sun).
As Rihanna's fame grew, she made headlines for her complex dating history with men like Matt Kemp, Leonard DiCaprio, A$AP Rocky, Travis Scott, and Drake, per Page Six. However, one of Rihanna's most infamous relationships was with fellow singer Chris Brown. Their romance blew up when photos of Rihanna's swollen and bruised face surfaced after Brown assaulted her. Years later, Rihanna admitted that she thought she could change Brown but eventually realized that she had to put herself first (via Vanity Fair). "We're not friends, but it's not like we're enemies. We don't have much of a relationship now," she said in 2015.
Rihanna's stardom has left her fans asking many questions and wanting to know all of the details of her life, including things such as her zodiac sign. So let's dive into her birth chart.
If you or someone you know is dealing with domestic abuse, you can call the National Domestic Violence Hotline at 1−800−799−7233. You can also find more information, resources, and support at their website.
Rihanna's sun sign is Pisces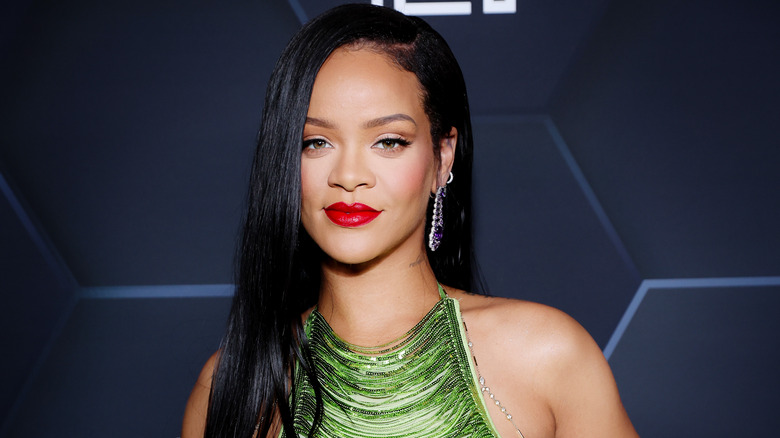 Rich Fury/Getty Images
Rihanna was born February 20, 1988, which makes her sun sign Pisces, per Astro Charts. She even has a tattoo of her zodiac sign behind her ear (via Star Sign Style). Pisces women are known for being able to tune into the moods and feelings of those around them, which will often impact their own moods. This is why they often tend to surround themselves with happy, positive people (via Thought Catalog). They are known for adapting to their surroundings, so the happier the better for the water sign. They also have reputations for having a strong moral compass and doing what they think is right for them and those they love. In addition, Pisces women are said to really care about people and want everyone, no matter their history, to have the best there is in life.
According to PopSugar, Pisces have a knack for being able to express their thoughts and feelings in a creative way. For Rihanna, this has been proven in her music, acting, and various brands. "Her sun sign is at one degree Pisces, putting a double emphasis on Jupiter, which represents luck, and Neptune, the planet of creativity, and her ability to be in the right place at the right time and set trends," astrologer Tamerri Ater-Ntonni tells the outlet.
However, Rihanna is more than just her Pisces sun sign traits. There's a lot of fire sign representation in her chart.
Rihanna has a lot of Aries energy in her birth chart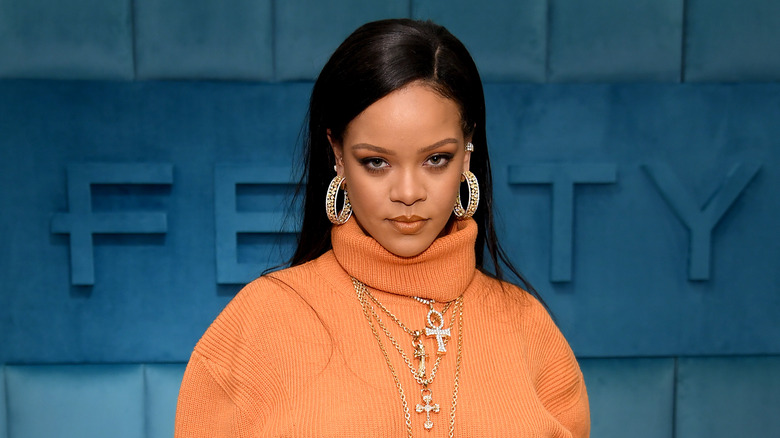 Dimitrios Kambouris/Getty Images
Rihanna's sun sign is Pisces, but her moon sign is Aries (via Astrotheme). A moon sign is said to describe a person's emotional energy as well as how they react and what they need to be happy. For those born with an Aries moon, there is said to be a need to prove their independence (via Stars Like You). Aries moons don't like to be told what to do or how to do it and are at their happiest when they're left to navigate for themselves. They are also said to be very forgiving and can find ways to move forward with those who have hurt them. "Even if we don't always notice it, Rihanna feels intensely, as her moon, which rules over her emotional nature, is in passionate Aries," astrologer Narayana Montufar tells PopSugar.
In addition, Rihanna's rising sign is also thought to be Aries. A rising sign is thought to represent the way a person expresses themselves and how they view themselves (via Hey Hero). Those with Aries rising signs are known for being confident and flirtatious in their everyday lives and can possess a competitive side. They're also known to work towards success, which sounds like the famed singer.
It looks like Rihanna's birth chart points straight to success and achievement as well as kindness and positive energy, and many fans would likely agree that sounds like the "Diamonds" singer.