The Best Ways To Style An Elegant Evening Bag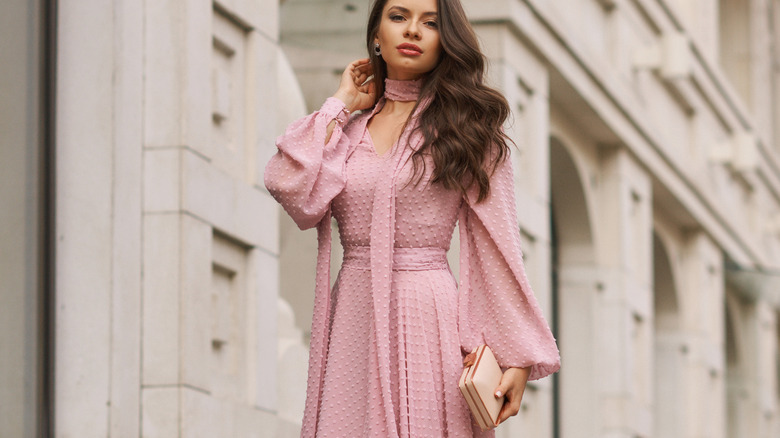 Dmitry_Tsvetkov/Shutterstock
When you're putting together an outfit for an event, what bag you're going to carry is probably one of the last components of your look that you consider. It may not feel important, but when the night of the event rolls around, you see just how big of an impact one small bag can make. You need some way to carry around your stuff, but throwing your everyday bag over your shoulder with your fancy dress is almost sure to ruin your carefully-curated look.
The 2022 wedding boom is upon us, and if you haven't yet experienced the repercussions in the form of many 'save the date' cards, you probably will soon enough (The New York Times). If you think that summer winding down marks the end of wedding season and a respite from evening wear until May rolls around, you may want to think again. Out of the five most popular dates to tie the knot in 2022, three of them are in October (via The Knot). What all of this means for your wardrobe is that you're likely to have to put a few fancy 'fits together in the next few years, starting with this autumn, and this includes the accessories. Luckily, we've got all the ways to style an elegant evening bag that will put the cherry on top of your look. 
Choosing the perfect bag for your evening look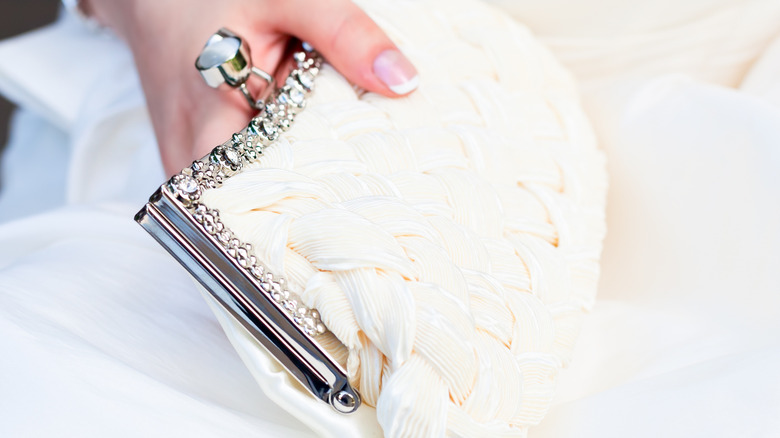 Dmitry Naumov/Shutterstock
In most cases, you'll be picking your evening bag once you've already got the rest of the ensemble assembled. It's possible, though, that you'd like a bag that will work as well for your future outfits as it does for the event you have coming up. Of course, a neutral clutch in beige or tan is the best investment if you want a bag to wear to multiple events (via The Fox Magazine). 
Still, what type of bag will actually work best with your outfit depends on the style and shape of both the dress and the bag. When it comes to a classic clutch, it's always safe to carry a traditional envelope clutch if you're wearing a dress with an empire waist (via Rue Now). If your event is black-tie, you can't go wrong with a clutch that has a snap-top; this will add an extra dash of formality to your look. Many formal clutches have a detachable chain that you can add to hang your bag on your shoulder. Opt for clipping this strap on if you're wearing a slip dress to add a little something extra.
If you're purchasing something new for an event, don't be beholden to neutrals. A pop of color can add a welcome statement to your look — just make sure to take your shoes and other accessories into consideration. Don't bring along a black bag if there's no other pop of black in your outfit.
Making more casual bags evening-appropriate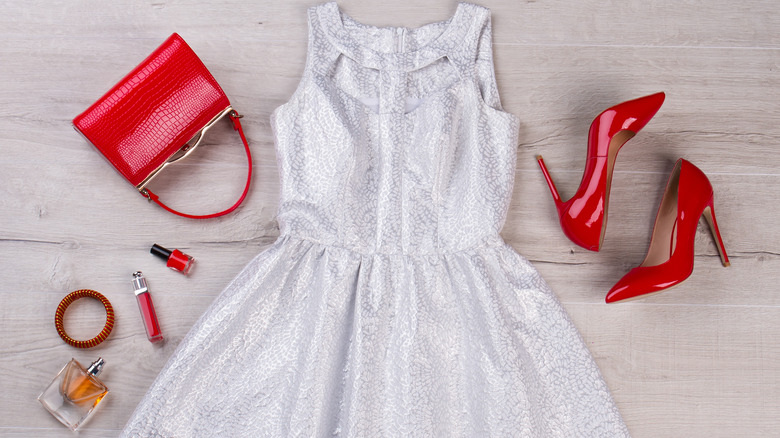 margostock/Shutterstock
If you're thinking that buying a new bag for every event you're invited to just isn't in the budget, you're definitely not alone. Thankfully, just because you have a fancy event coming up doesn't actually mean that you need to get a fancy bag or sacrifice your look. There are ways to rock bags you already have in your closet with your evening ensemble.
If you're wearing the ever-versatile and flattering wrap dress, this can be a great look to pair with a wristlet (via Rue Now). If you're sporting a statement sleeve, carry a bag with a handle on top or a drawstring to let what's in your hand complement what's on your arms. If you have a chic shoulder bag, don't be afraid to pair it with your evening dress — just make sure to match the hardware with your jewelry and pair gold hardware with warmer tones (via Fustany). You can even make your favorite crossbody bag work with your formalwear; it all depends on how you hold it. Instead of draping the bag across your shoulders like you normally would, hold the chain close to the bag or wrap it gently around your fingers for an updated look.