The Best Ways To Style An Infinity Scarf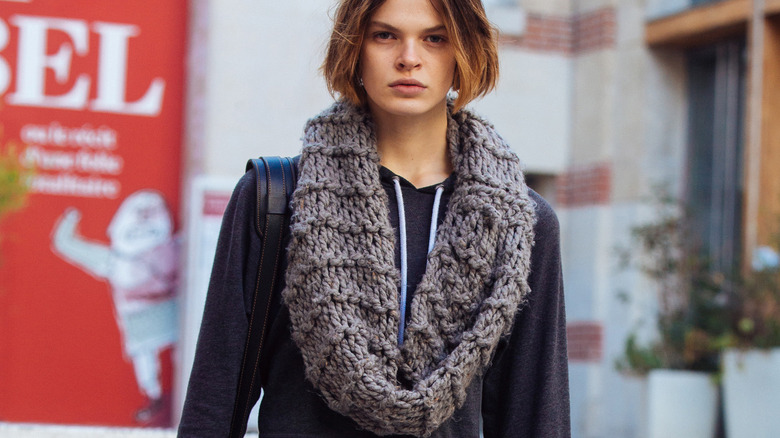 Melodie Jeng/Getty Images
Infinity scarves were the outerwear trend of the 2010s. In 2022, though, it feels as though the beloved infinity scarf may be approaching, as they call it, "cheugy" territory. Still, as the summer wraps up and autumn is on the horizon, we're all in search of the fall 2022 fashion trends that we'll be sporting for the cooler months. It's out with the sandals and sundresses and in with the winter wardrobe essentials. 
Even if you're not familiar with the term "infinity scarf," you've definitely seen one before, and you may even have one in the back of your closet. Infinity scarves are those scarves that are one big loop, rather than a scarf with two ends. Because this type of scarf is ready-to-wear without too much effort or fancy tying necessary, it can be the easiest type of scarf to add to your outfit and run out the door. Consequently, we want the ease of an infinity scarf in our wardrobe for the upcoming season without sacrificing looking on-trend. Luckily, the difference between looking outdated and chicly fashion-forward is all about how you style your scarf.
How not to style an infinity scarf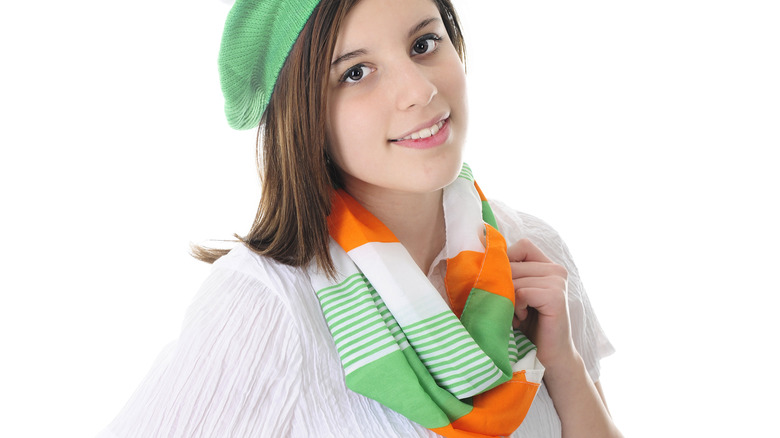 glenda/Shutterstock
Infinity scarves are going to be very in for the upcoming season. That doesn't mean, though, that you should style your scarf the way you did back in 2010. The first thing you should make sure you avoid when it comes to sporting an infinity scarf is the single loop (via MasterClass). Loop your infinity scarf around twice or more, and if your scarf is too small to loop more than once, leave it out of your ensemble. The one exception to this rule is if the single loop is especially thick and chunky. Similarly, don't opt for a flimsy infinity scarf that's made out of thin material. This type of scarf used to be popular, but these days, we want our scarves to look like they're functional, not just like an extra accessory.
Scarves are a great winter staple, but they're also a wonderful way to transition into fall (via Stitch Fix). If you do choose to sport your scarf before the wintry weather sets in, though, don't just throw it on top of your t-shirt. Instead layer it with a cardigan or even on top of a pullover sweater or sweatshirt. You should also avoid making your scarf too match-y with your outfit and other accessories; matching too much can make your look come across as dated.
Make your infinity scarf look updated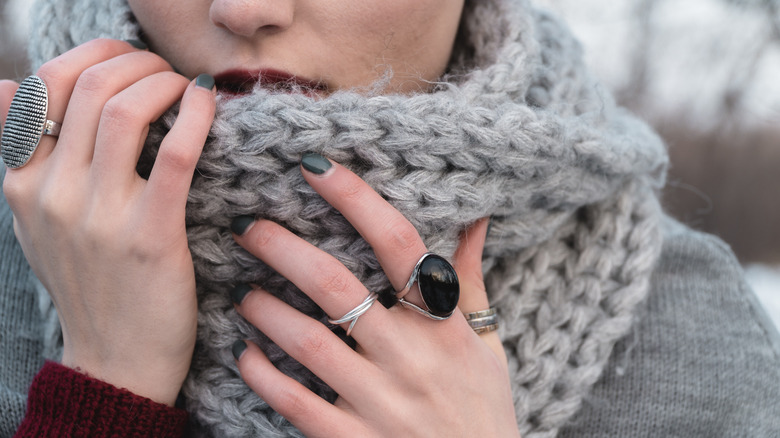 Artem Oliinyk/Shutterstock
When it comes to choosing your infinity scarf, there's one simple rule: the chunkier the knit, the better (via MasterClass). Your scarf should look and feel warm and cozy. Make sure that your scarf is incorporated into your ensemble and not just plopped on top. To accomplish this, it's great to layer your infinity scarf with your coat or jacket, and if the weather is just starting to get cool, a big, oversized cardigan will also do the trick.
We want our infinity scarf to look effortlessly chic; like we just threw it on, and it looks perfect, rather than looking like we made it the main focus of our 'fit. You can add your scarf to your winter coat on a snow day or pair it with black leggings and your faux leather jacket for pumpkin picking (via Stylishly Me). By following just a few simple fashion rules, you'll be looking as fabulous and cozy as you feel this fall.