There's No Denying The Fall Trend Women Are Looking Forward To The Most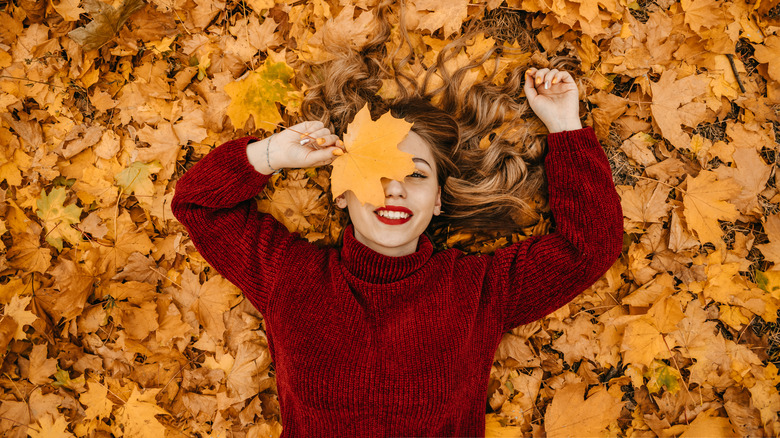 Iryna Imago/Shutterstock
This summer has been a hot one, and we don't just mean the "hot girl summer" trend that took social media by storm. The National Oceanic and Atmospheric Administration (NOAA) reported that July 2022 was the third hottest July in the last 128 years, with many parts of the world experiencing serious heat waves and summer storms. As the summer sun rages on, we find ourselves longing for cool autumn evenings full of hot chocolate and pumpkin-flavored everything. When the leaves change and stores begin to roll out the decorations just in time for spooky season, it's a sign to break out your cold weather clothes. Your fall wardrobe must achieve the perfect blend of fashionable and comfortable, allowing you to showcase your unique style while staying warm.
With just a few more weeks until the official start of fall, we need to know: which cold weather fashion trends will people be dusting off once the temperature drops? The List conducted a survey asking 558 people, "Which fall trend are you looking forward to the most?" The results have us counting the minutes until we can once again bundle up in our outerwear and grab a pumpkin spice latte on our way to all our festive fall activities.
This cold weather fashion statement gives us all the autumn vibes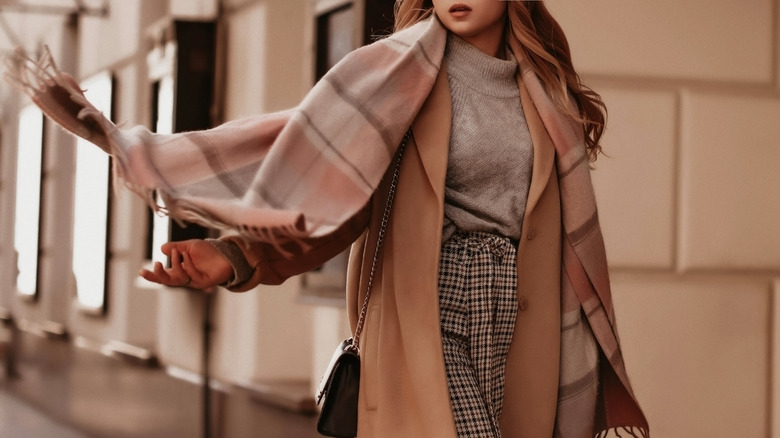 Xeniia X/Shutterstock
This season, fashion and function are no longer mutually exclusive. According to The List's survey, the trend people are looking forward to most this season is the return of the knit sweater! With nearly 27% of the vote, the cozy fashion staple will always be a must-have in the colder months. Knit sweaters are perfect for any fall activity – dress it up with a stylish blazer to keep you warm in the office, or style it with a trusty pair of jeans and some simple jewelry for a low-key date night. 
In second place with 20.43% of the vote was stylish outerwear, flattering on anyone who needs an extra layer of protection from the autumn weather. Statement boots followed close behind with 19.18% of the vote, the classic fall footwear that is both versatile and stylish while keeping your feet dry and comfortable. Scarves earned 12.37% of the vote, a slight loss in popularity since we found out what it means to be "cheugy"... it's okay, we loved infinity scarves too. Hats (10.57%) and colorful tights (10.75%) trail behind with less than 11% of the vote, as fall fashion moves away from maximalism and towards neutral statement pieces and accessories.
Fall trend alert: the capsule wardrobe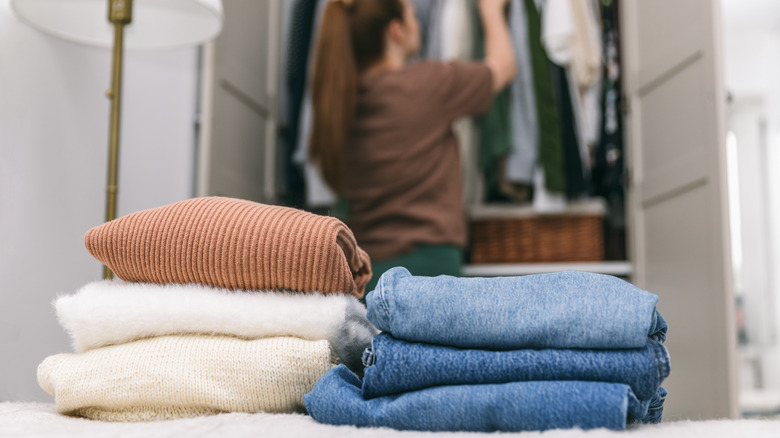 tartanparty/Shutterstock
As the leaves change, so do the latest trends. According to Vogue, fashion is becoming more inclusive and body positive with clothing items that express gender fluidity and gender appeal. While bold statement pieces will always hold a place in our hearts, the changing of the seasons marks a change in our focus: building a capsule wardrobe seems to be on everyone's minds this fall. Sustainably Chic defines a capsule wardrobe as "a limited selection of interchangeable clothing pieces that complement each other." Shopping for pieces that fit well in your current wardrobe will lead to a more sustainable lifestyle that will save you time, money, and stress when you are searching for the perfect outfit.
Capsule wardrobes are all about creating new combinations that make a statement with pieces you already own. When creating a capsule wardrobe, clean out your closet and identify staple items you wear every day. Who What Wear recommends investing in neutral tones for your basic pieces, condensing your wardrobe into key items that work well with everything: a trusty coat, blazer, knit sweater, and denim jacket are all essential autumn fashion essentials that can be layered on top of blouses and tanks you wore all summer long. Fashion is as unique as you are, so it's important to figure out which styles you wear most often and what color palettes will compliment your overall aesthetic.