Here's What Julie Chrisley Looks Like Going Makeup Free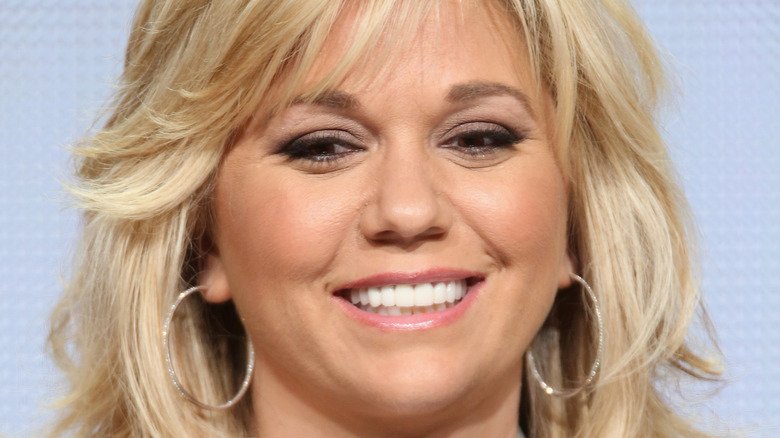 Frederick M. Brown/Getty Images
The Chrisley family, proudly spearheaded by parents Todd and Julie, found fame thanks to their hit reality show "Chrisley Knows Best." But being on TV wasn't always a positive experience for them, with teenage siblings Chase and Savannah admitting in a joint interview with People that there was "a lot of pressure" associated with being in the public eye — particularly, in Savannah's case, with trying to be a role model for young women and kids. 
Their folks had an even harder time, with Todd and Julie's federal trial for tax evasion and bank fraud not working out the way they'd expected. As the couple's lawyer, Steve Friedberg, told People, "Both Chrisleys are devastated and disappointed with the [guilty] verdict." However, the reality stars were grateful for the support of their fans around the world and continued to focus on their family and their faith going forward, as they have always done. 
Those same fans were thrilled when Julie went makeup-free on social media in an effort to support Savannah's growing beauty business. The move emphasized that, even when the Chrisleys are having a tough time, they still manage to find common ground with their supporters. 
A fresh-faced Julie Chrisley could easily be Savannah's sister
Julie Chrisley went makeup-free on her daughter, Savannah Chrisley's, Instagram for a fun tutorial. Savannah used products from her own beauty brand, Sassy by Savannah, on her beloved mom, but commenters were more fixated on how stunning the older woman looked while completely fresh-faced. "Julie you look as young as your daughter beautifully gorgeous," wrote one, while another quipped, "Mommas still hot!!" And several pointed out that Savannah clearly got her good looks from Julie. 
The mother-daughter duo actually teamed up on the Essential palette, which was used in the video, for Savannah's Sassy line, with Julie enthusing that the collaboration "was a dream come true." 
Although the busy working mother hasn't shared the particulars of her skincare routine, Julie is a fan of Timeless Organics, sharing a funny Instagram post of herself and Todd wearing one of their deep-cleaning masks. "I am absolutely in LOVE with my @timeless_organics_skin_care," Julie wrote. "I even had Todd try their products! My skin is soft and glowing. I love that all of their products are #leapingbunny certified and made by hand. It doesn't get much better y'all!" 
Todd might be giving her a run for her money in the good skin department, though, since fans responded to a selfie he shared by wondering whether the proud patriarch was "aging backwards."
Todd and Julie Chrisley bonded over their health goals
Fans cheered on Todd and Julie Chrisley once again when the celebrity couple decided to get serious about their health. Both became ambassadors for Nutrisystem's Partner Plan, per People, losing an impressive 48 pounds overall. Although Julie initially started the plan by herself, she acknowledged that sharing the journey with her longtime husband helped push her even harder to really knuckle down.
Todd had maintained the same weight for most of his life, but enduring a bout of COVID-19 made him gain some pounds. As a breast cancer survivor, Julie went through menopause earlier than expected, admitting, "I felt like the chips were stacked against me and I was gaining weight." The "Chrisley Knows Best" stars were delighted with their results after committing fully to the Nutrisystem plan, confirming that they look and feel great. 
Fans were equally delighted when Julie popped up alongside super-fit daughter Savannah on the latter's Instagram, looking trim, healthy, and, most important of all, happy. "Can we talk about how AMAZING my mama looks," the Sassy by Savannah founder gushed, and fans naturally rushed to the comments to corroborate. "Looking strong and confident (both of you!!!)," wrote one, while another noted, "Julie...so beautiful."