Nearly 30% Of People Think This Acne Treatment Works Best - The List Survey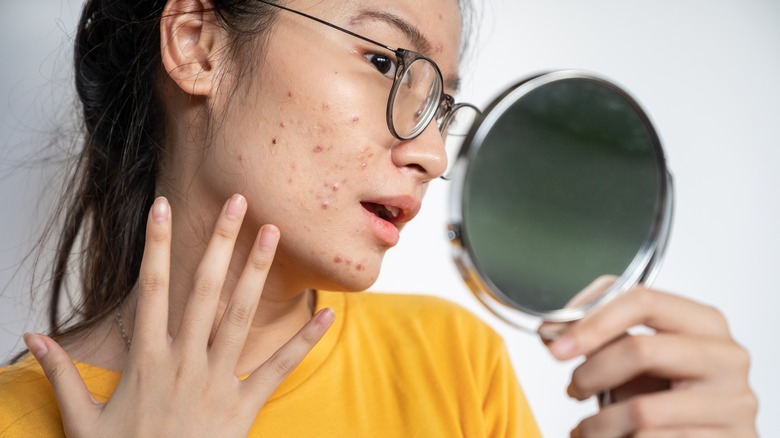 Boyloso/Shutterstock
Have you ever stayed up a bit too late examining white heads in the mirror? Maybe you've even struggled with bouts of "maskne" since the onset of the Pandemic. From hormonal to cystic to just plain unpredictable, approximately 9.4 percent of the world population suffers from acne according to one National Library of Medicine study. It can be tempting to pick at those pesky pimples, but this is actually one of the worst things you can do for your skin. As Dr. Joshua Zeichner explained to Allure, "bad techniques combined with attempts to pick non-pickable pimples can be a recipe for disaster."
Over the past decade, skincare has grown increasingly mainstream, and celebrities from Carmen Electra to Ellen DeGeneres have joined the trend, launching their own brands and advertising multi-step routines (via The Cut). But with so many products on the market (and so much money on the line), how do you decide what acne treatment to invest in? Fortunately, The List conducted a survey asking 558 people, "which acne treatment works the best?" 
The answer might help you get your acne under control for good.
Natural treatments were favored by 30% of survey respondents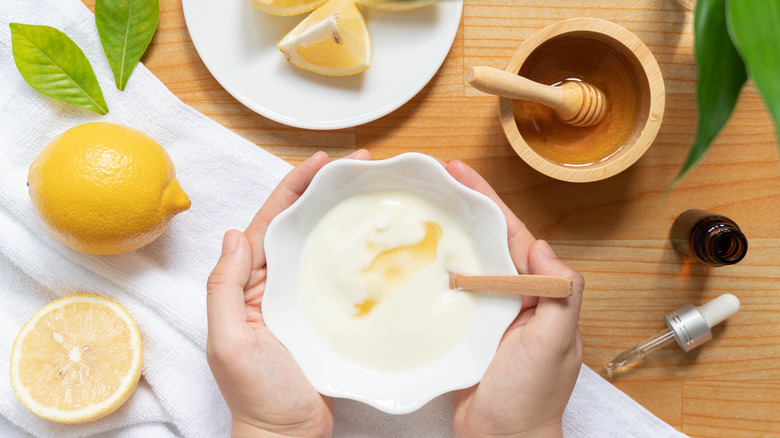 Orawan Pattarawimonchai/Shutterstock
Surprisingly, treating your acne might involve scanning the pantry. Of the survey's 558 participants, 29.93% of voters preferred natural treatments, making this method the clear winner. Byrdie put together a list of helpful natural acne remedies, most of which happen to be edible. According to celebrity facialist Joanna Vargas, "baking soda and water soften blackheads and any clogged pores in the skin." Other ingredients like apple cider vinegar and salt have exfoliating effects, while plain honey contains impressive antibacterial qualities. If you're feeling crafty, DIY face masks can do wonders for your skin.
With 23.20% of the vote, benzoyl-peroxide came in second place. According to Healthline, benzoyl-peroxide is available over the counter or, in more concentrated doses, via prescription. The treatment works well as a preventative measure, targeting bacteria beneath the skin before breakouts occur. Of the respondents, 22.58% recommended salicylic acid, a topical treatment that clears dead skin cells, ultimately decreasing inflammation (via WebMD). Claiming the last two spots were retinoids at 13.08% and antibiotics at 11.11%. Retinoids can be found in topical solutions or ingested orally. Not only do they help with breakout inflammation, but they're also proven to slow signs of aging, per Medical News Today. However, if you have severe acne and want to prevent long-term scarring, antibiotics may be the way to go (via Mayo Clinic).
The acne positivity movement is taking social media by storm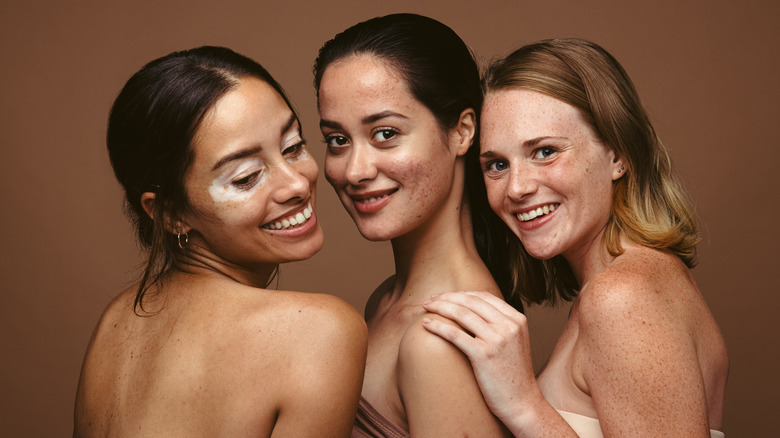 Jacob Lund/Shutterstock
In recent years, more and more creators have embraced their unfiltered, acne-prone skin. This has been dubbed the "acne positivity movement" by platforms like Glamour and Vogue, both of which have written about a cultural trend towards natural skin. In a 2020 article, Vogue highlighted #freethepimple, an online movement that encourages people to reveal their unedited, make-up free looks on social media. Content creator Hailey Wait told Glamour, "I got tired of waking up each morning and covering my skin up, and over time I noticed that it only made my acne worse." For Wait, the best acne treatment was letting her skin breathe.
Celebrities have joined the trend, too, posting pictures without make-up in an effort to show a more realistic side of their profession. "Riverdale" star Lili Reinhart called her flawless on-screen skin "smoke and mirrors." In an exclusive interview, she told Byrdie, "I still struggle with cystic acne, so I'm the same way in the sense that when I'm watching myself on screen, I'm like, wow, my skin looks good." Overall, it's important to listen to what your acne is telling you about your health. And who knows, you might find the secret to glowing skin on your spice rack.