You Can Now Get Married In Vegas Surrounded By Princess Diana Memorabilia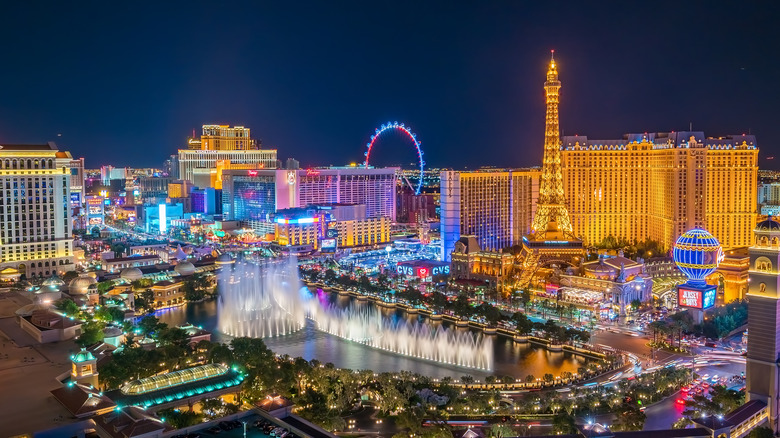 f11photo/Shutterstock
When you think of Las Vegas, you probably think of the bright lights of the strip, gambling, and high-end entertainment. It's also a destination for quick weddings; celebrities have come to Vegas to get married for years: from Elvis Presley and Priscilla Bilyeau in 1967 to Jennifer Lopez and Ben Affleck in 2022. Las Vegas became known as a place for quick weddings — and quick divorces for that matter. 
A 1931 law helped make divorces easier, and a 24-hour marriage licensing office was installed in the train station, via Cactus Collective Weddings. The current marriage license office in Clark County is open every day from 8am to midnight, there is no waiting period required between getting the license and getting married, and a number of Vegas chapels are available without any reservation, per Visit Las Vegas. And there's all kinds of unique weddings you can plan in Vegas. 
The Little White Wedding Chapel, where Lopez and Affleck got married, has a 24-hour drive-through window wedding option so you don't even have to get out of your car to get hitched. There are, of course, lots of Elvis themed wedding options, via Vegas Food & Fun. And there will soon be the option to get married amidst Princess Diana memorabilia.
Get married next to a replica of Princess Diana's wedding dress
"Princess Diana: A Tribute Exhibition" is opening on the third floor in The Shops at Crystals in front of the ARIA Resort & Casino, and 700 artifacts connected to Princess Diana will be spread over 12 rooms and 10,000 square feet. The artifacts on display include some from her 1981 wedding to Prince Charles, including a recreation of her wedding dress. Of course, the original gown was temporarily on display at Kensington Palace last year. The life-size replica of the wedding dress at the Vegas exhibit is in a room called "Wedding of the Century," and it is made out of paper by Belgian artist and sculptor Isabelle de Borchgrave, via People. Interestingly, you can book your own wedding ceremony along with a dinner in that room, per Travel + Leisure.
"So, here we have the ultimate room showcasing artifacts and mementos from the most famous wedding of all time," David Corelli, curator of the exhibit, told People. "And we thought, why not create something uniquely special for people to celebrate their love that you can only get here in Vegas?"
The exhibit also includes eight evening gowns that Princess Diana wore along with other memorabilia from her life before and after becoming a princess, via Good Morning America.