Sarah Palin's Future In Politics Isn't Looking So Bright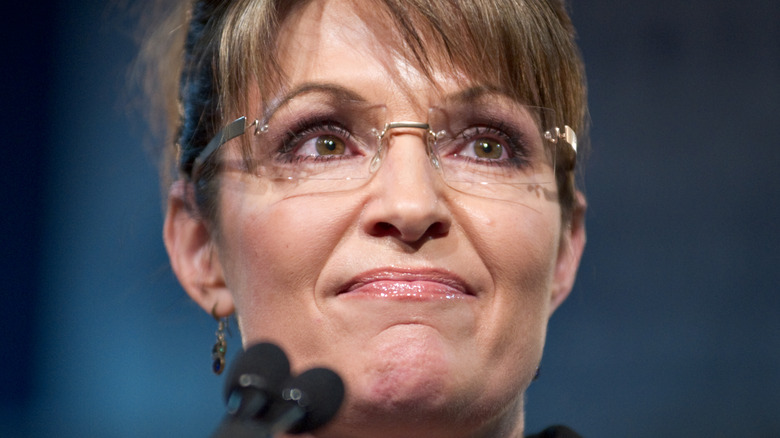 Christopher Halloran/Shutterstock
Sarah Palin's surprising decision to run for Congress had many pundits scratching their heads. As NPR notes, when she was chosen as then-Republican presidential candidate John McCain's pick for VP back in 2008, Palin was instantly thrust into the spotlight. After Barack Obama won the election, Palin became a firebrand political commentator, appearing frequently on conservative news media, publishing several books, and even finding her place in pop culture, too (via Biography).
The former governor's polarizing take on certain hot-button issues is also partly credited with paving the way for Donald Trump, and the no-holds-barred approach that now dominates the Republican party. Palin announced her decision to run for a congressional seat in a lengthy Facebook post. Although she's a widely known name in the region and indeed the country at large, Palin's choice to re-enter politics 14 years after she initially gained prominence seemed predicated by chance.
As ABC News reported, Republican Don Young's seat suddenly became available after 49 years when he died unexpectedly during his term, leading to a special election being held, the results of which are finally known. Unfortunately for Palin, they may lead to her reconsidering her future political aspirations.
The former Governor of Alaska lost her bid for Congress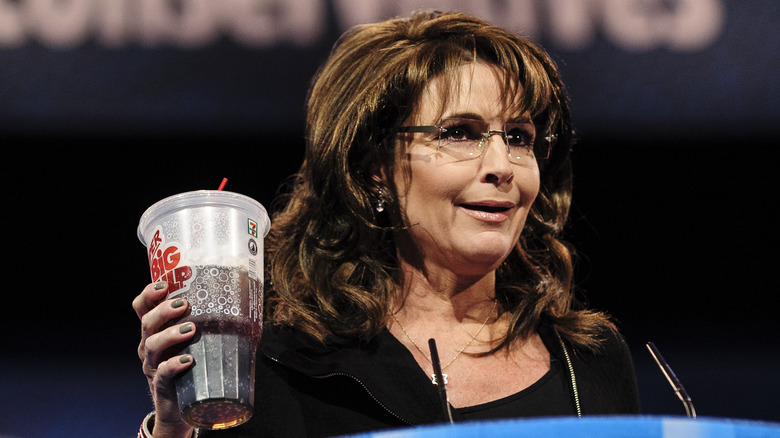 Pete Marovich/Getty Images
Sarah Palin is reeling after losing her bid for Alaska's only seat in the House of Representatives to Democrat Mary Peltola, who's not only the first Alaskan Native but also the first woman to do so, per the Daily Mail. As the state's former governor, Palin evidently thought her road to Congress would be a smooth one.
The vote was close, with 51.5 percent for Peltola and 48.5 percent for Palin. John McCain's 2008 running mate has strong name recognition in Alaska, and former President Donald Trump publicly gave Palin his seal of approval, but her history in the region is troubled. Palin resigned midway through her gubernatorial term, in July 2009, leading commentators to question whether she was committed to the role, and indeed Alaska itself.
The firebrand speaker confirmed she was in it "for the long haul" ahead of the special election. Per Sky News, it was the first to be conducted using Alaska's new "ranked choice" voting system. Voters list their picks in order of preference and the winner must clear 50 percent. Although Peltola's win is a major boon for Democrats, and the state's indigenous population, the real fight will come in the November midterms.
Peltola will be up against Palin again in a couple of months for the chance to take Don Young's place for the full two-year term.
Could Sarah Palin's loss spell trouble for Donald Trump?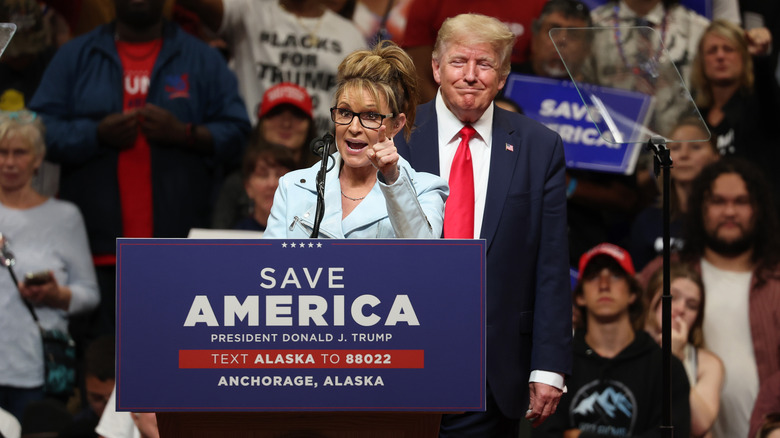 Justin Sullivan/Getty Images
Donald Trump is keeping his plans about a potential 2024 campaign close to his chest, but one thing the prospective candidate has said is that he doesn't plan to reveal anything until after the midterm elections are over. As Trump teased to Fox News, "A lot of people will be very happy" with his decision. When Trump was subsequently asked to clarify his position by New York Magazine, the controversial politician admitted, "Well, in my own mind, I've already made that decision, so nothing factors in anymore." 
Trump added, "I would say my big decision will be whether I go before or after. You understand what that means?" apparently referring to the upcoming midterms. The ultra-confident former president could be feeling slightly worried after Sarah Palin's loss, however, since he enthusiastically threw his support behind her even after local Republicans warned him not to, per CNN. Palin failed to appeal to moderate Republicans and independents, which could spell trouble for others of her ilk come November. 
In particular, Palin's loss may make Republicans question the chances for other Trump-endorsed candidates in key states such as Arizona and Pennsylvania, and even the man himself when the time comes. As The Guardian notes, Trump won Alaska by 10 points back in 2020, which marks a swing of 13 points given Peltola's three-point lead in the state. It all comes down to the midterms, which could crack this thing wide open.