Barron Trump Learned This Skill From Melania
Chip Somodevilla/Getty Images
Donald Trump's youngest son Barron Trump has managed to mostly avoid the spotlight unlike his elder siblings such as Ivanka and Tiffany Trump. In fact, Barron is only really photographed when he's traveling alongside his parents, as noted by Town & Country. Part of the reason why Barron prefers to lead a quieter life is likely because he was so young when his dad won the presidency and became even more famous.
Barron turned 16 in March 2022, and little is known about his life or interests aside from the fact the growing boy reportedly enjoys "sports" and foregoes social media entirely, according to his mother Melania Trump. The duo is incredibly close, with CNN pointing out they've both retreated even further from the public eye since leaving the White House and returning to Mar-a-Lago in Florida, where Barron attends a private high school.
Aside from sharing a desire to be left out of Donald's political aspirations going forward, Barron and Melania also have something else very special in common.
Barron Trump learned to speak his mother's native language fluently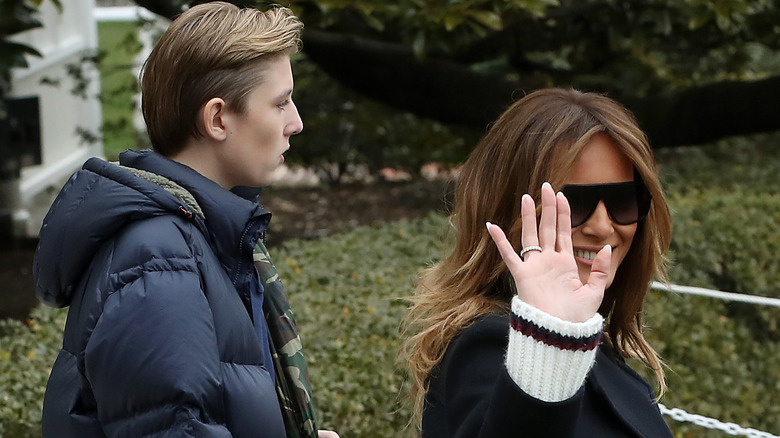 Mark Wilson/Getty Images
Town & Country confirmed Barron Trump is fluent in Slovenian, having learned his mother's native tongue at a young age from the former first lady. Back in 2009, while attending the Met Gala, Melania Trump bragged to reporters that her son, who was around 3 years old at the time, is actually multilingual. Per People, Melania gushed that Barron was a "very special" and quite talkative child.
Moreover, she shared, "He talks three languages. He speaks my language — Slovenian — English and French." According to Express, when Barron was just 4, footage emerged of the super cute youngster speaking with a strong Slovenian accent. Melania admitted he picked it up through spending the majority of his time with her. During a chat with legendary late-night host Larry King, he noted, "He has an accent."
The Be Best founder also seized the opportunity to reiterate her son's proficiency with languages, clarifying, "He speaks three languages actually." Although Barron has since lost his accent, in "Melania Trump — The Inside Story: The Potential First Lady," Slovenian journalist Bojan Požar revealed the teenager likely speaks Slovenian while speaking to Melania's sister, Ines. Further, Požar even claimed Barron could have obtained Slovenian citizenship, solidifying his commitment to his second language.
Both Donald and Melania Trump are dwarfed by their teenage son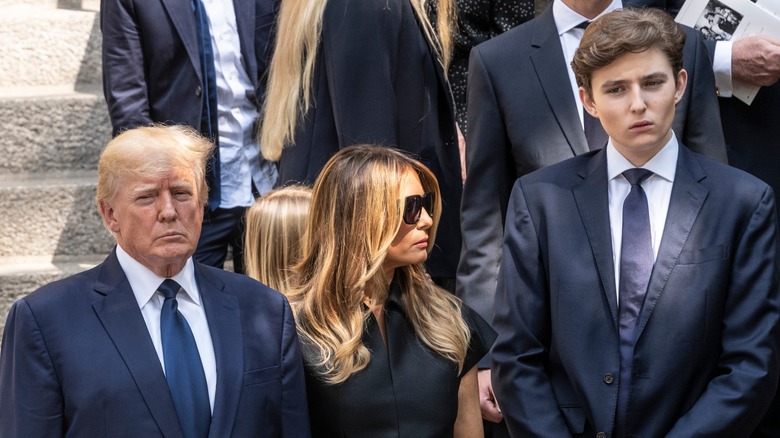 lev radin/Shutterstock
Melania Trump might be a former model, but Barron Trump is considerably taller than her nowadays with photos published by the New York Post in 2021 showcasing the teenager's impressive 6-foot-7-inch frame. Barron, who was then just 15 years old, noticeably towered over his mother and their security guards as they left Trump Tower together. Regardless of his height, the Daily Mail confirmed Barron was dutifully carrying Melania's handbag for her.
Former president Donald Trump reportedly stands at 6-foot-3-inches — though his actual height has been disputed many times, per The Guardian — but even he's in awe of his youngest child's stature. During a promotional appearance in North Carolina, Donald marveled, "Barron is 6-foot-7, can you believe it? And he's 15." In fact, Donald even quipped that 6-foot-6-inch Eric Trump is "short" in comparison. Barron loomed over his family at Ivana Trump's funeral, too (via the Daily Mail).
It's unsurprising Melania and Barron share a common language and a consistently strong bond, since the retired model notably told Parenting (via Amo Mama), "I am a full time mom; that is my first job. The most important job ever." She added, "I started my business when he started school." In fact, the Trumps opted not to have nannies in Barron's early years, per People, with both parents emphasizing the importance of being physically present for him.