Breaking's Nicole Beharie Talks Self-Care, Female Directors, And More - Exclusive Interview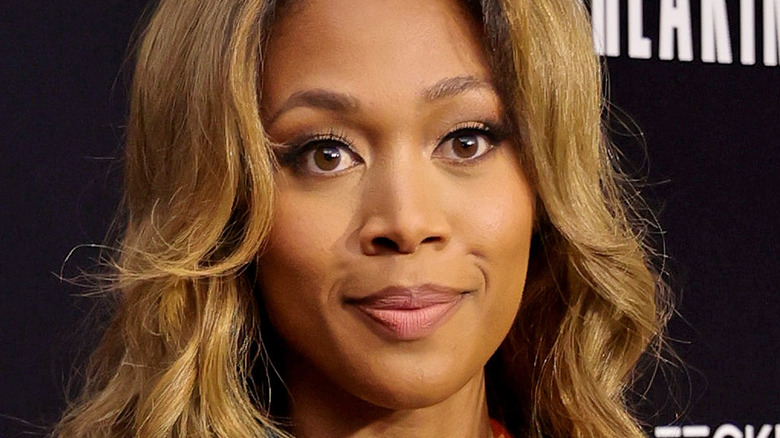 Momodu Mansaray/Getty Images
When Deadline announced Nicole Beharie was signed on as a regular for Season 3 of Apple TV's "The Morning Show," YouTuber Jessie Woo replied via Twitter, exclaiming, "Whew!!! I believe in Nicole Beharie supremacy!" And this is definitely one type of influence we can get behind. With a coveted and steady presence in Hollywood, Beharie's breadth of roles leaves viewers simply wanting more.
You may have seen Beharie in lead roles in film and television cult favorites "Miss Juneteenth" and "Sleepy Hollow" or in integral supporting roles in award-winning drama series like "Scenes From a Marriage" and "Black Mirror" (via IMDb). Regardless, whatever character Beharie tackles, she does so in a way that enthralls us in the present and disarms the audience so her character gains our trust.
One of her latest roles, starring opposite John Boyega in the thriller "Breaking," is no different. The thriller is based on a true story about a Marine veteran who in 2017 held up and threatened to bomb a Wells Fargo in Georgia after not receiving disability checks from Veterans Affairs, resulting in emotional and financial distress (via the Los Angeles Times). One of those hostages depicted in the real-life-event-turned-movie is the bank's manager, Estel Valerie, played by Beharie.
While Boyega's unpredictable and tense character leaves us on the edge of our seats, Beharie levels out the chaos by channeling an emotional yet sharp character who almost acts as a vessel for how the audience would imagine their own escape in such a nightmare situation.
We sat down with Beharie to discuss her approach to the role, self-care in such an impassioned setting, working with female directors, and the lasting legacy of her late co-star Michael K. Williams.
How Nicole Beharie approached playing a real-life bank hostage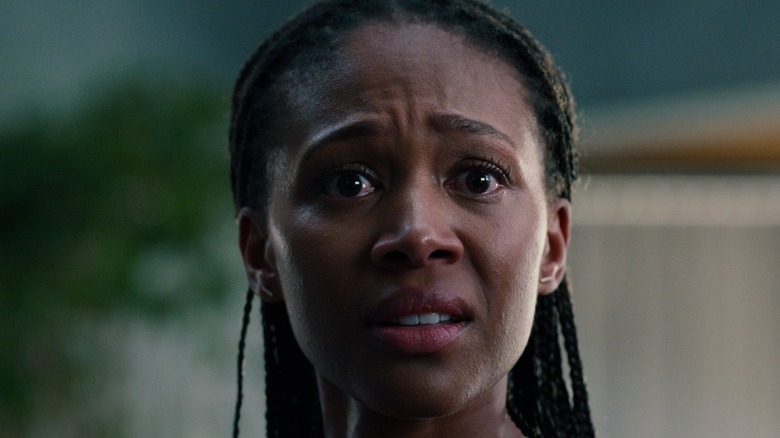 Bleecker Street
Your character's first words in the film are "Leave — right now," which sets the tone for the intensity of the film. What were your initial steps when approaching the role? And did that change throughout filming at all?
You start with the script. We had a beautiful, beautiful script. Then I had conversations with our director, Abi [Damaris Corbin], and she did so much extensive research in preparing for this. We had CCTV footage, statements, [the] 911 phone call, audio, photographs of my character, and her police statement. I started there, and [because] it's a real-life story, it's based on a true story, I stuck with that. I tried to build [and] do some research [on] what it's like to work at a bank. [I] spoke to some banking employees. [I] spent some time [at a bank]. Also, I found the article for the actual story, and I happened to be in Atlanta at the time [and] drove over to the bank where it took place, which is now closed, and scoped it out. It informed for me the world and who this woman that I'm playing is, and how strong she would have to be to be the manager there.
How generous Michael K. Williams was on set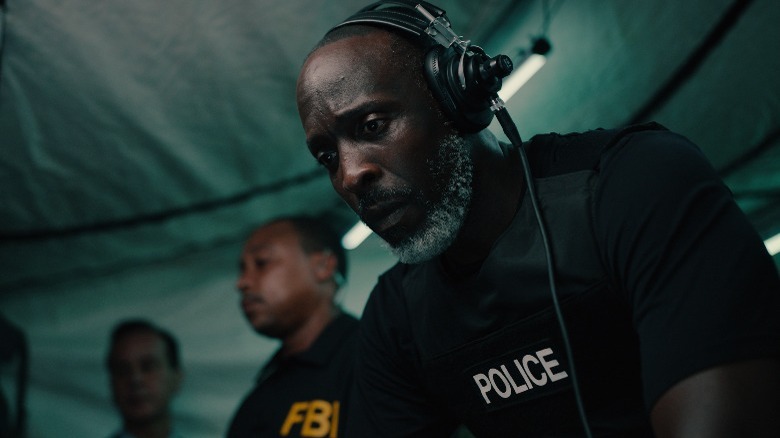 Bleecker Street
While watching the film, [the audience is] captivated by Michael K. Williams, and you have a scene with him over the phone. Did you learn anything while working with him?
[Throughout] this whole moment of this movie coming out and doing the press, it's really strange to be doing it without him. It's bittersweet because we get the gift of his fantastic work, and I get to remember our little interactions, his essence, and his generosity, but he's not here with us. That's really strange and sad. On set, yes, he came in on his day off to do that [scene] off-camera. That's the kind of person he [was], that's the kind of generosity. This guy is a star, come on. He didn't have to do that. I was actually shocked when he came in. I was like, "Did you come in for this [scene]?" And he was like, "Yeah, you noticed that we did." And I was like, "What?" That's crazy. That is unheard of.
That's the spirit [he had]. He was smiling and smelling good and wearing the most beautiful clothes. I saw him on other days [when] we didn't have interaction, [and] he brought such a beautiful, bright energy all the time. Of course, I'm in full intensity for what's happening at the bank.
It was a breath of fresh air. I left that set saying to myself, "Michael has it." He has a set life figured out. He knows how to make it feel really good and how to make other people feel really good while you're there.
How she manages her autoimmune disease on and off set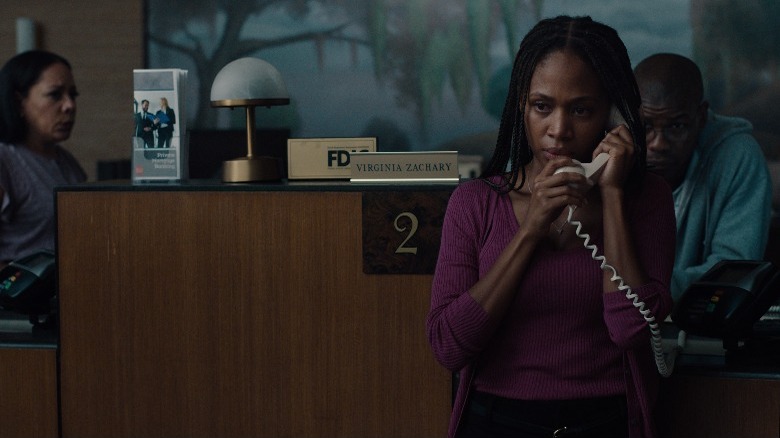 Bleecker Street
It must have been exhausting and maybe even traumatizing at some times having to get yourself into character. In the past, you've been so vocal about working with an autoimmune disease and taking care of yourself. How do you manage your stress while working?
That's probably actually the biggest thing that I figured out about myself and work. In the conversation with Abi in the beginning, I was like, "Okay, so this could burn out [my] adrenals." I think most people would be like, "What? What [is] she talking about?" But now, I do go into things thinking about how [my] body will respond to certain things, whether it's heightened fear for 14 hours or 12 hours a day. It's a lot of self-care. I was fine at the end of it and actually went on to do another movie, "Honk for Jesus. Save Your Soul," right afterwards.
I was in great health. [I] was taking good care of [my] body afterwards and letting [go of] that fight-or-flight aspect. At the end of every day, [I was] letting my body know, "You're not in danger. We were using that part of your emotions and your fear, but it's not real, and we're good." Bubble baths, love, beautiful food, wonderful family, and lots of stretching and cardio.
On the cultural relevance of working with female directors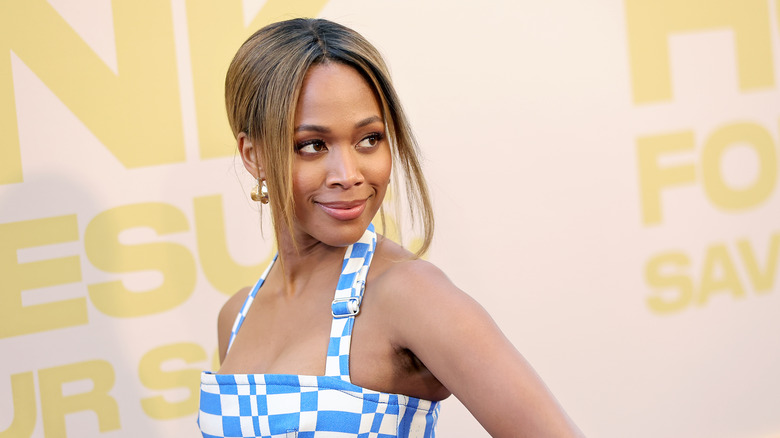 Matt Winkelmeyer/Getty Images
You've worked with a lot of women directors, [including in "Breaking"], "Miss Juneteenth," and "Honk for Jesus. Save Your Soul." When you're deciding [on] roles, how important is it for you to work with female directors? Is it a conscious, intentional choice?
I don't know if it's an intentional choice, but we're living in a world where that's happening. Maybe those are people that also gravitate towards me. I also love new voices, people that are taking risks. I love some risks, and all these projects are leaning into taboo, voiceless conversations, or giving voice to such voiceless conversations or barbershop conversations. I also feel like they're my kindred in a way, and we're also in a period where there's just more. There is more content, more space, and more inclusion for women and people of color. So I am going to use my voice and my gifts to support their work.
"Breaking" is now showing in theaters.
This interview has been edited for clarity.