Here's How Much An Engagement Ring Really Costs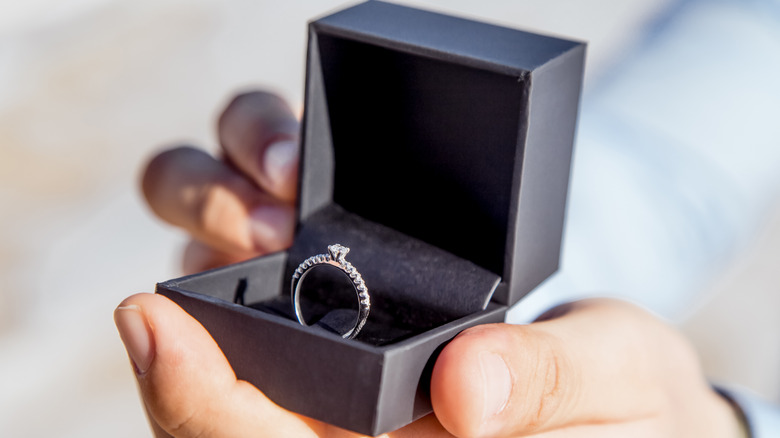 Irina Montero/Shutterstock
If you are in a long-term relationship and have discussed the possibility of marriage, you are probably guilty of doing a few searches on engagement rings or checking out the left hand of your married friends and coworkers more often than you'd like to admit. If you are the one doing the proposing, the idea of an engagement ring may scare you: how do you find the right one and how much are you going to have to shell out for it?
According to Cumberland Diamonds, an engagement ring is a symbol of a couple's love and commitment to each other. But, according to Vox, it has also become a bit of a status symbol and a way to express our wealth. Still, while many couples have recently opted for non-traditional engagement rings or gravitated towards the simplicity of a simple gold band, the idea of a sparkly diamond is still very much in-trend. So if you are expecting a ring, or looking to give one, here is what you can expect to spend.
An engagement ring can be quite costly, but prices vary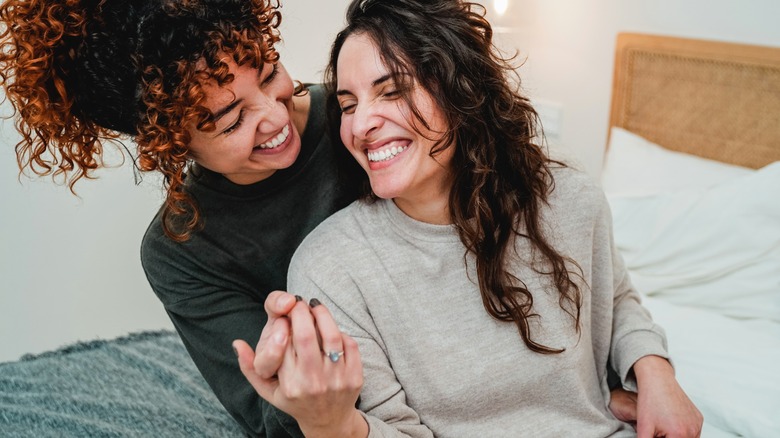 Nuva Frames/Shutterstock
There is so much variety when it comes to an engagement ring, so it makes sense that the prices will vary greatly when shopping. But, if you want to get a better understanding of the amount you will need to spend, WeddingWire published a recent Newlywed Report that said in 2021, the average person spent about $5,500 on an engagement ring. But this is just that — an average. In fact, the report also noted that about half of all engaged couples spent less than $5,000 on their ring and about 18 percent of couples spent way more (over $10,000!).
There are a lot of factors involved in determining the price of an engagement ring. A traditional rule of thumb is to tally up the amount of money you make in two months and that amount is how much you should spend on a ring, per Estate Diamond Jewelry. But this idea has recently taken a back seat. As couples need to factor in debts and other life expenses, the two month rule is no longer a popular method. Instead, look at what you can personally afford and what feels right for you as a couple. Here are more things to consider when buying an engagement ring.
What to consider when buying an engagement ring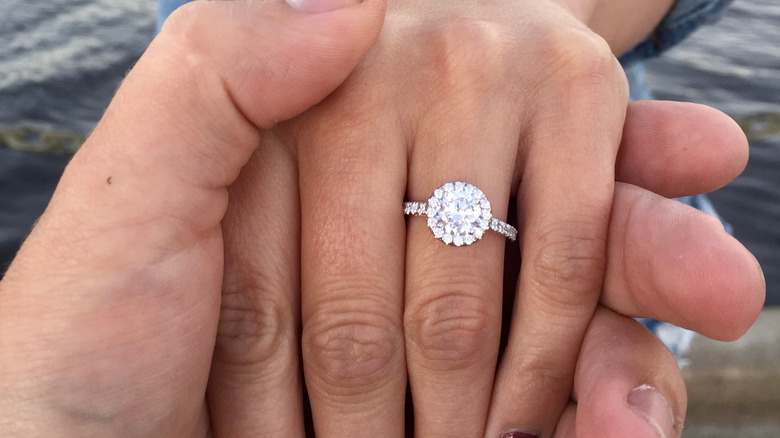 Kassidy Dodge/Shutterstock
While the cost is an important factor when it comes to choosing a ring, there are a lot of things to consider when deciding on price. According to Brides, the first thing to determine if you are shopping for a diamond, is the shape. A traditional circle shape will likely cost you more than a pear shape. Next you'll need to decide on metal for the band and the carat size for the diamond. Once this is all determined, make sure you pay attention to the clarity and cut quality. Not only can this greatly change the price, but it is also important to make sure you are spending your money on a good diamond.
If you do want to try and save a few pennies on the ring, The Knot recommends shopping online instead of going into a jewelry shop. This helps you avoid in-store markups and can offer a couple a savings of 30-50 percent. You can also save money by choosing a multi-stone engagement ring and getting a lesser carat size. No matter what you choose, remember that your engagement ring is not only a symbol of your commitment, but also something you will likely wear on your finger for a very, very long time. So no matter the cost, be sure it is something that feels right to you and your partner, regardless of "status" or price.