90 Day Fiancé's Yara Zaya Shares Biggest Adjustments Living In America - Exclusive
You may remember Jovi Dufren and Yara Zaya from their time on "90 Day Fiancé" Season 8. The couple had some bumps in the road before their wedding. They first met when Dufren was traveling for his job. It seemed unlikely that the romance would last since Zaya was from Ukraine and Dufren lived in the US, but Zaya eventually moved to Louisiana to be with Dufren. Unfortunately, the difficulties in their relationship didn't end with the distance. They had a lot of adjustments to make once they were living together, and Zaya especially had the big change of living in an entirely new country.
You can continue to follow the couple's journey as they become accustomed to married life and parenting on the seventh season of "90 Day Fiancé: Happily Ever After?" During an exclusive interview with The List, they talked about their relationship and being on the show. Zaya also opened up about her biggest challenges living in a new country.
Adjusting to her life in the US
While speaking to The List, the "90 Day Fiancé" couple discussed what some of the biggest changes have been since getting married. For Jovi Dufren, becoming a father was the biggest change by far, but Yara Zaya said everything changed so much so quickly she couldn't pick one thing. "I don't know," Zaya shared. "For me, everything is a big change. I moved to [a] new country, and having a husband, having a child, living in Louisiana."
Since moving from Ukraine to the US, adjusting to the culture has been a struggle for Zaya. One of the biggest challenges is navigating socially. She explained that she's had a hard time understanding when people mean what they say in the US. 
"It was the biggest adjustment to understand the people, that here, [not] everybody is [honest]. In my country, people can be mean to you at first and then so nice to you when they get to know you. Here, everybody's so nice to you all the time, but they can hate you, and I never notice this," she said. Her husband joked, "Basically, you're saying everybody's fake here." However, Zaya answered she couldn't put it that simply or people wouldn't like it.
Adjusting to her new life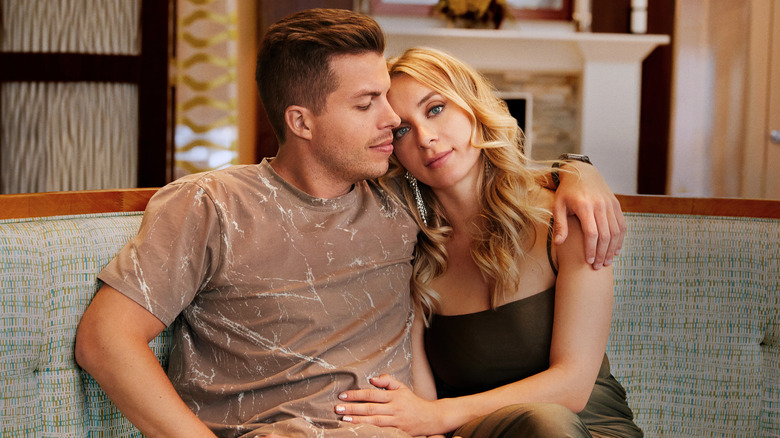 TLC
Along with the cultural differences between her home and the US, Yara Zaya has had the challenge of becoming a mother while living away from her family. She told The List, "I always want my family to see my daughter and [want her to] be in contact with them, [and I want her to know] my culture and all that stuff. It's hard. I didn't plan that, but it happened."
Although she isn't sure she'll ever completely adjust to living in the US, she said she has become more accustomed to her life here. "Everything [was] different for me over here, but I feel like I am already more adjusted. I feel like I can understand more people now and everything else," she said. She does believe that if she and Jovi were to move somewhere where there were more people from different countries, it might help her feel more at home.
New episodes of "90 Day Fiancé: Happily Ever After?" premiere at 8 p.m. ET/PT Sundays on TLC and Discovery Plus.