This Is How Much It Really Costs To Throw A Rehearsal Dinner Before A Wedding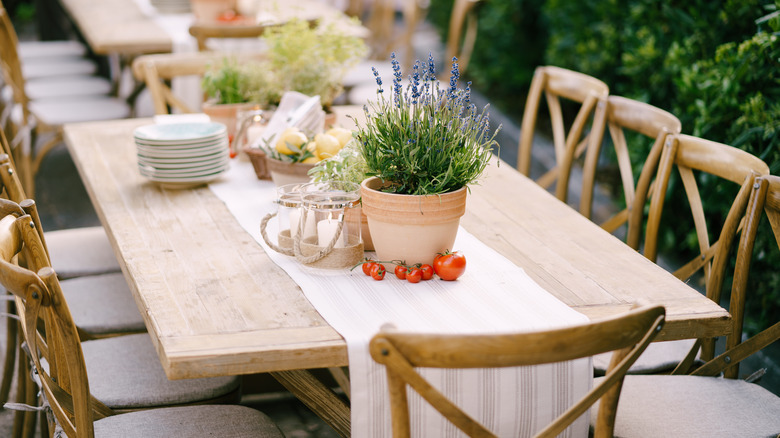 nadtochiy/Shutterstock
Congrats, you're engaged! After the excitement begins to wear off, you may notice that some panic settles in its place. You're not alone. According to CNBC, wedding prices this past year have skyrocketed. To put it plainly, the average cost of a wedding in 2020 was $20,286 (which is a huge amount in itself). Fast forward just one simple year and that average cost went up to $27, 063 — this is a 30% increase!
But it's not just the wedding you have to factor in — there are the bachelorette parties, the bridal showers, the day-after brunch, and of course, the rehearsal dinner. According to Brides, the main point of the rehearsal dinner is to carve out a time for your closest friends and family members to meet, interact, and bond before the big day. The night often starts with an actual rehearsal so those in the wedding understand their duties and things go smoothly, but the crux of the night is the dinner held afterwards. Depending on where you choose to host the rehearsal dinner and how big your guest list is, this event can quickly add up. 
Rehearsal dinners can eat up a big portion of your wedding budget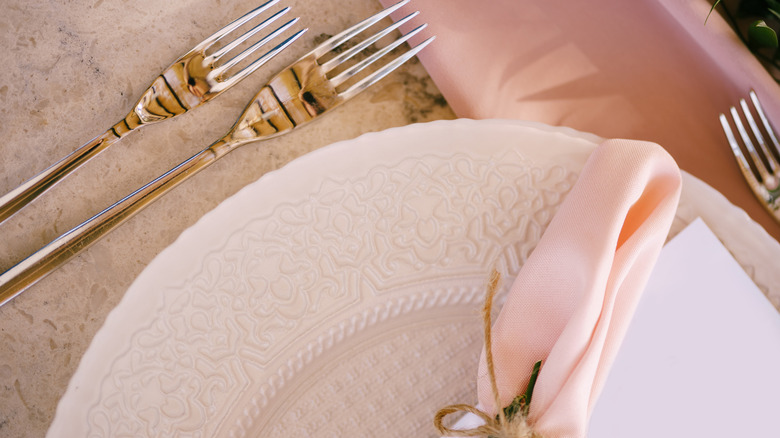 nadtochiy/Shutterstock
For many, a rehearsal dinner is a bit of a preview into their big day — it involves food, drinks, gifts, and celebrations. Fortunately, the cost of a rehearsal dinner doesn't come close to the overall cost of the wedding day, but it is still a pricey event that you'll need to factor into your wedding budget. According to The Knot, the average cost of a rehearsal dinner in 2021 was $2,300, which is up from 2019's cost of $1,900. While this price increase can be blamed on inflation, The Knot suggests that it's due to couples making the rehearsal dinner a bigger event, inviting more guests and opting for things like an open bar.
If you want to lower this cost, there are a few ways to do it. According to Brides, the rule of thumb for the invite list at a rehearsal dinner is simply your immediate family and the members of your bridal party. While many couples opt to extend this list to out-of-town guests and close friends, keeping the list small for this event can quickly lower your price. You may also want to consider keeping the event more casual, serving comfort foods and keeping the alcohol list small. Want to really cut costs? Many couples have chosen to forgo the rehearsal dinner altogether — according to Minted, it is up to the bride and groom to make this decision. But if you do choose to have one, here's how to plan it.
How to plan your rehearsal dinner before your wedding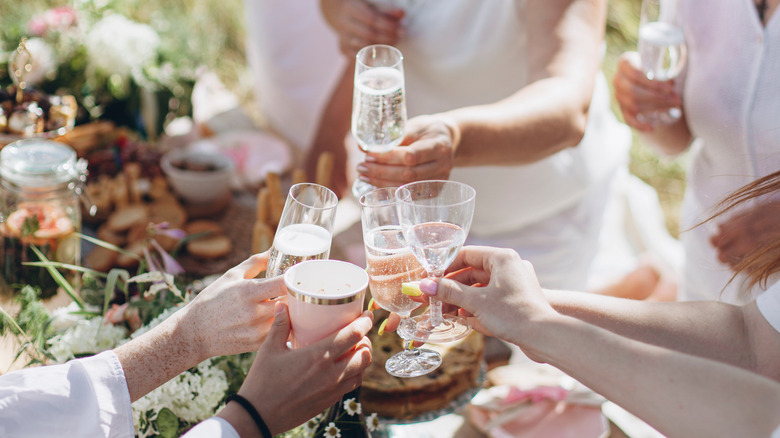 Anne Ponomarenko/Shutterstock
According to The Street, the groom's family traditionally pays for the rehearsal dinner. But as couples modernize and more and more opt to (or are forced to) pay for their own nuptials, the rehearsal dinner often lands in their laps as well. The first thing on your list should be determining who is footing the bill, as they will also be named host of the event. Once that is figured out, The Knot suggests locking down a venue for the dinner. The venue for a rehearsal dinner can vary greatly. Many reception venues include a rehearsal dinner in their package, but if you have to choose a different location, consider a special restaurant that you and your partner love or even consider a low-key event at your home or the backyard of a loved one.
When the location and the budget are checked off your list, you can focus on the more exciting parts like decorations, food, invites, and your rehearsal dinner attire. According to Brides, your rehearsal dinner look is like a first impression for your wedding day, so don't skimp on your outfit of choice. If you choose to have a low-key event, consider crochet or lace, while a more formal dinner should have you dressing in something more elegant. And you don't have to stick to white. While this is a traditional color, consider experimenting with other hues for your rehearsal dinner — it's a great time to express your personality on your big wedding weekend.