Fans Told The List Their Favorite Athletic Clothing Brand - Exclusive Survey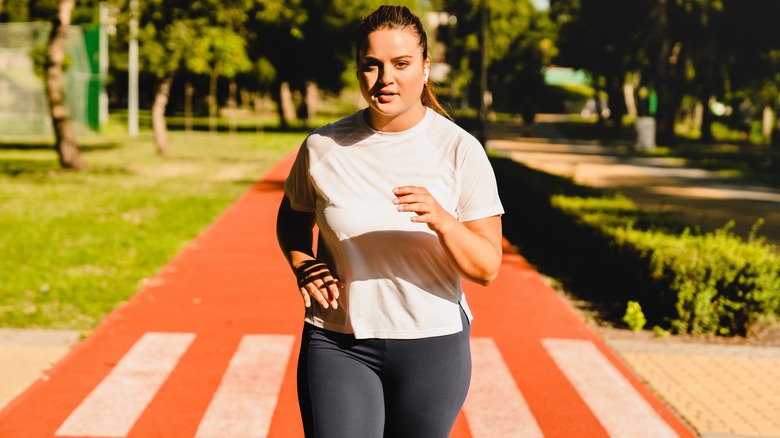 Inside Creative House/Shutterstock
Exercise — for many — can feel like such a daunting task. Vignettes of running the dreaded mile in elementary school while growing up with advertisements of grocery store magazines urging women to lose weight are amongst the childhood flashes that live in many minds rent-free. But, luckily, there are so many different types of exercise that people thoroughly enjoy based on their interests. Whether it's barre class, pilates, or swimming, dopamine levels are sure to be poppin' off the charts — all it takes is finding the right workout for you.
Whatever your favorite form of exercise may be, it's important that you feel comfortable and secure in what you're wearing while your body is in motion. Perhaps the priority of feeling both cozy and confident is a reason why the athletic clothing industry is such a booming one. According to Statista, the sports apparel industry all around the globe continues to increase, and is predicted to do so for years to come. 
After all, with Forbes reporting that athleisure has solidified its mark in the fashion industry, the sportswear brands to choose from are far and wide. That's why The List surveyed readers on their favorite big-name athletic brands, and the rankings of the options may come as a surprise.
Nike leads as The List readers' favorite athletic clothing brand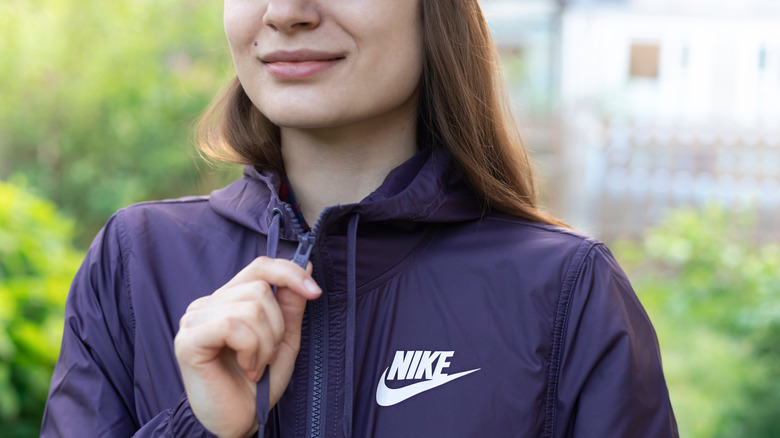 Maria Rom/Shutterstock
The List conducted a survey of over 550 people, asking them what their favorite athletic clothing brand is. Between popular companies Nike, Adidas, Lululemon, Athleta, Alo Yoga, and Under Armour, around 34% of pollers voted for Nike, taking the No. 1 spot. Coming in second place is Under Armour, which 22% of voters chose, and the trendy brand Adidas comes in third place at around 21% of votes.
The results confirm the popularity of the top brands, as Nike and Adidas have both been in business for over half a century and Under Armour features a wide range of reliable workout gear. Not only have they established themselves as leaders and innovators in the athletic brand industry, but they've leveled up by prioritizing sustainability into their mission, amongst other initiatives like celebrity brand deals (Beyoncé's Ivy Park, anyone?).
Whether you're Team Nike, Team Adidas, or are looking for reliable gear that firmly places you on Team Under Armour, these brands have a myriad of highly-rated and reviewed items that continue to be trendy year after year.
The top brands feature highly-reviewed items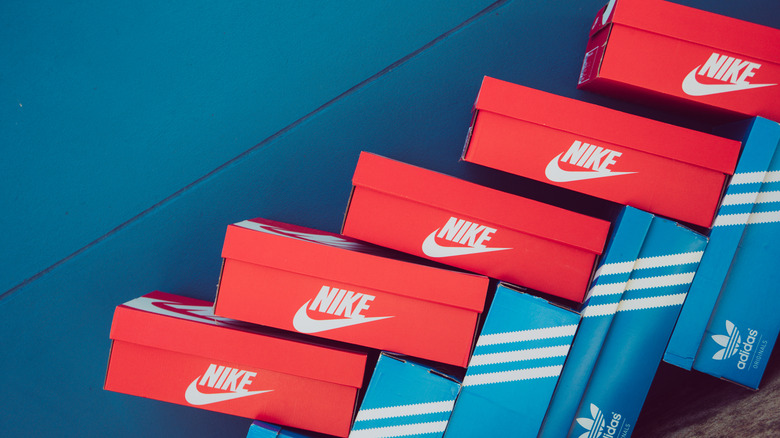 2p2play/Shutterstock
Now that The List readers have spoken and declared Nike, Under Armour, and Adidas as their top three athletic clothing brands, we're examining some of the rival brands' most popular and talked about items. Starting with Nike, the ever-popular Nike Pro 3 inch women's shorts are a crowd pleaser for many, as the supportive material and quality stretch makes them perfect for the gym, a difficult hike, or simply lounging around at home. And of course, we can't talk about Nike without talking about shoes. The Nike Air Force 1 '07s are on the "purchase this once paid" list for many, as the classic shoe is simple, timeless, and easy to match with any outfit. 
Under Armour is up next, and the best sellers featured on the brand's website prove the reliability and no-fuss approach brought to many products. Up first is the Hustle 5.0 Backpack, which is perfect for the frequent traveler, hiker, or student as it features breathable mesh, a laundry pocket, and a laptop sleeve. And of course, Under Armour has proven that athleisure is the name of its game, with products such as the Rival Fleece Joggers making it clear that a productive workout is only as good as your wind-down and time off the treadmill. 
What sets the third place brand, Adidas, apart from the crowd is its featured collections — IVY PARK, Stella McCartney, and YEEZY are just a few that Adidas boasts. And when it comes to the bestselling products, options like the Adilette Aqua Slides and the Essentials Fleece Sweatshirt make it clear that those three white stripes have been and forever will be iconic.