What Is Halsey's 'Go-To' Cleanser?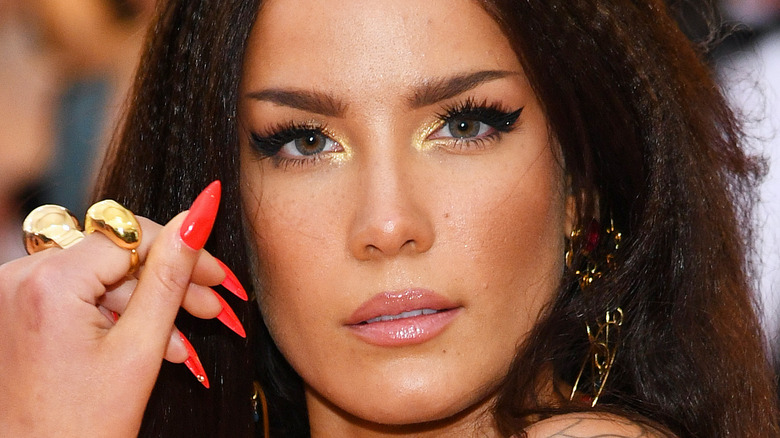 Dimitrios Kambouris/Getty Images
When Halsey launched a makeup line, she made it clear it was about accentuating rather than hiding your inner beauty. During a chat with Byrdie, the singer explained, "As someone who has spent a really long time trying to look different than I do, it was really relieving for me to be able to look at myself and go, hey, that's your face. There's nothing you can do about it. So you better love it, because that's the one you got." 
Moreover, as the superstar singer, who uses she/they pronouns, clarified to Refinery 29, wearing makeup should be about bringing your "best self" to the fore. Halsey is well known for stunning transformations, so creating About-Face, as she cleverly called it, felt like a natural progression. The "Without Me" hit-maker also frequently has fans gushing over how great their skin looks, particularly when Halsey goes makeup-free, so it's unsurprising we want to replicate their skincare routine. Luckily for us, the chart-topping pop star has revealed her favorite cleanser.
This is what Halsey uses to keep her skin looking perfectly clear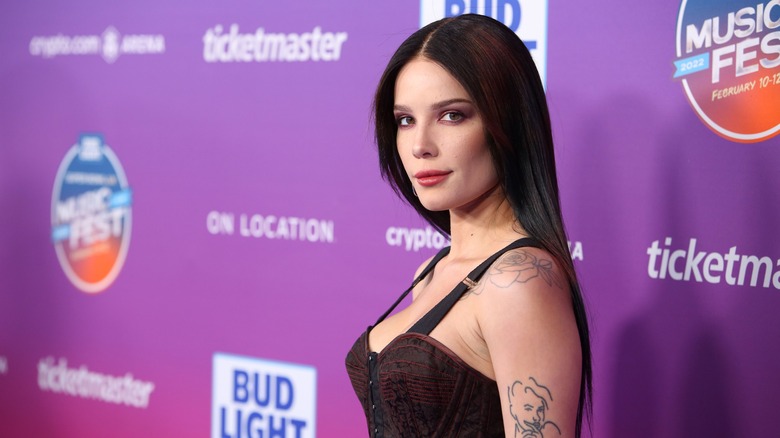 Jesse Grant/Getty Images
According to Life & Style magazine, Halsey gave fans a glimpse of their bathroom cabinet in an Instagram Story, sharing the kinds of products they reach for when it comes to hair, skin, and everything in between. Halsey's number one cleanser is IMAGE's the MAX™ facial cleanser, which you can pick up from their online store for $35. As Halsey divulged in a video for Vogue, it's long been her favorite.
In fact, "I literally order it online everywhere I am, and I take like six bottles with me if I'm going to a new country." The singer-songwriter opts for a less invasive cleanser first thing in the morning, but she goes hard when it comes to removing makeup. "When I'm getting off of stage and I have all that sweat and makeup and everything like deep in my pores, I'll try to wash my face like two or three times," Halsey admitted.
Notably, when the pop star was pregnant with her first child, she switched up her routine significantly. Per Shape, Halsey revealed, again on Instagram Stories, that they had trouble finding a cleanser gentle enough for their hormone-affected skin, eventually turning to Jessica Alba's Honest Beauty line, which was a total lifesaver. 
The pop star is refreshingly open about what their face really looks like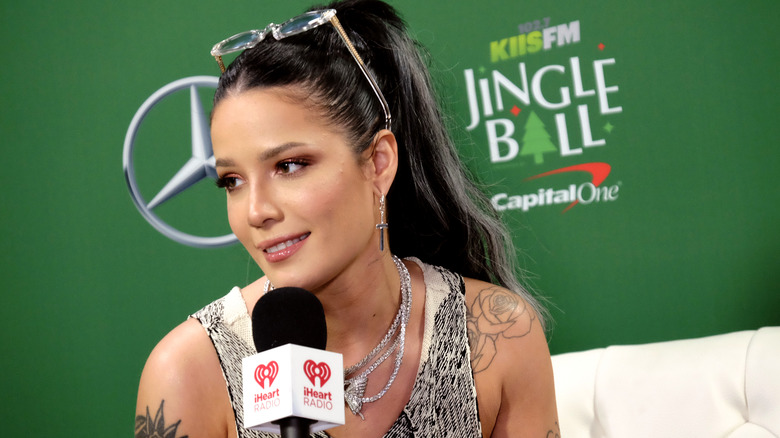 Tommaso Boddi/Getty Images
Halsey often proudly shares makeup-free selfies on Instagram, and in an interview with Byrdie, she railed against how fake things often are online. "I'm exhausted with this industry of Instagram filters," Halsey asserted. "It's gotta be damaging to your brain to constantly be looking at yourself through an altered lens and being disappointed with what your face actually looks like."
The pop star shared how, when they initially became famous and started being snapped by paparazzi on the street, it meant facing up to what they actually looked like rather than trying to control their image through editing and Photoshop. Referring to her makeup line, Halsey argued, "I have to make peace with my face ... That's what I want About-Face to be: loving and appreciating what you look like."
Fans may be shocked to learn that, as the singer told Coveteur, they don't wear foundation onstage because performing inevitably means sweating it all off, so it's just not worth it. Further, as the "Him & I" hit-maker reasoned, "There's something really awesome about going out there with your naked face — your skin just how it is." Her job has taken a toll on Halsey's skin, but the singer is focused on taking care of it as best she can. And naturally, it all starts with their go-to cleanser.