Jennifer Aniston's Tips For Keeping Your Skin Looking Flawless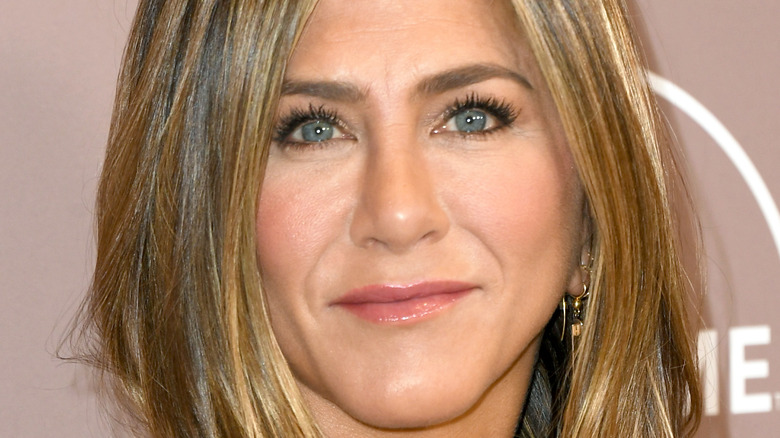 Jon Kopaloff/Getty Images
Jennifer Aniston is one of the most beautiful women in Hollywood. The actress has been setting trends and wowing fans since hitting it big on the NBC sitcom "Friends." Now, decades later, Aniston is having open and honest conversations about aging, and encouraging women of all ages to embrace themselves and take care of their bodies, per Today.
Part of the reason Aniston is so adamant about taking care of herself is the influence that her mother had on her. "My mother was always so healthy and beautifully fit when I was a kid. I've always had that as my foundation," the actress told Vogue in 2021. As a child, Aniston revealed that she didn't eat junk food as her mother insisted on healthy eating, and as she got older and tried things such as pizza, she realized that her mother was right to put nutritious food into her body. Aniston is even famous for a viral salad recipe. "I started to look at my mother, and my grandmother, and the elders in my life," she continued. "They didn't have the knowledge we have now about ingredients and exercise. Yes, it's great to be fit and look great... but it's about your cells, your muscles, so we can grow old and thrive."
According to She Knows, Aniston has been very outspoken about not giving in to her age, revealing that she believes it's a privilege to live a long and healthy life.
Jennifer Aniston makes it a priority to care of her body and mind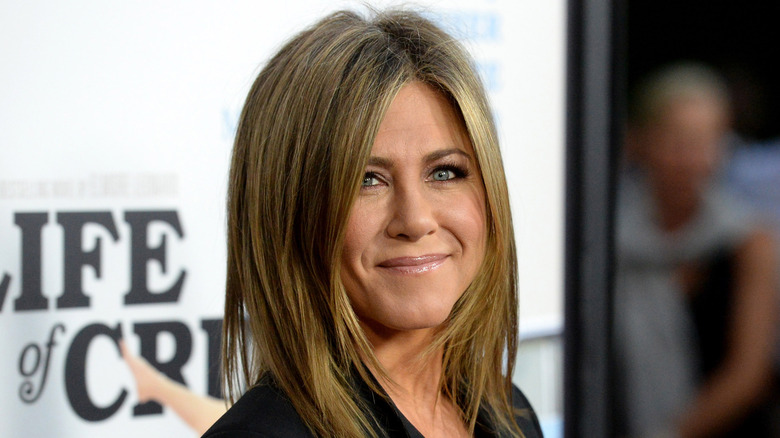 Jason Merritt/term/Getty Images
Jennifer Aniston knows the importance of self-care. The "Friends" actress has revealed just some of the things that she does in the morning to set herself up to have a great day, and it's truly inspiring. Aniston admits that she likes to spend the first hour of her day off the grid. She doesn't look at her phone or watch television (via Women's Health). "No phones, no email, no texting, and no social media. No looking at any of that for a good hour, hour and a half. I highly recommend doing a week of it, you won't believe the difference," she said. Instead, she does things such as enjoy a cup of coffee, walk her dogs, and take some time to journal and meditate.
The "Picture Perfect" actress also says that getting exercise is crucial to her daily routine (via Prevention). Whether it's doing yoga or cardio, she knows that it's important to move her body every day, and even on her busiest days she finds time for exercise. "If I have only five minutes, I'll use them to move my body. Jumping rope is a killer workout," Aniston previously told Shape.
Of course, Aniston combines her spiritual and physical routines with her skincare routine, which has kept her looking radiant and healthy for years. So, what's her secret to flawless skin?
Jennifer Aniston's skincare routine is simpler than you might think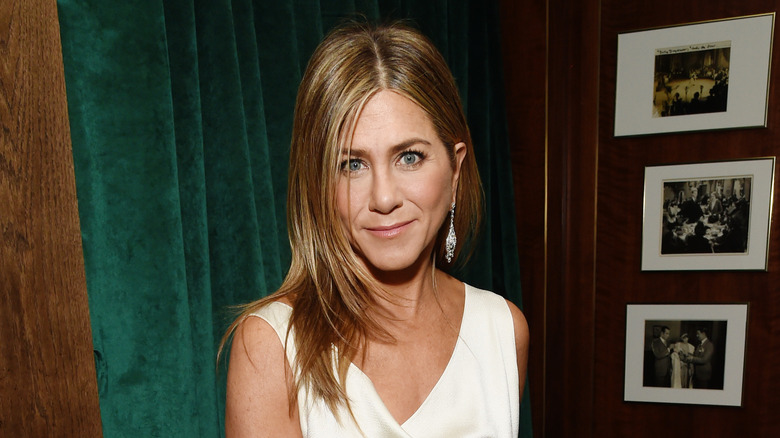 Michael Kovac/Getty Images
Jennifer Aniston once revealed that she inherited her good skin from her father — "Days of Our Lives" star John Aniston (via Women's Health). The actress has often been praised for her flawless-looking skin, even in her fifties. So, how does she achieve her glowing and radiant look? According to Well and Good, the actress never skips using moisturizer and SPF on her face to keep his hydrated and protected from the sun, admitting that she likes to use Aveeno products and keeps them stashed all over her house and car for daily use. As for her body lotion, she likes to keep it in the shower so that she can apply it to her warm skin for extra hydration (via Now To Love).
In addition, Aniston says that she enjoys using at-home products like eye masks and cryo sticks as opposed to having damaging treatments that could harm her skin in the long run, per Vogue. "Another good one that my facialist taught me is just get a bowl of ice water and splash your face 25 times. It's an old school trick that Joan Crawford used to do — it just wakes your skin up," she dished.
It appears that Aniston keeps her skincare routine simple and manageable, and it's working for her. She continues to look amazing at every age, and is an inspiration for women to age naturally and be proud to do so.