How Chrishell Stause's Style Changed When She Started Dating G-Flip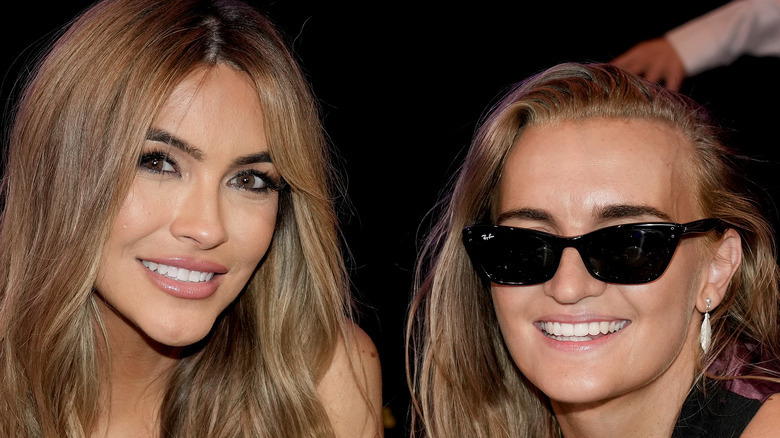 Jeff Kravitz/Getty Images
Chrishell Stause was already a soap star when she rocked up on "Selling Sunset" to steal the queen bee crown from Christine Quinn, but it was a major adjustment as the Netflix reality show became a global phenomenon. 
"I mean, it's kind of crazy, because the show has become so much bigger than anybody could have even imagined," Stause admitted to Vogue. "It's such a strange phenomenon to have millions of people intimately involved in your life and giving you feedback."
Part of that attention is, understandably, focused on Stause's romantic relationships, especially since her ex-husband, Justin Hartley, notably broke up with the "Young and the Restless" star midway through the third season. Per Women's Health, during an emotionally fraught episode, Stause shared, "I'm just kind of in shock with it all. It's just a lot all at once because everybody in the whole world knows." 
As it turned out, Stause found the perfect person to move on with (following a brief sojourn with her boss). It was the last person anybody expected, though. Us Weekly notes the reality star went public with nonbinary musician G Flip at the Season 5 reunion, shocking and delighting fans in equal measure. 
Stause is known for her killer — and super-feminine – red-carpet style alongside looking suitably chic and fabulous while shilling high-end properties on "Selling Sunset." So it was especially noteworthy when she scaled it way back to match her new love's laidback style.
The Selling Sunset star is much more laidback with G Flip
Chrishell Stause has had a stunning transformation, but she's never looked more comfortably herself than she does with G Flip. As the Daily Mail points out, according to a fashion stylist, Stause might have subconsciously altered her style to mirror that of her partner in an effort to "strengthen their bond." The former soap star is known for being very girly, typically favoring dresses and heels, but, since hooking up with the Aussie star, she's been spotted dressing considerably more relaxed.
In fact, while visiting her partner's home country of Australia, Stause was photographed wearing a pair of loose jeans, white sneakers, a white tank top, and a pale pink jean jacket. The "Selling Sunset" fan-favorite accessorized with aviator shades and a black backpack. G Flip matched her in ripped jeans, sneakers, and a loose-fitting leather jacket, while the singer also covered their eyes with sunglasses.
During her chat with Vogue, Stause described her relationship with G Flip as "unlocked." The former soap star elaborated, "It's when they have the key to your heart, but the walls are down and there are no rules or regulations, just love and support." She described being with the singer as "such a mood-lifting experience. I love feeling that endless support of just wanting the other person to be fully who they are."
Chrishell and G Flip are much more alike than you'd think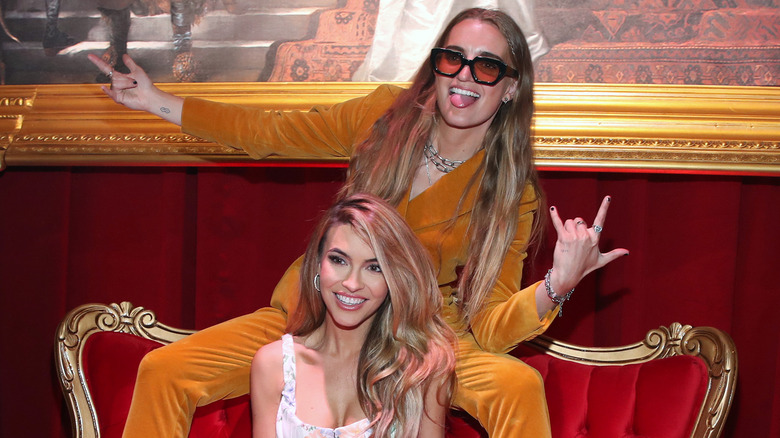 Jonathan Leibson/Getty Images
Under intense public scrutiny, Chrishell Stause provided more context about her relationship with G Flip in a video posted to Instagram. She clarified that just because she's older than her partner — and the two are at different points in their lives — it "doesn't diminish the deep connection that we have made."
"It's about the person," Stause continued. "It is about their heart. I don't really care what the physical form is." The "Selling Sunset" star also took a moment to confirm she hadn't changed, for any worried fans.
And for those speculating about how they'd met, during an appearance on the "People Every Day" podcast, G Flip confirmed that they'd initially crossed paths before splitting from their respective partners and connecting once they were both single, per People. "We just found a lot of similarities, even though people would think we are from, like, different corners of the world," they said. "We find ourselves so similar sometimes." 
As it turns out, those similarities extended to their shared fashion sense, too.