Why Meghan Markle Is Frustrated By The Narrative Surrounding Her Marriage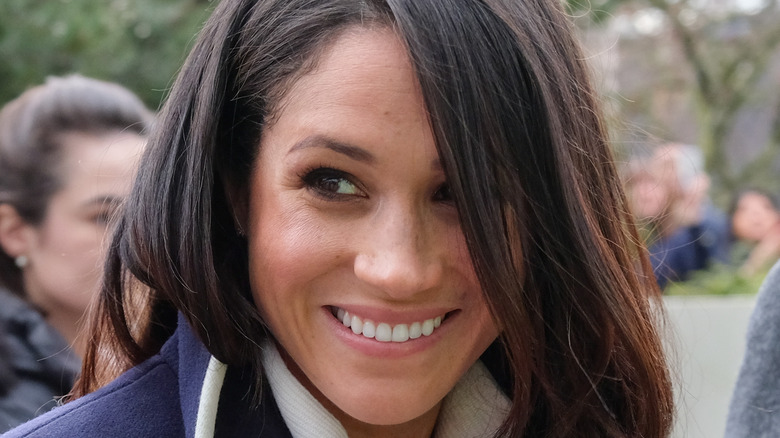 MattKeeble.com/Shutterstock
Meghan Markle, Duchess of Sussex, has reached new heights with her "Archetypes" podcast on Spotify, as it debuted at the No. 1 spot in the U.S. and the U.K., according to Variety. The podcast is a part of a 2020 deal between Spotify and Prince Harry, Duke of Sussex, and Meghan, which is reportedly worth $30 million, per Forbes. The couple also have a big money deal with Netflix; the Duke and Duchess of Sussex are currently in the U.K. – here's how Meghan feels about being back – and Netflix cameras are likely in tow, per Express. Making the deals with Spotify and Netflix are a part of the Sussexes' work to become financially independent, which was one of their goals when they stepped back from royal duties in January 2020, Metro notes.
Before they were making news for their royal exit, Harry and Meghan made worldwide headlines with the news of their relationship. The two met on a blind date in 2016, and Meghan said that she may have known who Harry was in general, but she "didn't know much about him." All she was interested in finding out from the friend who set them up before they went out was, "Is he nice? Cause if he wasn't kind, it just didn't seem like it would make sense," she admitted. By October 2016, word of their relationship made the papers, and they've been a topic of conversation and interest ever since — but not always in a way that Meghan was happy about.
Meghan Markle was told she was lucky to be chosen by Prince Harry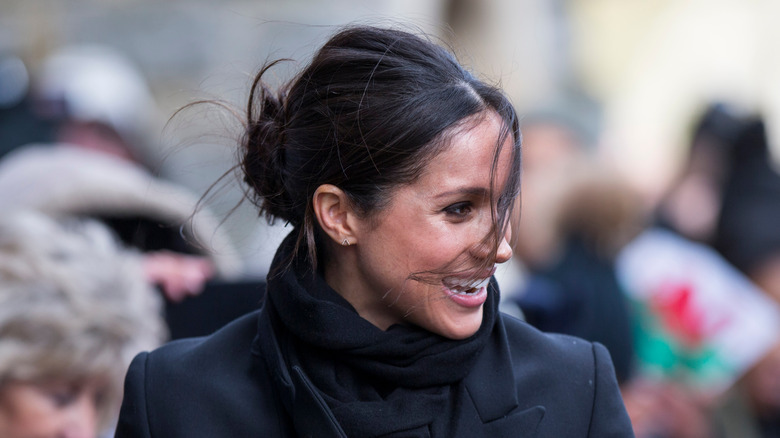 ComposedPix/Shutterstock
There's been a great deal of reporting on the relationship of Prince Harry and Meghan Markle, the Duke and Duchess of Sussex, and nearly 18 million people in Britain watched the two get married in 2018, according to The Guardian. But Meghan explained some of her frustration on the third episode of her "Archetypes" podcast — "The Stigma of the Singleton with Mindy Kaling" — sharing truths about how her relationship was framed and what people didn't seem to realize.
Meghan revealed that the common belief was that Harry, as grandson to the queen, was one of the world's most eligible bachelors — a title he was given by Town & Country in 2013. And once they got together and word got out, Meghan was told over and over that she was "so lucky" to have been chosen by Harry. Meghan told Kaling she had a comeback that she wanted to use but didn't when people said she was "lucky" that Harry wanted to marry her. She wanted to hit back with, "Well I chose him too."
Prince Harry reminded Meghan Markle that he was the lucky one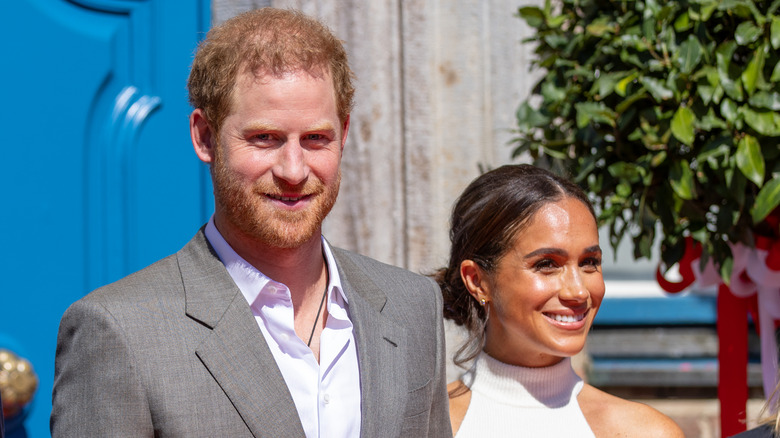 Joshua Sammer/Getty Images
Meghan Markle wasn't alone in realizing the imbalance in how her relationship was presented, with her being "lucky" to be marrying Prince Harry. Meghan told Mindy Kaling that Harry had her back, and he would say, "They've got it all wrong. I'm the lucky one because you chose me." Meghan went on to admit that the whole situation was "gendered, and it just feeds into this idea that you're waiting for someone to tell you that you're good enough, as opposed to knowing that you're good enough on your own."
That was the overall theme for the podcast episode; Kaling and Meghan also spoke about gender stereotypes around names women get called if they're not married, like "old maid," and the pressure women feel to tie the knot. Kaling decided to start her family without being married, and was adamant that she wasn't going to succumb to any pressure to get married just because she was getting older. To which Meghan said, "It's amazing to not compromise that because there's a lot of pressure."