Bushy Eyebrow Mistakes You're Probably Making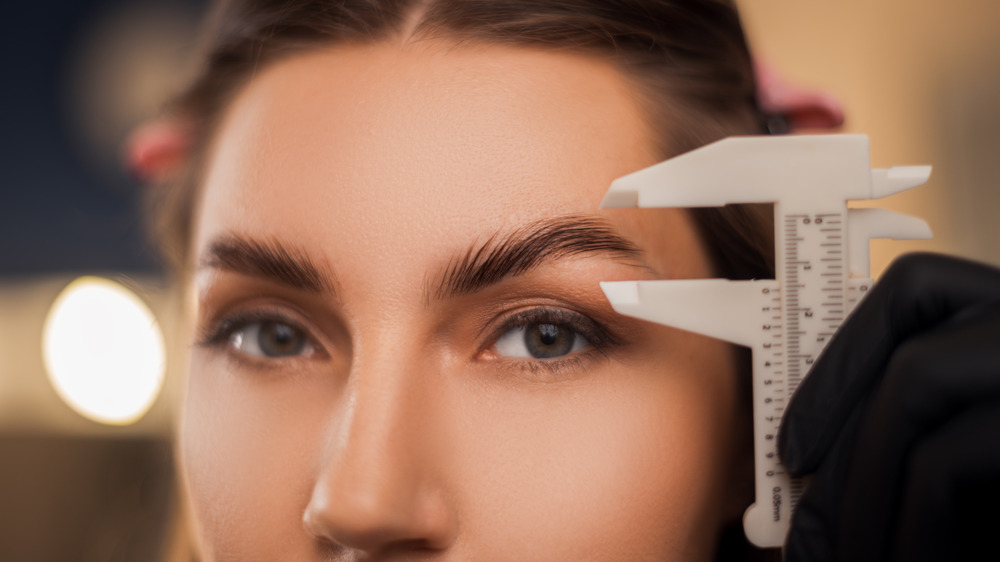 Shutterstock
The thick eyebrow trend isn't going anywhere. In fact, having full, bushy eyebrows has taken hold in makeup studios across the world. But, after decades of thin brows being the desired look, it may take some time to grow fuller arches. Plus, you'll want to make sure that your brow shape matches your face before you grow them out.
According to PureWow, you can start by grabbing a brow pencil and making a quick measurement. To avoid under or over-tweezing, it's best to plan your strategy first. Jared Bailey, the global brow expert for Benefit Cosmetics, explains to the outlet, "Your brows are totally unique to you — just like your fingerprint — so your ideal shape depends on your individual features, including your eyes and nose. Before you do any tweezing or filling in, you'll want to know exactly where your brows should start, arch and end."
To find the best shape for your face, use your pencil to "follow a straight line up from the dimple of your nose to the front of the brow and make a mark. This is your starting point and will help slim your nose and balance your eyes," Bailey advises.
Once you've found your starting point, step away from the magnifying mirror. "Be an arm's-length distance from the mirror and use as much natural light as possible when plucking your brows," celebrity eyebrow specialist Joey Healy tells Glamour. "By viewing your brows too close up, you lose perspective on how much hair you've already taken off."
Find the right tools for your thicker brows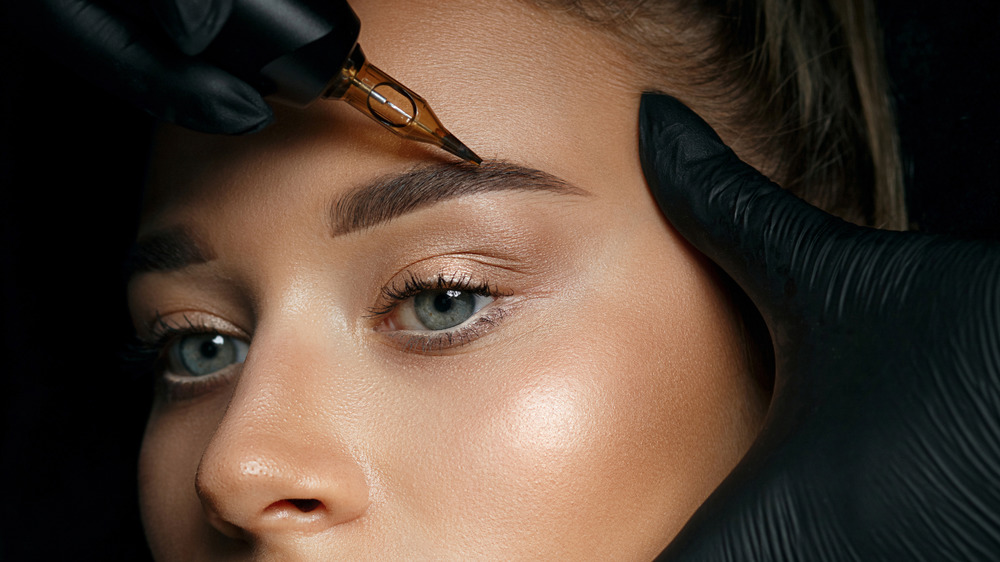 Shutterstock
While finding the right brow pencil color may seem like a cakewalk, it should involve a level of careful consideration. Just because the color on the pencil seems like a close fit, it may be best to go a shade lighter. Glamour explains that choosing a lighter hue can fill in your brows with a more natural color, avoiding an overly intense appearance. Plus, if you have highlighted hair, use a similar-colored pencil to make the most of the lighter strands, the outlet recommends.
If you're aiming for a softer finish to your look, ditch the pencil altogether. For a fine or thin arch, opting for powder rather than a pencil can offer a subtle dimension, PureWow notes. Since the pigment takes hold underneath the hairs on the skin, the hues appear less bold than a pencil's marks. As for application, the outlet suggests starting at the inner corner of the brow and slowly making your way outward for best results.
Lastly, growing your brows out requires healthy skin underneath. Apparently, loading on products and serums can inhibit strong growth of these fibers, Glamour explains. Sania Vucetaj, expert brow specialist and owner of Sania's Brow Bar, tells the outlet that these products, "seep into your brows and prevent growth or, worse, can cause the hairs to fall out."
Brows can be fickle — make sure that you're using the right tools and taking care of them when you're looking for a fuller look!